November 18, 2018
TORRENTE WINS DRAMATIC GRAND PRIX OF INDIA AND LEADS THE TITLE RACE
F1H2O
*Philippe Chiappe crashes out at first turn ending any lingering title aspirations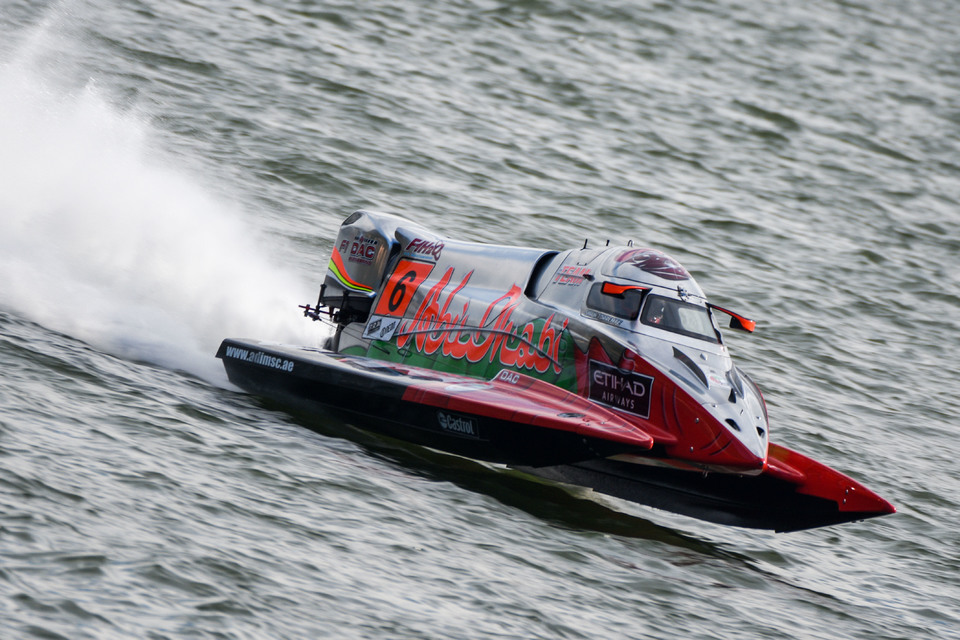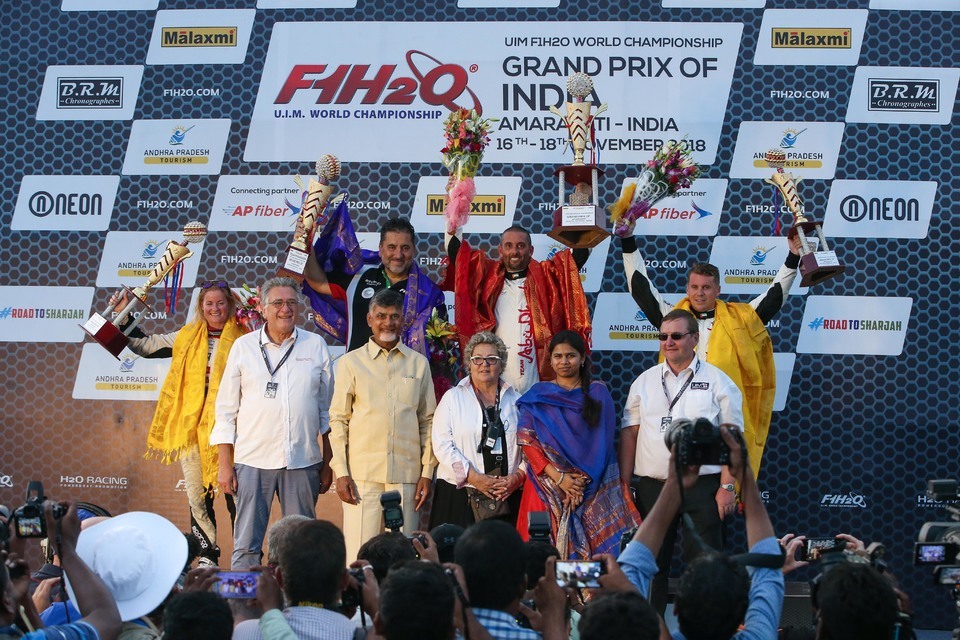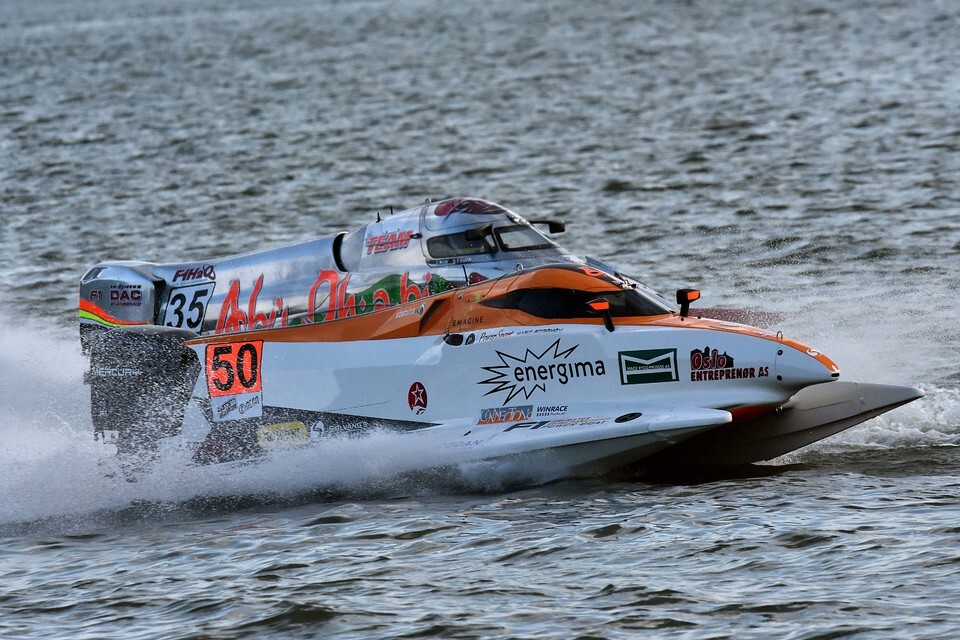 Sunday, 18 November, AMARAVATI (India): Team Abu Dhabi's Shaun Torrente capped a perfect weekend in Amaravati with a faultless drive to win the UIM F1H2O Grand Prix of India and move to the top of the world championship standings.
Emirates Racing's Marit Stromoy produced by far her best performance of the season to finish in second with Erik Stark making it an Abu Dhabi one-three.
There was drama almost immediately when CTIC F1 Shenzhen China's Philippe Chiappe collided with F1 Atlantic's Duarte Benavente and crashed heavily on the start lap at the first turn, ending his title hopes with defending champion Alex Carella's race ending almost before it began, retiring on the same lap with technical issues.
It was disappointing afternoon for the local favourite Jonas Andersson, the Team Amaravati driver retiring after running in fourth place for 33 of the 44 lap race.
Pole-sitter Torrente made the perfect start but would have to do it all again when the yellow flag was shown for Chiappe's dramatic exit, the incident benefitting Stromoy who had a poor start and dropped several places but with no laps completed the boats reverted to their starting positions.
Torrente made no mistake at the restart and took off and opened up an early lead, but for the majority of the race was unable to shake off the challenge of a very persistent Stromoy who would not let him get away, but the Abu Dhabi driver was faultless, absorbed the pressure from behind and maintained his relentless pace to complete the 44 laps and win by 2.17s to record his seventh-career victory and leapfrog his two teammates to hit the front in the title race. "Marit did a wonderful job. She pushed so hard and I knew she would," said Torrente. "I made two great starts and it was all about managing the race. For me it's about winning the championship not just races. The goal is to be in this position after Sharjah. Our home race is next so we hope we can keep it going."
Stromoy's drive to second sandwiched between the Abu Dhabi duo for the full race distance received high praise from both her rivals and was by far her best outing this year, keeping Torrente in her sights and fending off a relentless challenge from Stark. "I tried and pushed as hard as I could till the bitter end but it was a great race for me," Stromoy said. "I had a bad start and was a bit lucky with the yellow flag but I could see Shaun was controlling things at the front and I also had to keep my eye on Erik."
Despite all his efforts and a near coming together with Stromoy, Stark was unable to get passed. "I was a little unlucky with the yellow because for once I made a really good start," Stark said. "After the restart I got up beside her but she held on and after that I pushed as hard as I could but it was not enough. The podium is great but the points' after Sharjah is what matters and we have two races to go."
Behind the front three it was a race of attrition with eight of the 18 starters failing to go the distance; Duarte Benavente retired on lap 1 after the coming together with Chiappe and teammate Grant Trask going out on lap 13, Thani Al Qemzi saw his championship lead disappear with his retirement on lap 5. Bartek Marszalek was running a strong race in eighth until engine issues ended his afternoon on lap 23, Cedric Deguisne's race ending on lap 27.
Andersson was looking strong in fourth before his exit with Peter Morin taking over the slot and running a solitary race to the chequered flag, some consolation for the CTIC China Team with Francesco Cantando, the winner in India in 2004, picking up his best result of the year bringing his Blaze home in fifth.
Team Amaravati's Erik Edin produced one of the drives of the day, moving up from 18th off the pontoon to finish in sixth ahead of Mad Croc BABA Racing's Filip Roms and Ahmed Al Hameli who was struggling with technical issues.
It was a very good afternoon for two championship rookies, Simone Schuft and Sutthiphan Sookbuangbon, both picking up there first championship points in ninth and tenth, but another frustrating weekend for Sami Selio who failed to make the start after suffering a series of engine problems.
With two races to go Shaun Torrente leads the championship standings on 72 points from Stark on 65 and Al Qemzi slipping to third on 54, with Morin now the closest challenger in fourth on 39 points.
The next and penultimate round of the season is the Grand Prix of Abu Dhabi in the UAE on the 6-8 December.
UIM F1H2O GRAND PRIX OF INDIA, AMARAVATI – race results (top ten)
1. 6 Shaun Torrente (usa)
2. 50 Marit Stromoy (nor) + 2.17s
3. 35 Erik Stark (swe) + 3.53s
4. 8 Peter Morin (fra) + 21.12s
5. 37 Francesco Cantando (ita) +49.47s
6. 15 Erik Edin (swe) + 1lap
7. 12 Filip Roms (fin) + 1lap
8. 3 Ahmed Al Hameli (uae) + 3laps
9. 36 Simone Schuft (ger) + 8laps
10. 74 Sutthiphan Sookbuangbon (tha) + 9laps
UIM F1H20 DRIVERS WORLD CHAMPIONSHIP (top ten)
1. 6 Shaun Torrente (usa) 72pts
2. 35 Erik Stark (swe) 65pts
3. 5 Thani Al Qemzi (uae) 54pts
4. 8 Peter Morin (fra) 39pts
5. 7 Philippe Chiappe (fra) 34pts
6. 50 Marit Stromoy (nor) 26pts
7. 15 Erik Edin (swe) 18pts
8. 3 Ahmed Al Hameli (uae) 18pts
9. 14 Jonas Andersson (swe) 14pts
10. 37 Francesco Cantando (ita) 10pts
For full classifications:
https://www.f1h2o.com/results/2018/grand-prix-of-india/f1h2o
For championship standings: