December 16, 2016
TORRENTE WINS IN SHARJAH - CHIAPPE CROWNED WORLD CHAMPION
F1H2O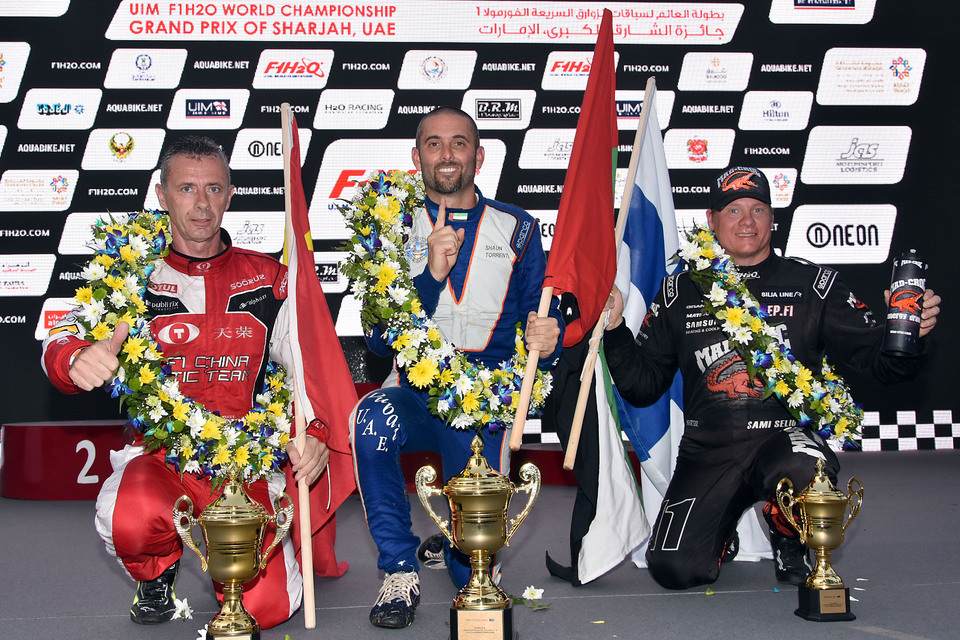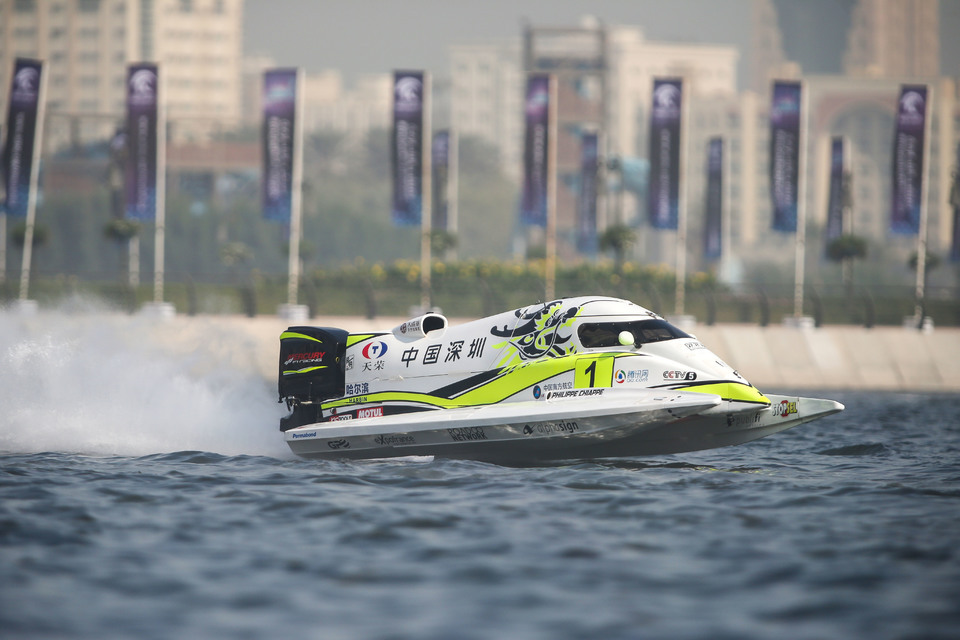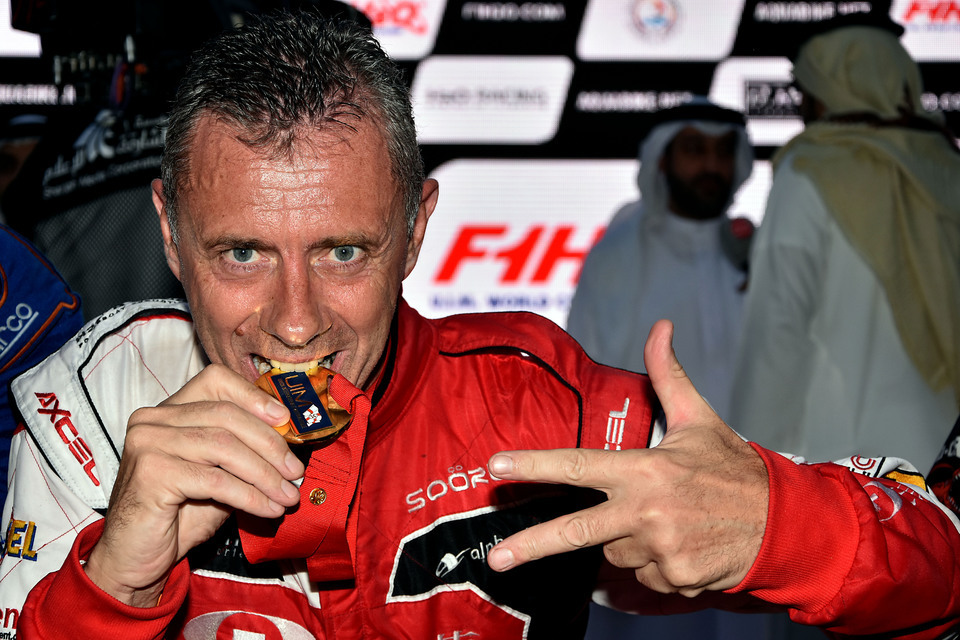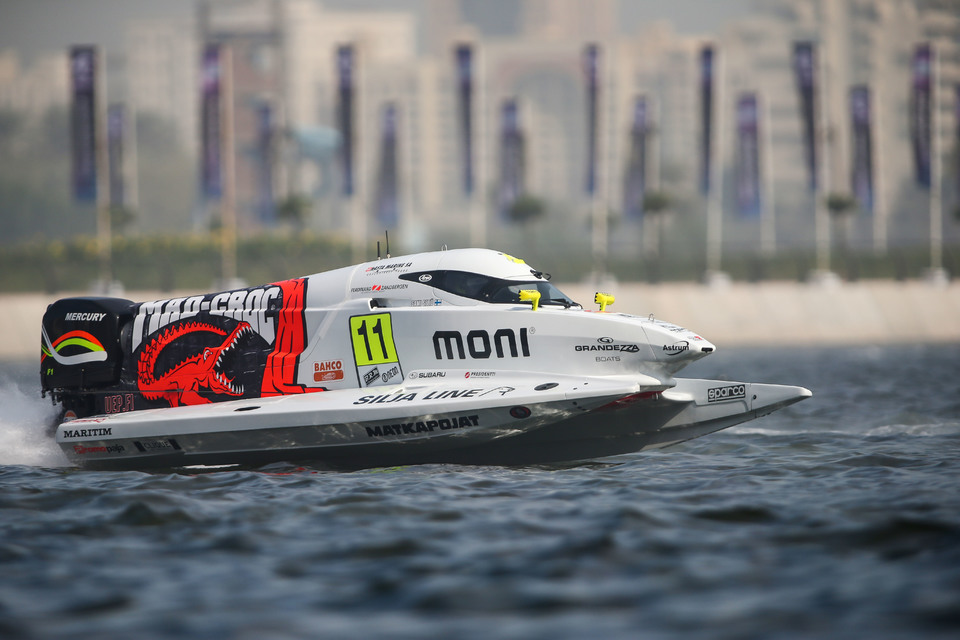 Friday, 16 December, SHARJAH, (UAE): Shaun Torrente did everything he possibly could in his bid to win the world title with a superb victory in the UIM F1H2O Grand Prix of Sharjah, but it was the man who followed him across the finishing line, Philippe Chiappe, who is the 2016 UIM F1H2O World Champion, with third place going to Finland's Sami Selio.
Today's result gives Victory Team their first Grand Prix win in only their second season in the championship, with Torrente clinching a much-deserved runners-up slot in the driver's championship and Victory taking third place behind CTIC F1 Shenzhen China and Mad-Croc Baba Racing in the teams championship.
Chiappe made a blistering start to jump pole-sitter Jonas Andersson, with Torrente matching the move and pressing the race leader as the two title rivals then edged away from the chasing pack of Jonas Andersson, Erik Stark, Bartek Marszalek and Alex Carella.
On lap 14 of 45 the yellow flag was raised when Chiappe's teammate Xiong Ziwei barrel-rolled out of the race.
The boats were held for five laps and then released with Torrente making an immediate move to pass Chiappe, and then proceeded to disappear off into the distance knowing that nothing less than a win would give him any hope of the title, should Chiappe breakdown.
Sami Selio joined the chase and passed Carella on lap 20, the Italian taking back the place a lap later, then on lap 23 Stark faltered and lost ground, slipping to fifth, with Carella now leading the chase to try to overhaul Chiappe and Andersson, with Selio pressing frantically and trying everything to pass Carella.
Carella and Selio were pushing hard and both made the move on Andersson on lap 28 and closed in on the champion-elect.
Out front Torrente continued to stretch his lead, going on to take the chequered and his maiden win for Victory Team by 25.77 seconds.
Despite the intense pressure Chiappe delivered a true champions' drive and held his nerve and held off the challenge of the duo behind him to take his sixth podium of the year and become only the third driver in the 33-year history of the sport to win a hat-trick of world titles.
Carella looked set for third place when on lap 42 he suddenly pulled to the inside of the circuit and retired to compound a frustrating afternoon for Team Abu Dhabi, teammates Thani Al Qamzi going out on lap 31 and F1H2O debutant Rashed Al Qamzi on lap 11.
Selio was the beneficiary, taking his fourth podium of the year and sealing third spot in the world driver's championship, with Andersson heroically bringing the boat he spectacularly crashed out of qualifying in in fourth ahead of Stark.
One of the drives of the day belonged to Australian newcomer Grant Trask, who from P12 off the pontoon at the start fought his way through a world class field of driver's to take a brilliant sixth and claim five world championship points in just his second Grand Prix.
Filip Roms ended his year in the points in seventh ahead Duarte Benavente, one of only two drivers to have scored points in all races this year, with Marit Stromoy fighting her way back from P16 to take ninth a head of Nadir bin Hendi.
It was a disappointing afternoon for Bartek Marszalek who after qualifying in a best ever sixth place started to drop back on lap 24, then retiring four laps later.
For three-time UIM F1H2O World Champion Philippe Chiappe today's result rounds out a simply outstanding year which has seen him take wins in Dubai and Portugal and podiums in back-to-back races in China and today in Sharjah to claim the world title, the BRM Pole Position Championship, the Fast Lap Trophy and steer CTIC F1 Shenzhen China to the Teams Championship.