October 30, 2012
ABU DHABI'S FAVORITE SON AL HAMELI DONE FOR THE SEASON!
F1H2O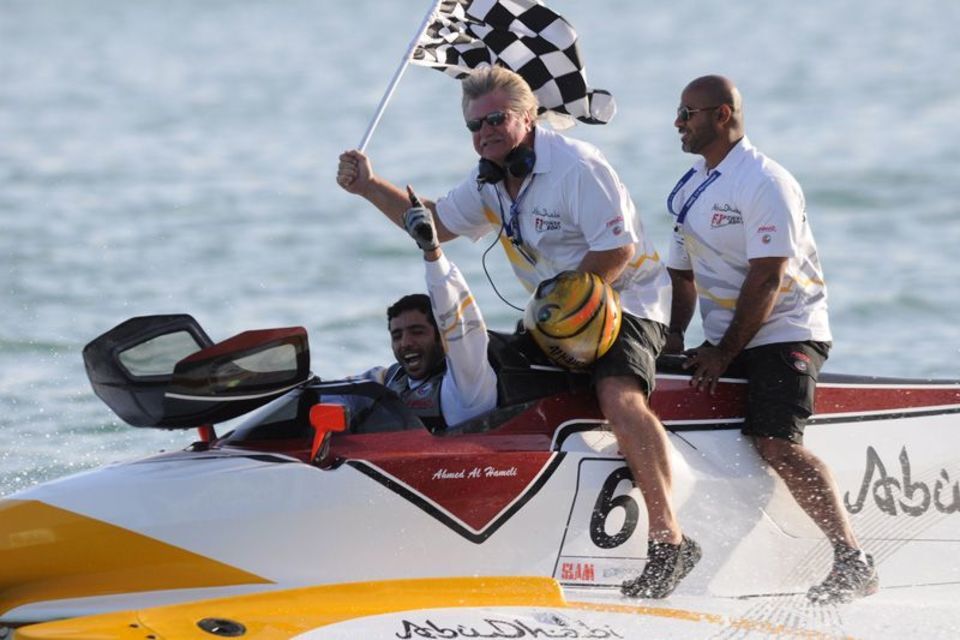 ABU DHABI - (Tuesday, October 30, 2012) - The unfortunate illness that has stricken Team Abu Dhabi driver Ahmed Al Hameli has forced the host for the upcoming 21st edition of the Grand Prix of Abu Dhabi, the Abu Dhabi International Marine Sports Club (ADIMSC) to accept the fact that their young and very talented 33 year-old driver is finished for the 2012 UIM F1 H2O World Championship season.
Ahmed, who was chasing his first World Championship title, leading the Drivers Championship in his sixth season of racing on the tour, will now be battling another kind of challenge.
Al Hameli has recently returned to Abu Dhabi following a discovery of a brain tumor that necessitated surgery at the world renowned Johns Hopkins Medical Center in Baltimore, Maryland in the U.S.A. Ahmed will now continue his treatment in hospital in Abu Dhabi hoping to make his return to the sport in 2013.
"You can't imagine how disappointed we are for Ahmed," stated Team Racing Manager and four-time World Champion Scott Gillman. "Ahmed is like a son I never had and he is loved by everyone here at the club and is a true gentleman and a great talent that will be sorely missed for the Grand Prix on the weekend of the 29th and 30th of November."
"His close friend and teammate Thani (Al Qamzi) will carry the flag for our organization as he still has a shot at the title himself and will be joined by our other talented driver in Majed Al-Mansoori who stepped in so well replacing Ahmed in Liuzhou, China three weeks ago."
The championship picture has changed tremendously since mid-summer in Kiev, Ukraine when Al Hameli left the circuit with a nine point lead after three straight podiums. His 2012 signature win came at the season opener in Qatar followed up by runner-up second place finishes in Kazan and Kiev.
Ahmed, who has raced in 51 Grand Prix's in his six year career, had been on a roll with seven straight podiums in his last seven race completions. This mark is even more impressive for the fact that he had finished either first or second place in those events.
His 50 total points at the half-way mark of the season were nine ahead of two-time World Championship driver Sami Selio of the Mad-Croc F1 Team.
The Finnish "Flyer" has now slipped down to fourth in the championship standings after having been involved in an accident during a re-start at the Grand Prix of China earlier this month.
Qatar Team driver Shaun Torrente, part of a three boat wide gaggle of boats going into the first corner after receiving the green flag, was on the inside of the corner. The Miami driver, ended up hitting Selio while trying to take him on the inside in a passing maneuver and was judged by the U.I.M. Officials for aggressive unsportsmanlike driving and given a two race ban ending his short lived 2012 season.
Meanwhile, Sami now faces a tough uphill climb back if he wants to take his third crown trailing new points leader Alex Carella of the Qatar Team with 59 points. The Italian, who is the defending race and World Champion, is on a roll as well, having won two of the four races this season reaching the podium in the last three events.
Chasing Alex is French driver Philippe Chiappe of the CTIC China Team who has three podiums as well and is 11 points back. Philippe still has hope for his first world title because there is still 40 points to be earned before seasons end on the 7th of December in Sharjah.
Philippe will be looking also for his first win in his 79th start.
With all this said, the hearts and prayers for a quick recovery from all who are family on the UIM F1 H2O World Championship tour continue to go out to Abu Dhabi Team's Ahmed Al Hameli. He is a true professional in all walks of life who is admired while being a true asset and representative to his racing club and the sport as well.
You can't ask for more than that!
Be In The Know - With F1 H2O!