December 24, 2013
ALEX CARELLA LEADS QATAR TEAM TO A 1-2 FINISH IN 2013!
F1H2O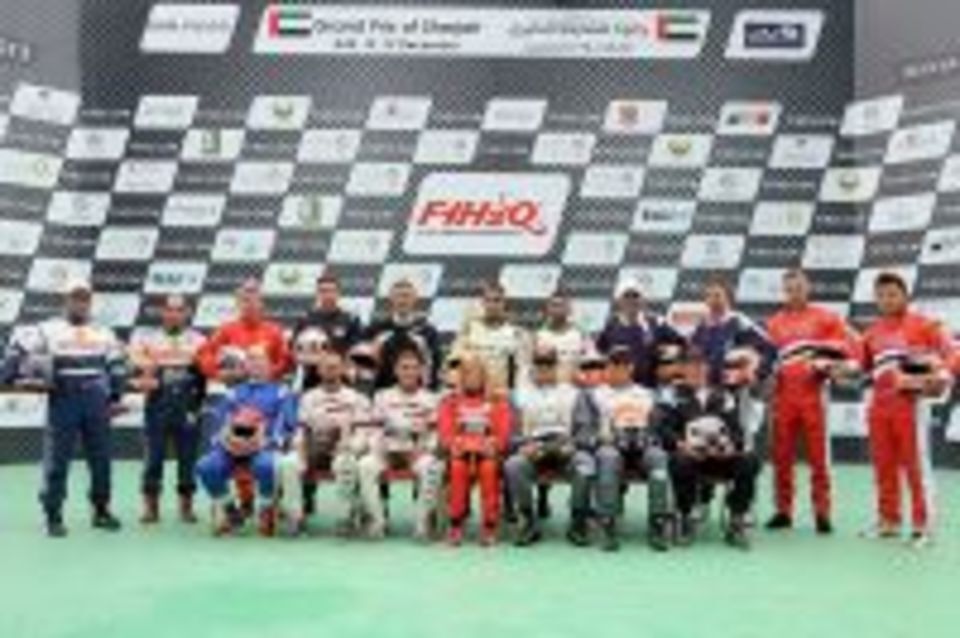 ABU DHABI - Tuesday, December 24, 2013 - Italian driving sensation Alex Carella for the third straight season came from behind climbing the ladder of success once again to win the UIM F1 H2O World Championship in 2013.
The 27 year-old from Piacenza led a strong Qatar Team for a resounding one-two finish in the drivers championship out-dueling his American teammate Shaun Torrente by just six points in the end 80 to 74. The Qatar Team dominated the prestigious Team Championship as well winning by a comfortable 80 points for the highly skilled multi-national organization based out Doha .
The seven month journey began in early June, in Brasilia, at the series first ever event on the South American continent, with Finnish two-time World Champion Sami Selio of the Mad-Croc Baba Racing Team stealing the spotlight winning from pole position with the Qatar Team duo reaching the podium for the first of three times during the year with Torrente finishing ahead of Carella in two of the three opportunities.
In mid-summer in late July the tour was off to historic Kyiv for the Grand Prix of Ukraine and this time the story was all about French driver Philippe Chiappe of the CTIC China Team who captured his first victory in his 11 year-career making it a very popular victory throughout the paddock for the likeable driver from Rouen.
Shaun Torrente's second straight runner-up position moved him ahead of the fourth place finishing Selio into the drivers points table lead 30-29 with Alex taking third for the second consecutive event for 24 points overall in third for the championship.
As the series headed to the Far East for the fall season stopover in the Southern city of Liuzhou at the Grand Prix of China, it was once again time for the Italian to exert himself. Alex knew that he had to make a move if he wanted to win another title. He did just that, winning for the second year in a row from pole position.
His team member Torrente, who was glued right behind Alex the first half of the race, had disaster strike when a brief mechanical problem moved him down to sixth while Sami Selio came home second and Chiappe finished in a close third.
At the halfway point of the season Alex had tied Sami Selio with 44 points to lead the drivers table with Philippe Chiappe sitting at 39 and Torrente at 35 making it a close four driver scrum for the title.
It was off to Doha and the 10th Grand Prix of Qatar with Alex nailing down pole position just ahead of his teammate Torrente. It looked it would finish that way in the race as well, until, with just three laps from the end, Alex's engine gave out handing his friend Shaun the victory. The Floridian had earned his first career victory on the tour and had now moved into first place in the championship with 55 points.
The win in Doha wasn't without drama. Shaun and fellow American Terry Rinker of Team Azerbaijan were rounding the turn leading to the start/finish line when they collided ending Rinker's day with a barrel roll while Shaun was able to cruise to the win via a yellow flag two laps later.
For French driver Chiappe, he wanted to forget Doha totally. Firstly, he missed a buoy in the race in the fight for third place, then he was penalized for passing the leader Torrente on the yellow flag and if that wasn't enough, he was later disqualified from any result when the race officials said he had an illegal issue with his engine.
The driver from Northern France would fight the ruling for three weeks finally getting word on the morning of the final day of the season that the disqualification ruling was upheld and he would receive no points.
With just two races to be run in the United Arab Emirates, the lead in the championship had changed for the fourth straight race in a row. Bad luck once again visit the Florida driver as Torrente failed to get a lap in the final Q3 qualifying session needing an engine change and moving him back to the 11th starting position for the race.
Meanwhile, Sami Selio got his new boat working to perfection grabbing pole position while trying to forget his own bad luck suffered during a start line accident he had suffered in Doha a week before destroying his number one race boat.
Sami, despite this, dominated the day reasserting himself to the top of drivers championship with a win in Abu Dhabi for his 12th career victory tying Francesco Cantando of the Singha F1 Team as the winningest most active driver on the tour.
Selio, with 64 points was now two ahead of Torrente's 62 and four in front of Alex's 60. Philippe Chiappe was still in the hunt at 54 with 20 points still there for the taking with the final round at the Grand Prix of Sharjah two weeks later.
In one of the closest finishing scenario's in the 30 years of racing on the UIM F1 H2O World Championship tour, four drivers were still in the hunt in their chase for glory chasing the title. It would all come down to this one race.
Qualifying was critical on the new modified five-pin circuit and when the one-hour session for pole position was completed it was the two-time World Champion Carella who had earned the number one spot ahead of his teammate Torrente with Chiappe taking third on the start dock.
The biggest surprise came when points leader Selio accidentally took himself out of picture by crashing out just before the run for pole position forcing a boat and engine change. Sami was now starting practically at the end of the dock and praying for a miracle to happen to have any chance of becoming a hat-trick World Champion.
When the final checkered flag fell to end the 2013 season, it was Alex Carella setting the stage with a perfect run. He never once made a wrong during the event leading from start to finish for all 38 laps and earning his eighth career victory and adding another World Championship to his resume in just 25 career starts.
Shaun Torrente would make it a Qatar Team one-two sweep, pushing Alex early and then realizing he didn't have an answer for the Italian. Shaun then decided to be cautious by backing down enough to finish third. Philippe Chiappe pushed Carella to the end finishing second and third overall for the season with 69 points.
In the end, the multi-national mixture of American-Italian and Qatari individuals meshed perfectly with Team Manager Khalid Al Kuwari steering the organization again taking the Team Championship with 154 points. Driver Alex Carella had two victories and five podiums, while Shaun Torrente had one victory and four podiums in six races.
Engine Management Director Brendan Power of Tampa, Florida put the magic touches on the Mercury engines powering his drivers to three of the six victories and winning his third straight world title and his fourth in the last six years.
The Mad-Croc Baba Racing Team finished second in the Team Standings with 74 points on the strength of Sami Selio's pair of victories in Brazil and again in Abu Dhabi in December. The two-time champion finished fourth overall with 64 points while his teammate and fellow Fin Filip Roms improved tremendously tying for 12th place with 10 points in his second season with top-10 finishes in the three races he finished.
The youngest driver in the history of F1 H2O racing gave up his boat at the season's last event so his teammate Selio could go for his title run on Khalid Lagoon in Sharjah after qualifying a career best seventh. Look for better things from this 19 year-old driver in 2014.
The CTIC China Team felt they let a possible championship slip away late in the year when Chiappe's disqualification was held up by the UIM from his race in Doha. The Eric Chan led organization claimed 70 points while veteran pilot Chiappe was again in the top-three at years end proving once again he has the makings of becoming the first French World Champion in the sport.
Philippe's teammate Ziwei "Leo" Xiong of China, finished off his first full season on a high note by earning his first ever series point with a 10th place finish in Sharjah. His season, up to that point, had been a steady learning curve while crashing out in both Brasilia and again in Abu Dhabi. The one time car drifting expert, who turned to powerboat racing, like Filip Roms, will only get better with another year of experience for the 22 year-old from Shenzhen in '14.
Team Abu Dhabi finished a disappointing fourth place overall with just 45 points. The highly professional organization is normally setting the pace or fighting for the overall Team Championship but not this year.
Race Team Manager and four time World Champion Scott Gillman realized early in the season it would be a tough road to climb when star driver Ahmed Al Hameli recovering from major surgery received clearance to race just one week before the opener in Brazil in early June.
It took most of the season for Al Hameli to get back to his "old self" finishing tenth in the drivers table with 19 points and season best fourth place finish in Sharjah. He completed four races, but only the final race of the year in Sharjah did he finish in the top five.
Ahmed's teammate, Thani Al Qamzi, faired better coming home tied for fifth place with 29 points on the heals of a pair of fourths in Brazil and Liuzhou and a fifth in Sharjah. Thani ended 2012 with a floury earning three straight podiums including a win in Sharjah but just couldn't muster that same set of results this year. He'll be looking to get back on the podium with his friend and teammate Al Hameli next year.
The F1 Atlantic / Interpass / GC Team came in fifth with 40 points as newcomer Youssef Al-Rubayan of Kuwait lead the way finishing with 29 points. Youssef tied for fifth overall in his second full season gaining his first career podium in Doha as a high note. The driver from Holi completed every race, each with a top-10 points paying position.
Fellow team member Duarte Benavente of Portugal, competing in his 14th campaign finished 11th with 11 points. His best racing effort of the year came in Doha where he charged up from 13th qualifying position to finish a fine fourth. The driver from Lisbon completed three races during 2013.
Veteran driver Jonas Andersson of Sweden led Team Azerbaijan to a sixth position and 31 points in the team competition as he finished seventh in the drivers standings with 27 points. The driver from Fruvi had a strong showing in Doha finishing runner-up to winner Shaun Torrente earning his 12th career podium in the process.
Andersson, who finished just three of the six races on the calendar had a revolving door of teammates under his tent during the year starting with Norwegian Pal Virik Nilsen who placed 12th in Brazil. Next, came fellow Swede Tommy Wahlsten who failed to finish in Kyiv and didn't start in Sharjah.
In between those two competitors came seven-time North American champion Terry Rinker of Tampa, Florida. He raced three times in two different boats. Terry failed to finish because of a mechanical in Liuzhou. Crashed out in Doha before finally taking a somewhat satisfying seventh in Abu Dhabi.
The Singha F1 Team in their seventeenth season in the series finished a disappointing seventh with 27 points led by Francesco Cantando. The three-time runner-up in the championship ended up in ninth place overall with 17 points. His best afternoon with a fifth place finish in Kyiv while adding a pair of sixth place finishes in Brasilia and Sharjah in the three races he completed.
The driver from Milan had two other teammates during the campaign including his friend Valerio Lagianella who raced four times ending up 14th with five points with two top-10 finishes including a career best eighth after qualifying eighth in Brazil.
Joining the team in Kyiv was Polish driver Bartek Marzsalek back for the first time since 2011 finishing with 10 points and tied for 12th in the drivers championship. The 30 year-old, finished three times in the top-10, saving his best for last with a seventh place result in Sharjah in December.
Team Nautica was eighth in the team standings with 20 points led by Norway's Marit Stromoy who had her best season yet finishing eighth with 18 points. Her best results came in November when in back to back weekend's she was fifth in Doha charging up from 14th qualifying position and fourth in Abu Dhabi after starting tenth.
Joining her for a third season was Swiss driver Rinaldo Osculati, who, as the oldest driver on the tour was making 2013 his final full run at the title. He did earn two points taking 16th place in the drivers standings for his best season since 2009. "Rini" had his best day in Doha when he qualified 16th and climbed up to ninth place at races end.
A welcome return to the series was to South African based Caudwell Racing. The group earned their only point when seasoned driver Ivan Brigada of Italy finished in 10th place in Abu Dhabi at the only race he completed of his three starts.
Joining the one-time race winner, was his new teammate in South African star Paul Shepard. The driver from Durban failed to finish the first two events in Doha and Abu Dhabi and then made a spectacular exit to the season when his boat caught on fire in qualifying damaging his hull and not getting a chance to start in Sharjah.
A total of 24 drivers from 15 various nations on five different continents took to the seven month challenge of fighting for glory and hoping to etch their name in history while becoming the 2013 UIM F1 H2O World Champion.
When the final Grand Prix day on the calendar arrived their was still four drivers in contention to take the title.
In the end, with the fading sunlight on the Khalid Lagoon finalizing another historic season, it was Italian Alex Carella who showed once again he could not only handle the pressure of winning a title, but also, deservedly, earn another championship. He has earned the title "world's best" and in the process is looking forward to next year and another shot at history in winning four straight championship crowns.
There will be once again be many challengers from around the globe looking to claim his thrown in 2014. This is what makes this championship so great!
Be In The Know - With F1 H2O!