May 31, 2013
BRAZILIAN HERO PAUL GAISER - SAYS THANK YOU TO ALL CONCERNED!
F1H2O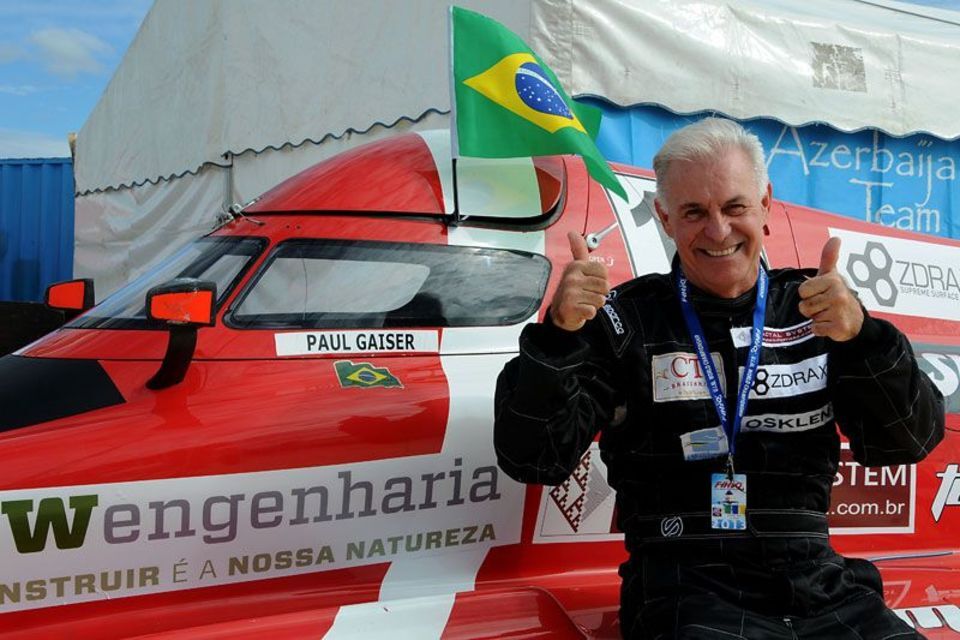 BRASILIA, Brazil - (Friday, May 31, 2013) - Brazilian sports hero Paul Gaiser returning to racing for the Azerbaijan Team for this weekends Inaugural Grand Prix of Brazil, which races the curtain on the 2013 UIM F1 H2O World Championship, had nothing but praise in thanking the many people within his home country that have worked so hard to make this first annual Grand Prix one that will long be remembered.
"This is a dream come true," said the driver from Rio de Janeiro. "I've been wishing and hoping to put together a Grand Prix in my country when I first arrived in Brasilia with my friend and promoter of the series Nicolo di San Germano long ago back in 2002."
"I'm extremely grateful to the Brazilian Powerboat Federation and the H2O Racing Brazil representative Beto Lorenzato who have taken over and have helped make my dream possible. I'm convinced that Governor Mr. Agnelo Dos Santos Queiroz is the right director because tomorrow will be a historic day for the city and the country of Brazil as well with the Grand Prix."
"This country which wears their hearts on its sleeves when it comes to speed sport events and once these race fans get a chance to see these powerboats reach speeds of 240 kilometers on this 2.2 kilometer circuit I truly believe this sport will be embraced by the public and grow year after year into something very memorable on the Brazilian sports calendar."
"I am formally announcing that after this race, I will retire," said Paul. "This is a sport for the young. I've now had my dream realized and I will then announce my retirement."
"The weekend of the 1st and 2nd of June will be one that will be long remembered in the history of sports for my country of Brazil and the dreams, of one proud Brazilian, finally realized."
Be In The Know - With F1 H2O!