December 13, 2013
CARELLA LOCKS DOWN THIRD STRAIGHT TITLE WITH WIN IN SHARJAH!
F1H2O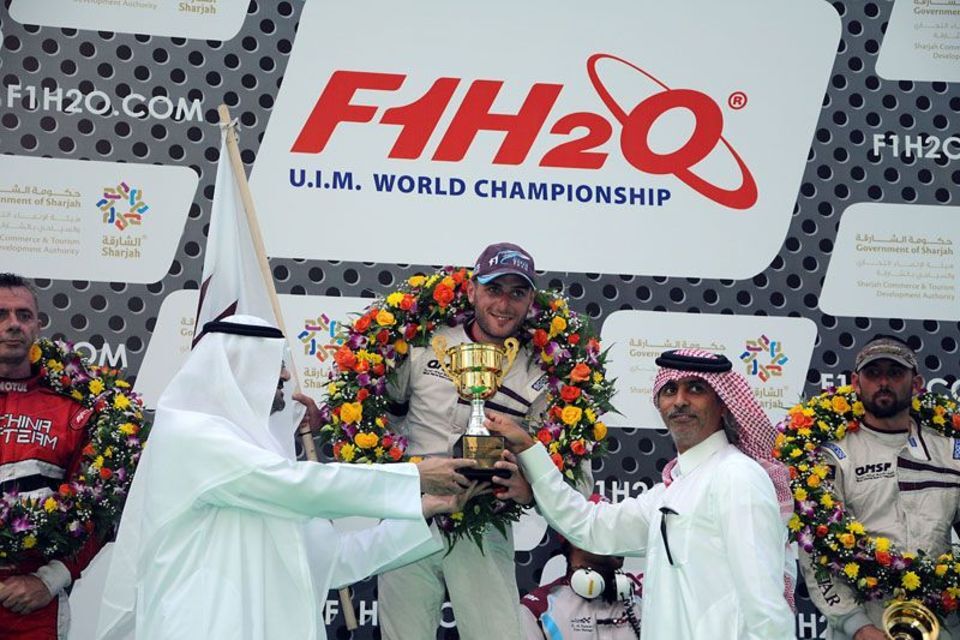 SHARJAH, U.A.E. - (Friday, December 13, 2013 - Italian Alex Carella controlled the race and controlled his own destiny leading every second of the 38 lap Grand Prix in front of tens of thousands of race fans along the Khalid Lagoon for the sixth and final round of the 2013 UIM F1 H2O World Championship at the 14th Grand Prix of Sharjah.
The 28 year-old driver with the Qatar Team, has now captured his third straight World Championship and joins fellow Italian legend Guido Cappellini in being the only two drivers to win three straight seasons and now is just one season away from tying Cappellini's all conquering four straight titles which he accomplished from 1993 thru 1996.
Carella had to hold off teammate Shaun Torrente of Miami, Florida who came into the event with two more points than Alex and were a pair of drivers who were part of a gaggle of four pilots who had a chance at the title going into this final event of 2013.
Carella, got a clean start and held his lane through the commitment buoy with Torrente shadowing for two-thirds of the event either two or three seconds back. Meanwhile, French driver Philippe Chiappe of the CTIC China Team, who needed both Qatar boats to drop out of the Grand Prix to have any chance at a title, passed Torrente and eventually closed to 1.96 seconds at races end. Chiappe's second place gave him a third in the title with 69 points.
"It was a rough grinding race where I couldn't let up anywhere," said Alex.
"I'm really warn out but so happy for my crew. They believed we could win another title and I was so proud watching as they did such a professional job to get me on the water with a fast boat time after time."
Meanwhile, for his teammate Torrente, "Once I knew I was going to struggle to stay with Alex having so many problems with slower traffic trying to get around them and almost losing the boat a few times, I made the decision to back down a shade and elected to take my runner-up spot in the championship," said Shaun.
"I am very proud of my crew being able to go from 11th position in the championship a year ago to runner-up in the title this year. Great progress and can't wait for next year and again fight for a title."
For the French pilot he did his best with what he knew would be a long road to a title at the start of the day.
"Getting past the start was huge and I knew I could stay with Shaun," said Philippe. "When the door opened I did my best to push Alex for a win if possible, but we just ran out of laps."
"We've made wonderful progress and another top three in the championship isn't bad. We have a great future and look forward to 2014."
Just missing the podium is the driver who had won two of his past races here, Ahmed Al Hameli of Team Abu Dhabi who finished off a remarkable season recovering from tumor surgery and getting back to full strength at the same time.
His teammate Thani Al Qamzi, who won the event a year ago, gave Team Abu Dhabi two top-five finishers after having won three straight here and five of the last eight starts on the Khalid Lagoon in years past.
Francesco Cantando, who started down in 14th position off the dock stormed to sixth at days end for the 2000 race winner. The Singha Team driver from Milan finishing a position ahead of his Polish teammate Bartek Marszalek who had his best career day in seventh place.
Kuwaiti driver Youssef Al Rubayan, despite a drive through penalty, came home a fine eighth one spot ahead of his Portuguese teammate Duarte Benavente who was ninth for the F1 GC Atlantic Team.
Rounding out the top ten was China's Ziwei "Leo" Xiong who earned his first career world championship point with a tenth place position for the CTIC China Team driver.
Notable non-finishers were points leader Sami Selio of Finland. He was looking to win his third title in Sharjah. His weekend was one worth forgetting after crashing out in qualifying, starting 13th off the grid and eventually breaking down on the 21st lap for the Mad Croc Team driver from Helsinki.
Swedish driver Jonas Andersson of Team Azerbaijan dropped out on the 22nd lap being classified 12th at the end as only 10 boats were running at the finish of the 15th race on the Khalid Lagoon since 2000.
So the 2013 season comes to a close with Alex Carella of the Qatar Team winning his third straight title with a pair of wins this season beating out his teammate Shaun Torrente by a 80 to 74 point margin.
Look for the official 2014 UIM F1 H2O World Championship calendar to come out shortly but the opening round will officially open the curtain on the season with a mid-March start at the Grand Prix of Qatar in Doha.
You can keep close watch on the championship by going to the tours official website at www.f1h2o.com.
Congratulations to Alex Carella and the Qatar Team for another wonderful season on the world's most exciting tour on water the UIM F1 H2O World Championship for powerboating.
Be In The Know - With F1 H2O!