December 12, 2013
CARELLA-TORRENTE ONE-TWO WHILE SELIO CRASHES OUT!
F1H2O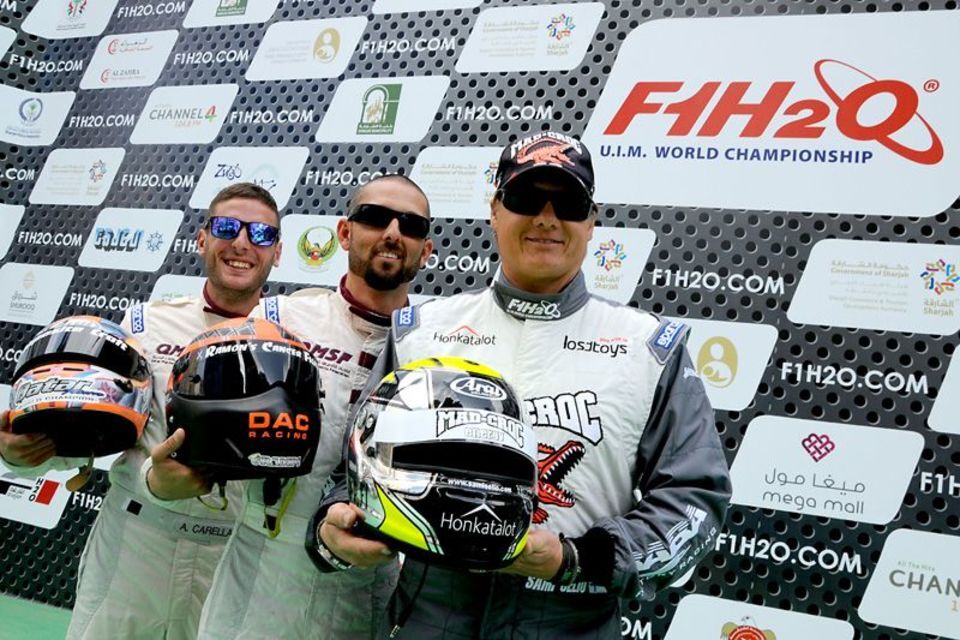 SHARJAH, UAE - Thursday, December 12, 2013 - When the final lap in the Q3 Top-Six Shootout was completed two-time World Champion Alex Carella of Team Qatar had earned his ninth career pole position beating out his teammate and championship rival Shaun Torrente by 0.43 of second and will now start number one in the field of 18 drivers from 14 different nations at tomorrow's 14th Grand Prix of Sharjah.
The sixth and final round of the UIM F1 H2O World Championship saw all sorts of drama in the late afternoon on the Khalid Lagoon with points leading driver Sami Selio of Finland turning his Mad Croc Team boat over on the South side of the circuit just past turn one as he fought to move on to the final Q3 round and a chance for pole position.
Sami's accident has severely handicapped the 2007 and 2010 past World Champion, who won both titles in Sharjah and now must start towards the end of the grid, will be hoping against hope that the pair of Qatar Team drivers have problems for him to have any chance at a third title.
"I am really disappointed that I didn't get through to Q3 and have a shot at my fifth career pole here," said the driver from Helsinki. "Now we have to fix the boat, put on a new engine and hope for misfortune by the guys up front for us to get a title."
"However, stranger things have happened here before and we are always optimistic, so we'll play it out and look for good things to happen tomorrow."
For the twice defending world titlist, Carella, he ran a flawless lap averaging over 162 kilometers per hour around the 2.2 kilometer course finishing with a 45.52 fast lap in the shootout.
"The boat felt great and it felt we were on rails," said the 27 year-old. "Tomorrow, I know I will have a tremendous fight with my teammate Shaun and this is what makes racing with this team so exciting."
Meanwhile the driver from Miami, Florida, Torrente, was also relishing the idea of going one on one with his teammate once again this season, "I love this challenge and for 38 laps it should be something special," said Shaun. "It's all or nothing and that's the way I like it. Let's get it started."
The other driver who will have a say tomorrow but who is still considered a long shot for a title is French pilot Philippe Chiappe. The CTIC China Team driver, who ran third quickest with a 46.14 second lap .62 seconds behind Carella will need an exceptional start off the dock on Friday afternoon.
Chiappe currently sits 10 points behind the leader Selio in the standings with 54 points and will need both Qatar Team drivers while doing his best to keep Selio behind him to have any realistic shot at the title.
Lost in the business of a title chase is fourth quick Ahmed Al Hameli of Team Abu Dhabi. Ahmed, who has won this race twice before and who along with his teammate and last years winner Thani Al Qamzi who starts eighth, has helped the team win three straight and five of the last eight on the Khalid Lagoon. The team is led by four-time World Champion Scott Gillman, who is a good teacher, since he has also won it twice himself in past years.
Swedish driver Jonas Andersson powered his way to fifth on the grid with a time of a 46.82 for the Team Azerbaijan veteran while Selio's younger teammate Filip Roms had his second best career qualifying performance taking seventh. Expect Filip to move to sixth when Sami is forced to go to towards the back of the grid after his incident down in turn one.
Francesco Cantando of Italy, who was the winner of the original race in 2000, will start his 144 career Grand Prix in the ninth position for the Singha Team while Portugal's Duarte Benavente is tenth for the F1 GC Atlantic organization.
The sixth and final round of the 2013 UIM F1 H2O World Championship for powerboating will take place at the 14th Grand Prix of Sharjah at 16:00 local, 12:00 GMT and 07:00 EST on the East Coast of North America.
The Grand Prix will be able to be seen live via it's worldwide television broadcast by going to the tours official website at www.f1h2o.com for web-stream viewing.
It's all or nothing for four drivers from four different nations all with dreams of a world title. We'll know who's dream comes true by the time the sun sets on the Khalid Lagoon just inside the Gulf at the 14th Grand Prix of Sharjah on Friday afternoon.
Be In The Know - At F1 H2O!