December 18, 2014
CHIAPPE ON POLE WITH DOMINATING PERFORMANCE!
F1H2O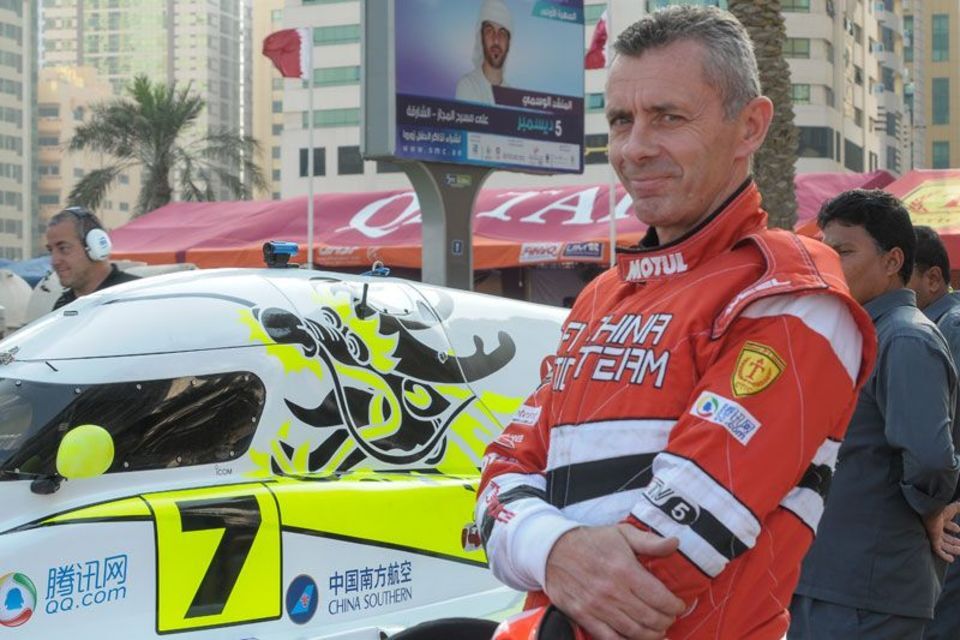 SHARJAH, U.A.E. - December 18, 2014 - French driver Philippe Chiappe moved a giant step forward in his dream of winning his first world title as he crushed the competition with a 44.33 second lap for a speed of 170.54 kph and will start at the front of the field for the fifth and final round of the 2014 UIM F1 H2O World Championship at the 15th Anniversary Grand Prix of Sharjah race in the United Arab Emirates.
The CTIC China Team pilot ran his new Moore boat around the 2.2 kilometer (1.4 mile) five-pin race circuit on the Khaled Lagoon in perfect trim, almost on rails, while eclipsing the 45.12 second 167.55 kph lap sent by his closest competitor for the title Alex Carella of the Qatar Team who had to settle for second.
Chiappe, who leads the championship with 50 points, three ahead of Carella, knows he needs to just stay ahead of the defending race and three-time World Champion to capture his first title in his 12th year of racing and his 92nd race start and become the first French World Champion in the tours 31 year history.
"It was a great day for us as a team and the boat felt just fantastic all day," said Philippe. "I realize I am only half way there and tomorrow is another day but, gaining pole here is so very important and I feel very calm at the moment that we can reach our dreams to becoming champion by late tomorrow afternoon."
Carella, who was disappointed not to get his second straight pole here in Sharjah, knows he's going to have to push real hard to have a shot of his fourth straight title.
"Yeah, we came close but Philippe had us covered today," said Alex. "Tomorrow is tomorrow and we are hoping to get a great start and push him for 37 laps and take advantage of what should be a very rough race circuit."
Shaun Torrente, who sits third in the championship and the last possible driver to take the title tomorrow had the bad luck of running out of fuel onboard the boat and failing to get full power out of his engine and settling with a fifth place starting position after a 47.15 second lap and 160.34 kph speed after having the fastest time in Q2 after setting a 45.75 pace.
"Yes, we made the wrong calculations on fuel as we were trying to lighten the boat as much as possible and now we are back a ways. We will have to fight very hard to get to the front as well as needing some luck at the same time to capture a title," said the Florida driver.
Meanwhile, third place went a the Swedish driver Jonas Andersson who had another great qualifying performance for 2014 with a 45.55 second lap and 165.97 kph speed. The Team Sweden driver is hoping to finish his second race of the season after failing to finish in three of the four events thus far this season.
Sami Selio of the Mad Croc Baba Team, who had his eyes set on his fifth career pole in Sharjah, was fourth with a 46.56 second lap. Sami is hoping to improve on his fourth place standing in the championship table tomorrow and earn his second podium of the season.
Local driver Ahmed Al Hameli of Team Abu Dhabi struggled with a mechanical problem despite running a respectable 47.53 second lap for a 159.06 kph. This two time winner of this event will be hoping to be on his second straight podium of the year.
Rookie Erik Stark of Sweden and Team Nautica settled for seventh position after being bumped from a possible top-6 "shootout" appearance in the final thirty seconds in Q2 when he went from fifth to seventh for the reigning world F2 champion in a blink of an eye.
Three time winner of the event Thani Al Qamzi settled for eighth despite problems in his Team Abu Dhabi boat.
Ninth went to the first winner of this event 15 years ago, Francesco Cantando of Italy, with 46.89 second lap in his Motorglass F1 Blaze hull.
Youssef Al-Rubayan of Kuwait rounded out the top ten with speed of 156.65 kph in his F1 GC Atlantic Team Baba boat.
So, the story line is the same, three drivers have a shot at the 2014 championship of the UIM F1 H2O World Championship for power boating with Philippe Chiappe of France with his foot halfway thru the door in his CTIC China machine after his pole winning performance on Thursday.
However, the story hasn't been totally written or decided because the three-time World Champion Alex Carella is sitting right next to him ready to keep his streak alive, while his teammate, Shaun Torrente, still has a pulse starting back in fifth and not out of the picture yet.
The drama couldn't get any better than this as for the sixth time in nine years the championship comes down to the final day and final Grand Prix.
You can follow all the action of this 15th Anniversary Grand Prix of Sharjah Grand Prix by going to the tours official website at www.f1h2o.com with both the worldwide broadcast feed available as well as live scoring of this 37 lap "final chapter" in what has turned out to be an truly wonderful and dramatic season.
Be In The Know - With F1 H2O!