December 22, 2015
CHIAPPE'S MID-SEASON HOT STREAK EARNS HIM 2ND STRAIGHT TITLE!
F1H2O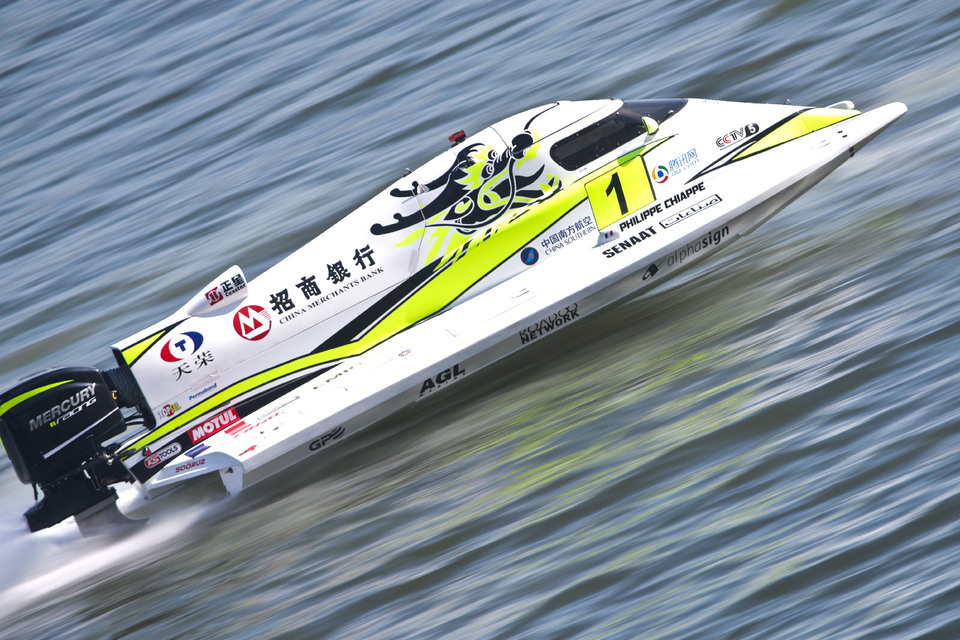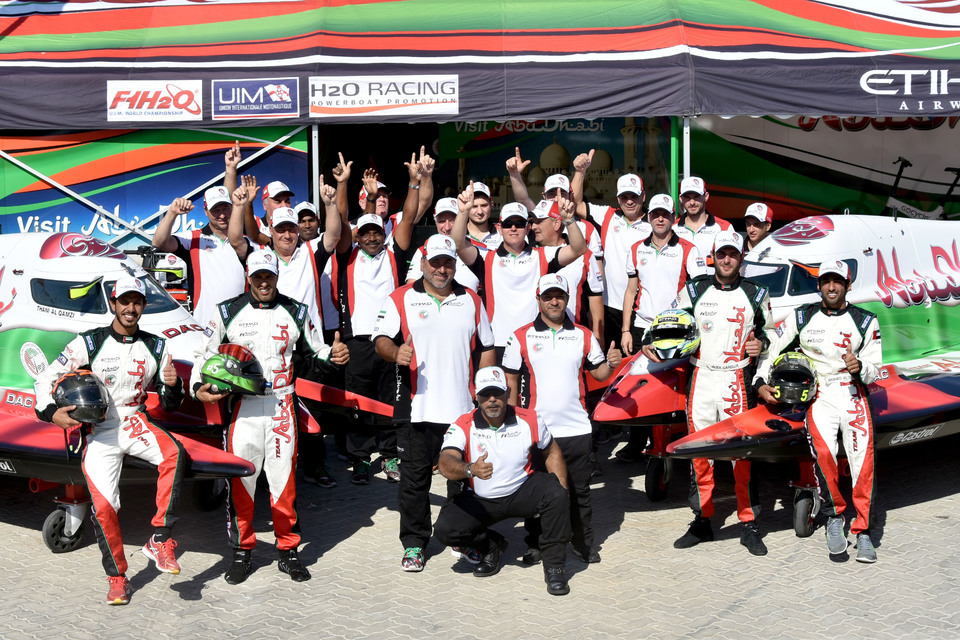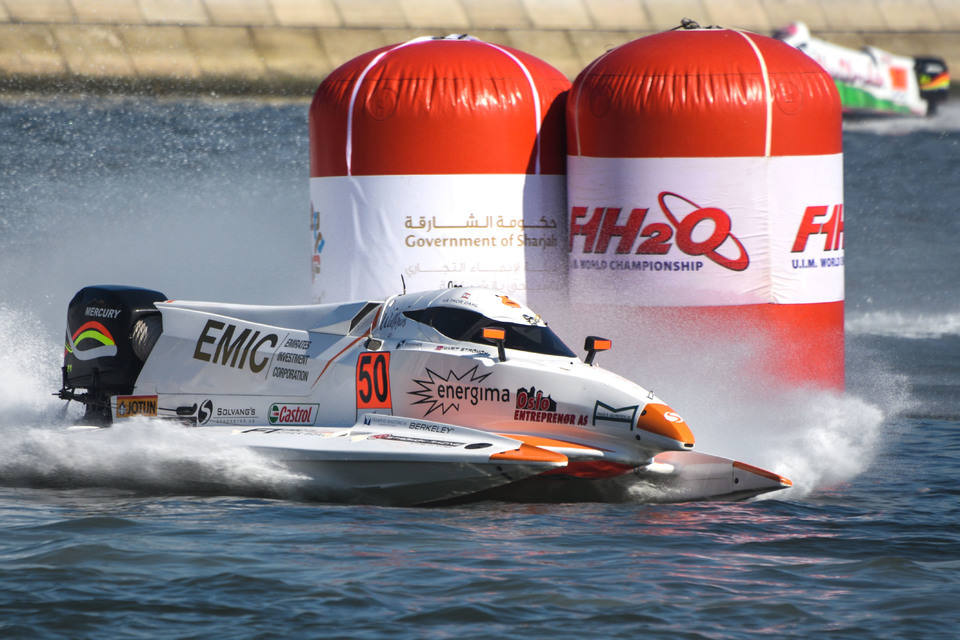 ABU DHABI - Frenchman Philippe Chiappe became the seventh driver in the 32-year-history of the UIM F1H2O World Championship to become a multiple-time title holder winning both the Porto, Portugal and Liuzhou, China Grand Prix back-to-back midway through the season and leaving the competition gasping for air at the end of 2015.
His pair of wins gave him a much needed bit of breathing room and opened the door for the 13 year veteran to claim his back-to-back titles for the CTIC China Team in the world's most difficult racing series on water.
The 2015 campaign was a ten-month odyssey that began in March in Doha, Qatar. It carried on all the way to the Grand Prix of Sharjah just two weeks before the end of 2015 in the lovely Khalid Lagoon, by which time, the driver from Rouen had already earned his second title in two years.
It wasn't easy for the defending champion. Coming into Doha on a two race winning streak at the last pair of events in 2014, he qualified and finished second on a rough afternoon on Doha Bay. He then put himself in a giant hole, at his home Grand Prix in Evian in France, when he earned pole position and to the disappointment of the tens-of-thousands of fans, he dropped out while in front at near the halfway mark picking up no points and now dropping farther back in the drivers' championship.
Philippe dug deep in probably his best drive of the year in Porto, Portugal, hounding race leader Sami Selio of the Mad Croc Baba Team and passed the two-time World Champion near mid-race and cruising home to a critical victory, putting him just one point off the championship lead halfway through the season.
The next race in Liuzhou, China, saw Philippe at his best and, despite all sorts of pressure put on the team at their home race, the French driver snared pole and would go on to win his only perfect weekend of the season for his fifth career victory and his fourth in his last six starts.
The final two races in the Emirates saw the 52-year-old veteran cautiously cruise around in second place in Abu Dhabi to take the title with one race to go, claiming the "gold medal". He ended the season in Sharjah failing to finish the event after qualifying a notable second place, leading early in the Grand Prix but not getting it to the line in the end. He finished with 70 points and taking the top spot with ease and a 16 point margin.
So, while Chiappe took the drivers title, Team Abu Dhabi came home with the "Team Championship". This all came after a major shakeup at the top and sent 15-year-veteran Scott Gillman packing as Team Manager. Replacing Scott was his old racing rival and nemesis, Italian Guido Cappellini, as the multi-time World Champion replaced another "Hall-of¬-Fame" member at the top of paddock "food chain" of teams participating in the series.
Jumping on the Abu Dhabi band wagon was three-time World Champion Alex Carella. The young Italian decided to leave the Qatar organization after four years, when word got out that the team was on unstable ground and would not continue after its home race in mid-March, which became true.
Carella looked lost in a boat he didn't desire in Doha and qualified eleventh and finished fifth to start the season. Finally, by June, Alex got a new boat, but it only got worse for the 10-time-winner, when in Evian when he thought he had won the Grand Prix only to get disqualified by the officials for a technical infringement.
The 30-year-old's season started to pick up. He qualified third and finished on the podium for the first time in 2015 with a third. However, he failed to finish in Liuzhou and came back strongly in December with a win in Abu Dhabi helping the team win their first Grand Prix on home waters in 10 years from pole position.
His second place position in Sharjah a week later gave him second in the championship with 54 points.
The multi-talented driver from Piacenza has now finished in the top-three of the championship for six straight seasons since joining the tour in 2010. He has won championships in 2011, 2012 and 2013 and is hoping to get a shot at his fourth title in 2016.
Chasing Alex all year was his ex-teammate Shaun Torrente of Florida. The American driver stayed with the Qatar Team through their home Grand Prix in mid-March and repaid them with his only victory of the season from pole position for his third victory on Doha Bay in his last four starts there.
Less than a pair of weeks after the event, the team disbanded and Shaun was staring at a serious case of "unemployment". The series points' leader looked in trouble until he and the very successful Victory organization from Dubai got together in May and laid out a plan to go F1 racing rather than their usually hugely successful Class 1 Offshore series offerings.
Shaun and his new teammate in veteran offshore winner Nadir Bin Hendi linked up with Shaun racing and old BABA hull boat that had been sitting in a storage shed in the Emirati heat for over two years.
Torrente brought it to Evian and finished fourth despite having fuel problems. Next in Porto he come home fifth while in Liuzhou and Abu Dhabi he failed to finish without incident, first getting penalized in China and then had his new Victory boat take a hole in it in Abu Dhabi dropping out before the finish.
Torrente finished the season third overall with 51 points after coming home to Sharjah with a podium finish in third and again finishing in the top-three of the series for the third straight year.
The 2015 season become something special and historic with Norway's Marit Stromoy becoming the first woman ever to win a Grand Prix event. She did so by exploding off the start dock at the final event of the year in Sharjah jumping from her fourth starting position to second following the new World Champion Philippe Chiappe who was leading early.
Chiappe had propeller problems that took him out of the lead, sending Stromoy to the front and for the first time in 61 races she would not only reach a podium finish but would conquer all suitors and win the Grand Prix. Her victory has become one of the most relished in the 32 year-old history of the sport for the talented entertainer from Scandinavia.
Marit's BABA racing hull, which she and her husband had modified throughout the year, finally proved it was a potent weapon for victory after she had reached the top-five only once in the season with a fifth in China in Liuzhou.
Her victory vaulted the EMIC Team participant to a fourth place tie in the championship with 38 points and opened the eyes of the world to the fact that men are not the only competitors who can win on the F1 level.
Joining her for fourth place in the drivers' championship was another surprise winner this season and fast developing driver Youssef Al¬ Rubayan of Kuwait. The F1 Atlantic Team driver had a career changing victory, his first ever, in F1 at the June event in Evian, France. His season saw him finish five of the six races. He also qualified strongly, reaching the top-six "shootout" round in four of the events.
The four-year-veteran had a second best afternoon in Liuzhou, when he qualified third and finished fourth. This kept him in the hunt for a world title all the way to Abu Dhabi in December with a consistent array of four top-10 finishes to the season.
Second year man Erik Stark of Sweden switched from the EMIC to the Emirates Team after Doha and seemed to relish working with Team Manager and mentor Scott Gillman. The four-time World Champion started his own team after being asked to leave Team Abu Dhabi. Scott had over a decade and two-world championships with the organization and was now guiding another very talented newcomer in Stark.
The multi-time F2 World Champion came into his own early in the season with a pair of podiums in the first three races with a third in Doha and a second in Porto. His season of hope changed in a big way however in China. During the second qualifying session he had a huge crash sending him to hospital with a broken hand and an injured eye forcing him to miss the Liuzhou race the next day.
Erik would disappointingly drop out of the team's home event in Abu Dhabi, but made up for it with pole position the next weekend in Sharjah. The native of Stockholm finished fourth in the race and claimed sixth in the standings with 36 points. Expect Stark "the Shark" to be out cruising for more podiums and maybe a championship in 2016.
To say Finland's Sami Selio started out the season slowly would be an understatement. He had two crashes and a penalty halfway into the season. He had periods of greatness sprinkled with bad luck along his journey chasing a third world title in 2015.
The "Finnish Flyer" had just one podium during the season taking a third in China, with four top-fives' and two crashes. His hitting a buoy in France hurt his progress. Thinking he was on the podium, instead he was forced to settle for fifth. This was followed up by a brilliant pole position in Porto, only to lose the lead and then crash out with Alex Carella fighting for second position late in the race.
Sami finished the season with just 35 points for his Mad Croc Baba Team. The 40- year-old would love to have a "re-do" on the season. Look for him to come back much tougher next season to make up for 2015.
Jonas Andersson of Team Sweden had one of those "on again off again" season's. So, you either noticed him doing something special, or just out there driving trying to stay in the top five. The driver from Fruvi, Sweden made the podium with a great second place showing in Evian after a fourth at the opening round in Qatar.
However, his two failures to finish in Porto and again while leading for a "country mile" in Abu Dhabi really sank any dreams of winning his first F1 title and taking his fifth career victory as well.
Jonas switched back and forth between Molgaard hulls, doing his own engine work as well, which kept him under the gun most of the year with a lot of pressure put on himself. He collected 34 points in the four races he finished.
Veteran Thani Al Qamzi was a late arrival to the party in 2015 joining Team Abu Dhabi at the third round in Porto. He made an immediate impact for the organization and helped them to a Team Championship.
Thani reached the podium twice in his four races, with a season best second in Liuzhou, followed up by a third at his home Grand Prix in Abu Dhabi. He had a sixth in Porto and struggled in Sharjah, in a race that he had won three times before. He managed to take home with him 32 points for ninth place in the standings.
The youngest driver on the tour Filip Roms of Finland reached a milestone in 2015 by earning his first ever podium finish with a well-deserved third in Evian. The 21- year-old from Espoo was able to finish his first four races, but dreams of finishing in the top-five in the drivers table fell away when he failed to finish either of the Emirates races for the Mad Croc Baba Team. He was in the top-10 in three of the four events, claiming 19 points at years end and 10th position in the championship.
Ahmed Al Hameli of the Emirates Team struggled all season, enjoying his only high moment at his home race when he qualified and finished fifth. His season didn't start well, while qualifying a fine third he and Sami Selio got together on the back straightaway and crashed heavily as they were both fighting for a spot on the podium.
From that point onwards, Ahmed finished three of the final five events but, came away with no podiums, which isn't something you would expect from a driver who has six victories on his resume in just 66 starts. Ahmed took home 12 points on the season.
Second year man Jesper Forss of Team Sweden had a season best sixth place in Evian, France along with a ninth in Liuzhou and an eighth in Sharjah. He failed to finish two of the first three races and missed the Abu Dhabi event because of a heavy crash with Austrian Bernd Enzenhofer. He finished the season with 10 points in the 12th position. He looks for better things in the upcoming calendar.
Two of the most experienced drivers on the tour tied for 13th place each earning nine points. Italian Francesco Cantando of the Motorglass Team completed just one race this year with a fine fourth place in Porto, Portugal. In between, he had four DNF's and a crash in Evian when fighting for a strong top ten position. Francesco, who has the second most points in the tours history with 919.5, would love to have a second chance on the year and should bounce back strongly in 2016.
Meanwhile, for Portugal's Duarte Benavente, the F1 Atlantic Team driver had one top-six "shootout" performance in China. His season best pair of finishes was a seventh place in Liuzhou and again in Abu Dhabi as his main "claims to fame" for the year. His three failures to finish really hurt his chances of claiming a top-10 placement in the standings.
Poland's Bartek Marszalek missed two of the season's first four events. He finished two of his three races in the top ten points earning positions. His best weekend of the season was a seventh in Evian followed months later with an eighth in Abu Dhabi. He was 15th in the standings with seven points at the end and really looks forward to becoming a serious contender to top-five finishes in 2016.
Christophe Larigot of France joined Marit Stromoy on the EMIC Team at his home race in Evian late in June. He completed all five races he entered taking top ten finishes in all but one. He has proved he is both a consistent racer in F1 as well as an endurance player. He was 16th with six points earned.
Another French driver Cedric Deguisne raced twice with the Maverick Team. He finished with a nice eighth place at his home race in Evian followed up with a disappointing effort while failing to complete the event in Porto, Portugal. Cedric took home three points for 17th position in the championship.
Much heralded offshore racer Nadir Bin Hendi took up F1H2O racing when his Victory team agreed to switch to the category in early summer. On a steep learning curve, he crashed out in qualifying and failed to finish at his first event in Porto. Then, Nadir got caught up in a practice crash in Liuzhou, dropped out in Abu Dhabi and earned his first F1 points with a fine ninth place finish at his home Grand Prix in Sharjah.
Bin Hendi is a determined racer, who is only going to get better each event he enters and won't languish long on the bottom of the standing in his second season in 2016.
Italian David Del Pin started the year with Team Abu Dhabi as their second driver. He finished ninth at the opening round in Doha. However, his season came to an end when he hit a marker buoy in a big way in the beginning of qualifying in Evian and was out of the seat for the rest of the year coming home 18th with two points.
China's "Leo" Xiong had a less than stellar year, earning just one point in six races finishing 10th at his home Grand Prix in Liuzhou after qualifying eighth in his CTIC China boat. His bad luck really accelerated at the tail end of the season, failing to finish three of the last four events giving him no hope of earning more points. He'll do his best to shine up his reputation in the upcoming season.
The final driver on the series and the only one who failed to earn a single point was Austria's Bernd Enzenhofer of the Motorglass Team. He managed to race in one event in China, starting last and finishing 13th. He crashed out twice in practice and his Abu Dhabi get together with Jesper Forss ended his season with his boat being too crippled to continue. The driver from Amstetten hopes to return again next season.
So, twenty drivers from 10 countries on three continents scored points on the UIM F1H2O World Championship tour in its 32nd year. It was a very historic 10 month journey, with five different drivers scoring wins in the six scheduled events. The "signature event" of the year was the historic victory for Marit Stromoy, becoming the first woman to win a Grand Prix in any international F1 motorized competition.
The upcoming campaign looks to be only brighter, with new venues and new drivers joining the already jammed starting grids for the Grand Prix's. It all happens on the world's most difficult and exciting racing stage on water, the UIM F1H2O World Championship for powerboating.