December 5, 2018
CRUNCH TIME IN TITLE RACE FOR TEAM ABU DHABI TRIO
F1H2O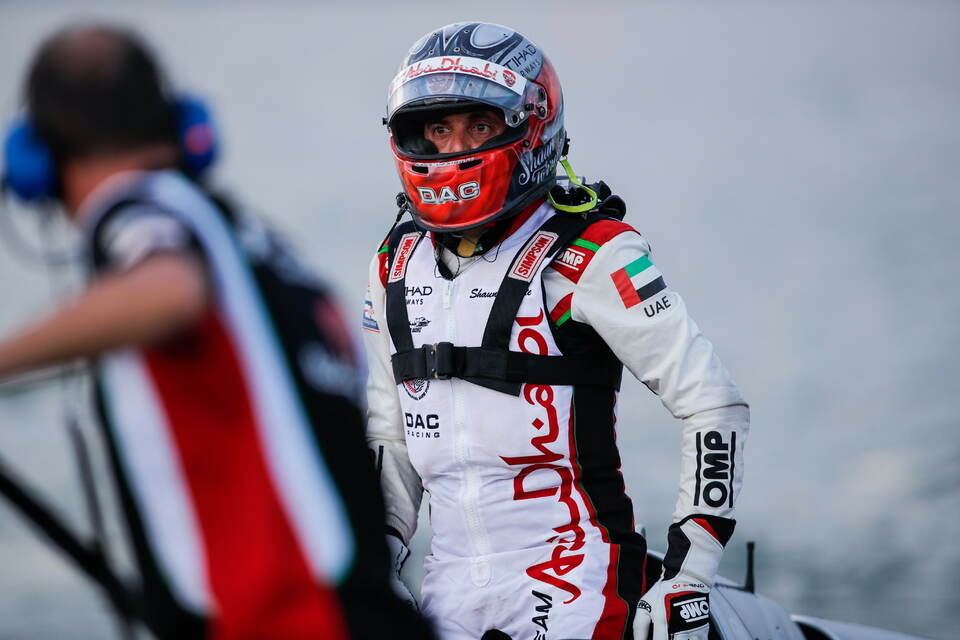 Wednesday, 5 December, ABU DHABI (UAE): Championship leader Shaun Torrente can clinch his first UIM F1H2O world drivers title with victory in this weekend's Grand Prix of Abu Dhabi, but standing in his way are his Abu Dhabi teammates Erik Stark and Thani Al Qemzi who are still very much in the title fight and also chasing a maiden title.
The trio has dominated this season winning all five Grand Prix, picking up 11 of the 15 available podium slots and locking out the podium at successive Grand Prix in France and in China, putting Abu Dhabi in command in the UIM F1H2O Teams World Championship and in top spot with 126points, 53 clear of CTIC F1 Shenzhen China.
Torrente has the upper hand and leads the championship standings for the first time since the season opener in Portugal on 72 points after winning in India last time out and a win at the team's home Grand Prix will hand him the title if teammate Stark, who is 7 points adrift in second, finishes fifth or lower.
To take the title fight to the wire at the final round in Sharjah [13-15 December] Stark has to finish ahead of Torrente or at least keep the points' gap to less than 20, whilst Al Qemzi must either win or finish ahead of both teammates to cut his 18 and 11 point deficit to the top two.
With the team on the cusp of a brace of titles the 'Cappellini factor' cannot be underestimated as he looks to steer his team to a successive drivers title and a third teams championship in the four years since he took over at the helm as team manager in 2015. Arguably his hardest role as the season has closed out has been the management of three drivers from the same team bidding for the title. "It's not just managing three very good drivers it's managing three that are separated by just 18 points and capable of winning. It is not an easy task because each driver has a clear motivation which is to win a first world title," he said. "Every time a driver goes out on the water I remind him, and not just me, that what is important for the team is not to make a mistake especially with a team member. Right now there are no issues and everything is working out very well and I hope it continues in this direction.
"They are free to race. It is difficult to have a preferred driver, why, because Shaun is Shaun, Erik is Erik and Thani is Thani. For me to win the title as a driver you cannot have any mistakes. One mistake by whoever it is will cost him the championship and I always stress this to all of them." And when asked who he thought will win the title he said 'inshalla one of them!'
Mathematically the CTIC F1 Shenzhen China duo Philippe Chiappe and Peter Morin are still in it [the title race] but in all reality their time is limited unless there is a complete capitulation by the trio at the top over the next two races, but a championship podium slot is still a possibility.
Chiappe's hopes of keeping any flickering title challenge alive were all but extinguished in India after his first corner malaise with Duarte Benavente, but in a season that has not been the teams' strongest he will line up in Abu Dhabi looking to defend his Grand Prix title.
Despite a solid start to the year with a podium for Chiappe in Portugal and for both CTIC drivers in London, with Chiappe at that point leading the title race, the year then began to unravel. Chiappe now sits in fifth spot on 34 points and it is his son-in-law and teammate Peter Morin carrying the fight to the front runners, five points better off in the standings above him and having a very good season and currently heading the points in the Fast Lap Trophy.
Outside of the title challengers there is a clutch of drivers who could well interfere in the title race by taking points away from either or all of the top three; on last performance Emirates Racings Marit Stromoy has to be up there and could well be in the mix if she can match or better her brilliant performance in India, qualifying in P2 and matching it in the race.
Amaravati's Jonas Andersson is another more than capable of mixing it at the front and will be looking to bounce back after failing to go the distance last time out from fourth and who grabbed the pole and race win double in Abu Dhabi in 2016.
Victory Team will be desperate to end its season on a positive note and build on the marked improvements that they showed at times in India. Ahmed Al Hameli has gone the distance in all races and currently sits in eighth with Alex Carella in 11th. But Carella is very positive and optimistic about the latest evolution Victory boat, saying it was by far the best and that he felt very comfortable in it and would continue to push to challenge at the front. His next chance to do that is at a circuit he has often described as one of his favourites and which he has won at three times!
UIM F1H20 DRIVERS WORLD CHAMPIONSHIP (top ten) after round 5 of 7
1. 6 Shaun Torrente (usa/*uae) 72pts
2. 35 Erik Stark (swe/*uae) 65pts
3. 5 Thani Al Qemzi (uae) 54pts
4. 8 Peter Morin (fra) 39pts
5. 7 Philippe Chiappe (fra) 34pts
6. 50 Marit Stromoy (nor) 26pts
7. 15 Erik Edin (swe) 18pts
8. 3 Ahmed Al Hameli (uae) 18pts
9. 14 Jonas Andersson (swe) 14pts
10. 37 Francesco Cantando (ita) 10pts
(* international racing licence)
UIM F1H20 TEAMS WORLD CHAMPIONSHIP
1. Abu Dhabi – 126pts
2. CTIC F1 Shenzhen China – 73pts
3. Amaravati – 32pts
4. Emirates Racing – 30pts
5. Victory – 27pts
6. Maverick Racing – 25pts
7. Blaze Performance – 12pts
8. Mad Croc BABA Racing – 11pts
9. F1 Atlantic – 10pts