December 9, 2016
H2O RACING SIGN 'MOU' WITH SRI LANKA MINISTRY OF SPORT AND LANKA POWERBOAT ASSOCCIATION
F1H2O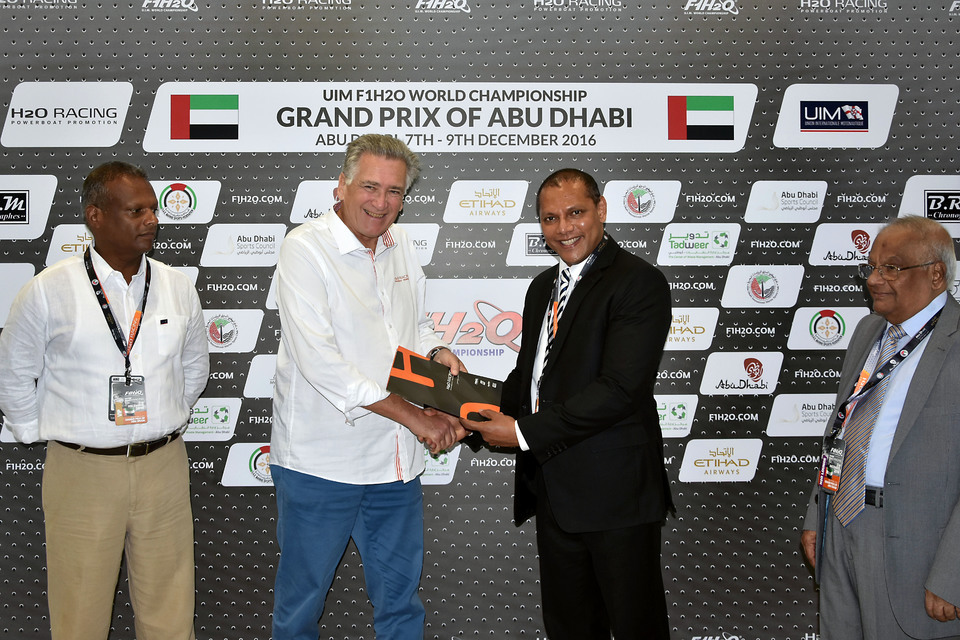 Friday, 9 December, ABU DHABI (UAE): H2O Racing is pleased to announce that it has signed an 'MOU' with the Sri Lanka Ministry of Sport and the Lanka Powerboat Association to host future rounds of the UIM F1H2O World Championship and the UIM-ABP Aquabike World Championship.
The agreement follows several months of negotiations with Sri Lanka Minister of Sport, the Honourable Dayasiri Jayasekera and Prassane Ranaweera, President of Lanka Powerboat Association. "We are delighted to have concluded these highly successful negotiations that will give us the opportunity to expand our international boundaries to promote our racing properties," said H2O Racing President Nicolo di San Germano. "Sri Lanka will be a spectacular location for our world championship events and will also further enhance our presence in Asia. And I believe strongly that working closely together this new association will provide the platform and opportunity for the country to promote itself to truly international global audience."
The agreement was signed today by the Minister of Sport and the president of Lanka Powerboat Association, who were accompanied by the Ambassador of Sri Lanka in the UAE, H. E. S. J. Mohideen, during their visit to attended today's UIM F1H2O Grand Prix of Abu Dhabi.
The Lanka Powerboat Association was formed in 2011 its main objective has been, and continues to be, to promote powerboat racing in Sri Lanka, organising races and events, and to generate increased worldwide attention to Sri Lanka in order to showcase the country as a top venue for high-profile events and tourism.
The Association also works closely with the sport's world governing body, the Union Internationale Motonautique (UIM), with its ambitious Youth Development Programme across both powerboating and personal watercraft competitions.