August 26, 2016
HARBIN – ANOTHER IMPORTANT STEPPING STONE FOR A F1H2O TITLE!
F1H2O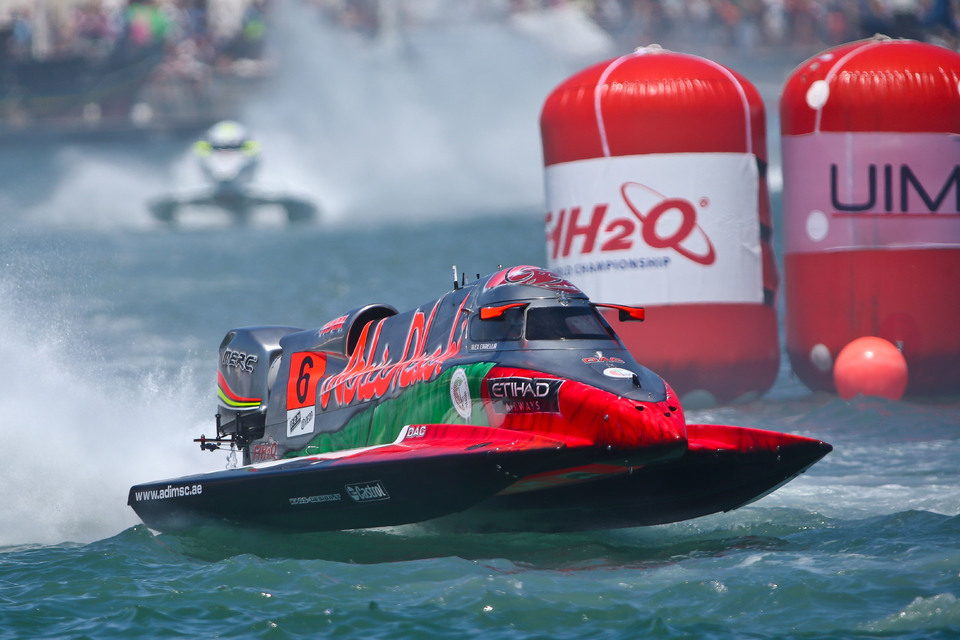 ABU DHABI – Friday, August 26, 2016 – As the fourth race of the 2016 UIM F1H2O World Championship gears up for next weekend's Grand Prix of Harbin, 2-4 September, in the northernmost province in the People's Republic of China, the three decades of tradition of visiting the world's most populous country has become almost a pilgrimage year after year since 1995.
Year after year, world championship dreams have been dashed or sometimes made true by racing in the Far East.
At what always seems to be the midway point of the calendar, China proves to be a pivotal event and 2016 proves once again to be no exception.
This year, as many as six drivers from five different nations are deadlocked in a struggle that will most likely go all the way to December, determining whom will win the ultimate gold medal at the end of the 2016 racing season. But, in the new race site in Harbin, this could be where one driver or another grabs the chance to make their statement on their way to glory and a world title.
Leading the way is three-time winner in China, Alex Carella, as the Italian driver for Team Abu Dhabi heads the Drivers' Championship by a scant two points and is coming off his worst result of the season with a fifth in Portimao, Portugal a month ago.
The 31-year-old from Piacenza has had great luck in his previous eight races in China, winning four and placing himself in the top five of six of events with only one failure to finish.
His 42 points is just ahead of French driver Philippe Chiappe, who used his victory a year ago, to help springboard his title chances winning for the first time in his CTIC China Team's home Grand Prix in Liuzhou, last October.
The driver from northern France will be starting his 17th Grand Prix in China, hoping to keep his good luck in tact after showing just that one victory and five podiums in fourteen years of racing in the People's Republic.
Also tucked in the leading group is American speedster Shaun Torrente, as the driver from Florida leads the very strong Victory Team effort sitting with 36 points, having been the only driver this season to have been placed on the top-three podium for the all three of the first Grand Prix of 2016.
His history of racing in China has been a bit checkered, having started four previous events, with a fourth place a year ago being his best result and crashing out in 2011ending his season. With four straight podium finishes since a year ago, he'll need to keep the streak alive this time around to stay as a major player for his first world title.
So, with drivers locking horns with just six points between them, knowing that a victory at next weekend's Grand Prix will garner them 20 points, three others, who are still players, will have to come up with perfect performances if they want any hopes of a title at the halfway point of the current campaign.
Swedish driver Jonas Andersson, a 2009 winner in China, has a pair of fourth place finishes in Dubai and Portimao sandwiching a failure to finish in Evian, France back in July, is sitting 24 points back of the leader Carella. The 11 year F1H2O racing veteran, who's been on the podium just once in 15 previous races in China, is looking to regain the magic he had seven years ago in China for Team Sweden.
A point back of Andersson is young Finnish driver Filip Roms. In his fifth season, Roms scored his best finish of his career with a second at the Grand Prix of France, combined with a ninth in Dubai and a disappointing 13th in Portugal. He is hoping to do better than his career best seventh place in China a year ago.
Roms' teammate, two-time world champion Sami Selio, the leader of BABA Racing, is coming off a great weekend in Portimao where he scored pole position and finished runner-up to Chiappe on the Arade River a month ago.
China has had some wonderful memories for the 41 year-old from Helsinki, who has earned six pole positions in qualifying while winning twice in 2008 and again in 2009.
Selio's pair of titles both came with "come from behind" performances in 2007 and again in 2010. He's feeling that his confidence is back and once again ready to attack, racing his older BABA boat and looking to play catch-up once again in Harbin next weekend.
The Grand Prix of Harbin takes a turn to the northernmost area of the People's Republic on the 2-4 September on the Hulan Estuary Wetland Park with the race scheduled for 15:00 local, 07:00 UTC and 03:00 EDT on the East Coast of North America with drivers from 12 different nations expected to compete and six still very much in the championship picture at the half-way point of the season.
You can stay updated with all the news of the race weekend by going to the series official website:
f1h2o.com