October 12, 2012
HISTORIC 4-STROKE TECHNOLOGY SET AT GRAND PRIX OF CHINA!
F1H2O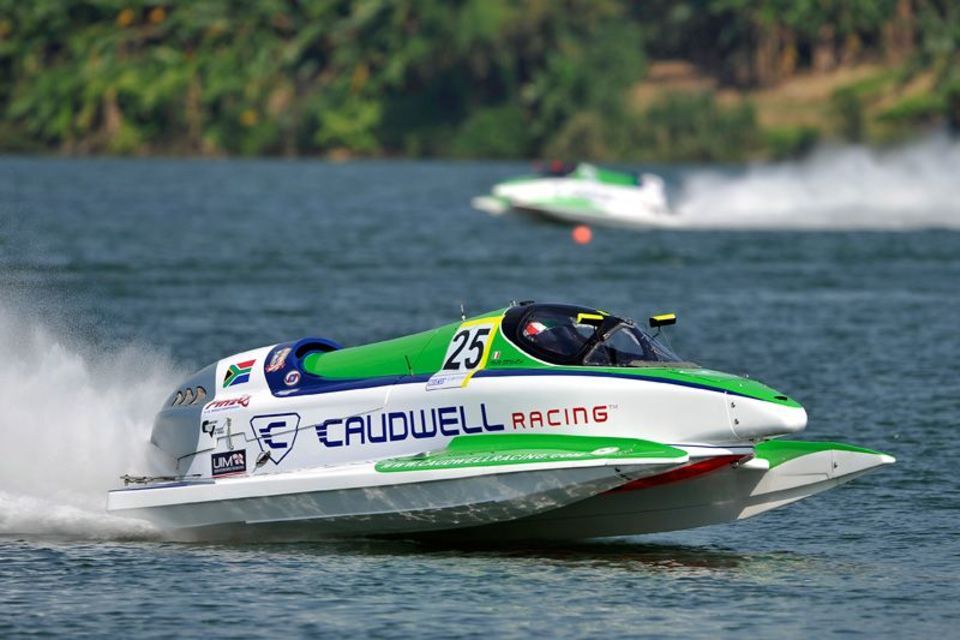 ABU DHABI - (Friday, October 12, 2012) - For the first time in the four decade history of the UIM F1 H2O World Championship series an F1 race boat powered by a 4-stroke engine finished a full Grand Prix event last week at the 18th Grand Prix of China in Liuzhou.
The Caudwell Racing organization from Cape Town, South Africa, running their new and revolutionary 4-stroke Infinity 3.5 litre dual overhead cam base engined boats in the hands of local South African driver Brett Stuart and veteran Italian Ivan Brigada came home just outside the points finishing 11th and 12th place in only their fourth official Grand Prix start.
Their complete run in the race looks like they have now turned the corner in their "teething" process of their race package and are now ready to make a run for points with top ten finishes and possibly top five finishes in the works for the near future.
"We are truly excited as we reached out goals in Liuzhou," stated Team Manager Kevin Delaney. "Our mission in China was to get to the finish line with both boats and thats exactly what we did. It's so important to not only race, but run the full event and start to be competitive at the same time and I think we've proven to ourselves and the rest of the racing world we are truly underway."
The American Ex-Pat went on to say that the next generation of race boat is expected to be flown in to the UIM F1 H2O World Championship series next race scheduled to be run on the new circuit in Abu Dhabi on the 29th and 30th of November.
"The new boat will be a head turner," said Kevin. "We hope this new matchup with less weight involved in the package will make the new boat that much quicker and help with center of gravity issues we've had thus far to turn this into something special."
Defending World Champion Alex Carella of the Qatar Team came home with his second win of the season in China and has now passed the ill fated driver Ahmed Al Hameli who sits in hospital in Baltimore, Maryland in the USA knowing this could have been his year following a win and a pair of second place finishes before getting sick.
The 27 year-old Carella leads the championship by nine points and is 11 ahead of the next active driver in Frenchman Philippe Chiappe of the CTIC China Team who has earned 48 thus far on three podium finishes.
New faces are scheduled to turn up in Abu Dhabi as well as past world champions with a full field of drivers expected for the final two races of the season. All the news and racing action can be followed on the official website at www.f1h2o.com.
Be In The Know - With F1 H2O!