March 5, 2012
QATAR TEAM HOPING THREE TIMES "A CHARM" ON HOME GROUND!
F1H2O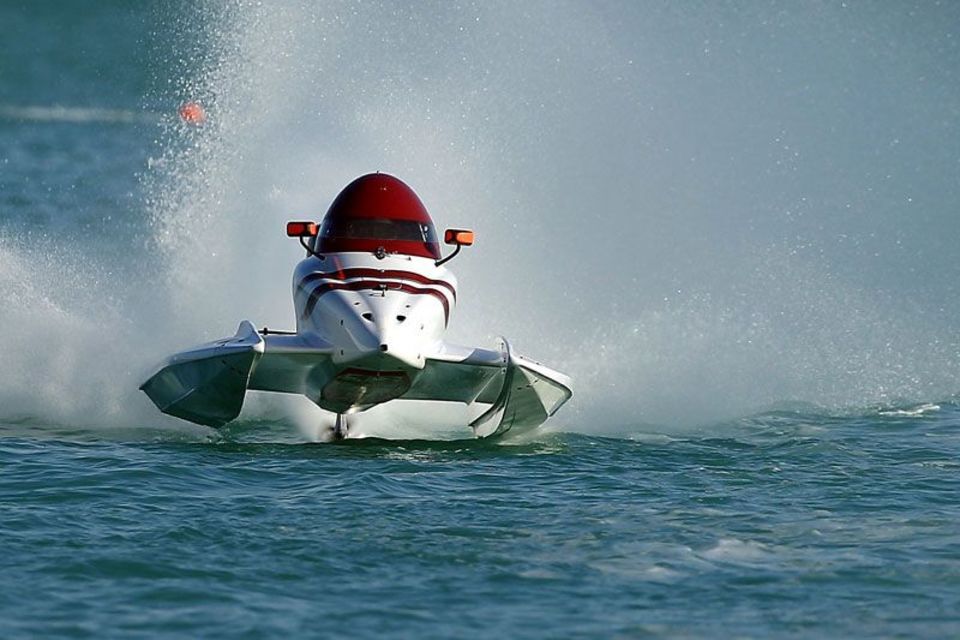 DOHA, Qatar - March 5, 2012 - As the UIM F1 H2O World Championship season starts to come into focus now less than a week away, what has become painfully clear to all the opposing racers is that host team has won the last two events and looks for the rare "hat-trick" when the 10th Grand Prix of Qatar begins this Saturday afternoon the 10th of March along the corniche at 15:45 local and 12:45 GMT.
The Qatar organization, based less than 15 minutes from the Grand Prix race circuit on the edge of the Gulf, took the victory in 2010 and again in 2011 finishing one-two a year ago with now retired 2008 World Champion Jay Price of the USA winning both events while his young teammate Alex Carella of Italy coming home second and eventually claiming last season's World Championship title at years end.
"It's been something that is really special to us," said Qatar Team Manager Khalid Al Kuwari. "We are hoping to continue what Jay has established and I know that with Alex and his new teammate from America Shaun Torrente, there is no reason we can't fight to not only win the race, but with a little luck, finish again first and second here on home waters."
The Grand Prix of Qatar, which dates back to 2005, has been run in three different locations along the downtown corniche in Doha. Italian Guido Cappellini took that first event and eventually winning three more times in 2007 and again twice in 2009 on his way to his 10th and final title.
Returning driver Ivan Brigada of Italy, who will be joining the new Caudwell Team from South Africa for their first official Grand Prix, won the race in 2006 from pole position. Sweden's Jonas Andersson won his first ever Grand Prix as well in Doha during the 2008 event. Both drivers area back starting the season looking for more glory.
Team Abu Dhabi which dominated the final half of the 2011 campaign is hoping their two drivers can once again strike gold here with Thani Al Qamzi who finished third in the championship a year ago, winning in Doha in the first of two races in 2007. His teammate, Ahmed Al Hameli who won twice in 2011 and finished fourth in the championship despite missing the Grand Prix in Kazan, is coming off a victory at last season's final round in Sharjah having won two of his last four starts.
Returning to racing action will be two-time World Champion Sami Selio of Finland driving with new teammate Filip Roms who comes over from the F-4S class. Sami, who injured himself last October at the Grand Prix of China in Liuzhou, is eagerly looking forward to racing again after such a long layoff from the sport.
"Doha is a great place to get back into racing action," said the 36 year-old from Helsinki. "I have two pole positions at this circuit including last season and in nine previous starts I have lead, never won, but have two podiums and want to get back on a positive note with a good showing to start off the new campaign for the Mad Croc Team."
French driver Philippe Chiappe of the CTIC Team has a pair of podium third place finishes in 2009 and 2011 and joins up with new teammate Stanislav Kourtsenovsky of Russia who is back full time in the world of F1 since back in the 2008 campaign.
The 10th Grand Prix of Qatar will take place beginning with an hour long qualifying session on Friday the 9th of March from 15:30 to 16:30 with the Grand Prix taking place on Saturday the 10th at 15:45 local 12:45 GMT and 6:45 EST in the Eastern Time Zone of North America. Both qualifying and the 10th Grand Prix of Qatar can be followed live on the UIM F1 H2O World Championship website at www.f1h2o.com.
Be In The Know - With F1 H2O!