September 4, 2023
REVISED QUALIFYING AND RACE FORMAT INTRODUCED FOR REGIONE SARDEGNA GRAND PRIX OF ITALY
F1H2O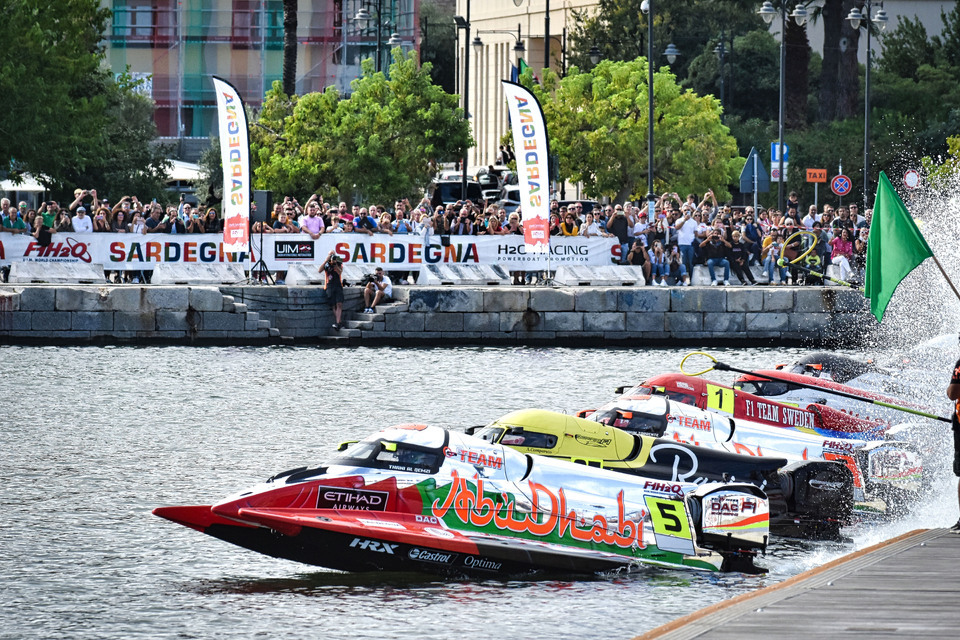 Monday, September 4: H2O Racing will use a revised format for the Regione Sardegna Grand Prix of Italy, the penultimate round of the 2023 UIM F1H2O World Championship.
Because of the exciting new format of the spectacular course in Olbia, the schedule for race weekend has been modified with the actual race being restricted to 16 boats. The format for race weekend is as follows:
Groups A and B will be divided into boats running with even and odd numbers and each group will carry out a free practice session on Friday (September 29th) from 15.00hrs onwards after customary registration and technical scrutineering.
There will be a special 30-minute qualifying session for each group from 10.00hrs on Saturday morning. Each group will then tackle their own 15-minute Sprint race from 15.00hrs using a starting order from the times set in the morning's qualifying session. Provided that they have finished the Sprint race and have completed at least 70% of the laps, the top seven racers from each group will then qualify for Sunday's Grand Prix. If less than seven boats from either of the groups have not qualified for the main race, additional positions will be available on Sunday.
The final places on the starting pontoon will then be determined on Sunday morning in a 20-minute Repechage session, starting at 10.00hrs. Potentially, six boats will take to the water and, regardless of their Group, the fastest two will take the last available positions for the Grand Prix. Boats that have already qualified will then be permitted a 30-minute warm-up session on the water from 10.30hrs.
The Regione Sardegna Grand Prix of Italy is scheduled to fire into life at 15.00hrs with 16 boats on the start pontoon. The fastest 14 from the two sessions would be guaranteed a starting place for the Grand Prix provided that they finished 70% of the laps, while the slowest six from the two group races would slug it out in a repêcharge on Sunday morning with the fastest two joining the rear of the starting line-up.
Olbia is a vital cog in the H2O Racing calendar and has seen some spectacular racing both in the power boat and aquabike disciplines in the past. The sport is extremely popular with local crowds and racers alike and receives enthusiastic support from local business and the regional authorities. The exciting new extended format will not only provide a safer environment for racing, but it will also enable local crowds to see extra racing action throughout the weekend with the different on-water sessions.