December 14, 2015
SEVEN DRIVERS STILL IN HUNT FOR "RUNNER-UP" TITLE IN SHARJAH!
F1H2O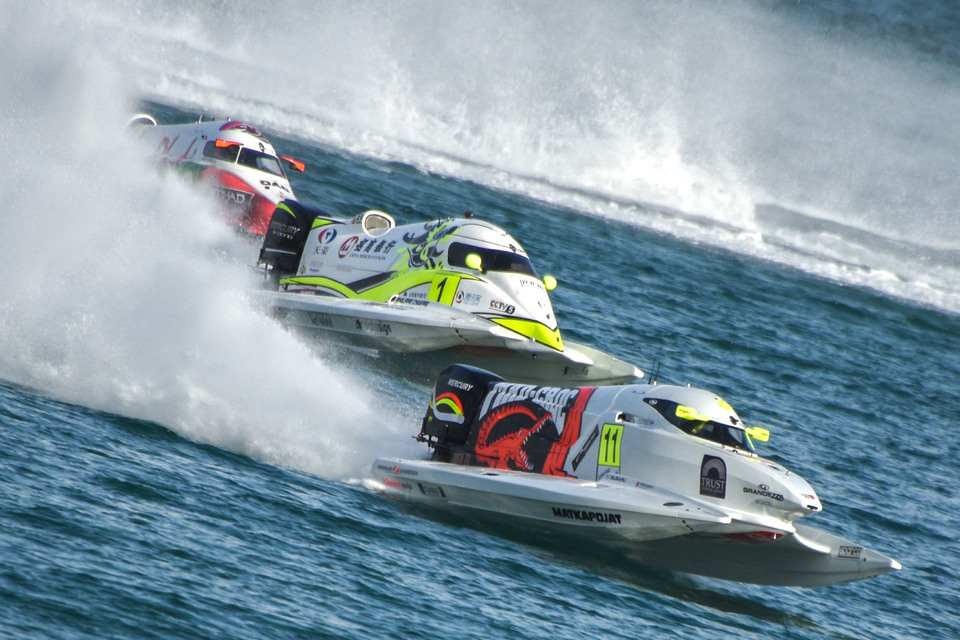 SHARJAH (UAE) - Monday, 14 December, 2015 - Even though French pilot Philippe Chiappe secured his second straight UIM F1 H2O World Championship title last week in Abu Dhabi with a solid second place finish, two other battles are brewing and bubbling over with excitement this week.
Starting this Thursday the 17th of December at the 16th Grand Prix of Sharjah, seven drivers from six different nations will be mixing it up for the coveted runner-up spot in the Drivers Championship. Last years second and third place finishers, Alex Carella of Italy and his ex-teammate in American Shaun Torrente are deadlocked at 39 points apiece heading into Friday's final Grand Prix starting at 15:30 local time.
Both drivers have a victory this season with Shaun winning at the season opening round in Doha, Qatar back in March, while the younger Carella capturing last weekends 24th Grand Prix of Abu Dhabi giving his Team Abu Dhabi organization their first victory on home waters in 10 years.
For the Florida driver Torrente, his Victory Team will be the one's on "home waters" this time around and will be looking to go flat out to make an impression as the 32nd year of UIM F1 H2O racing comes to a close on Friday.
"We are truly excited about getting a second chance to make a statement this coming week," said Shaun. "Our new boat started delaminating and we had to stop while in fifth place and in the hunt for a podium. Now, this time we hope to get some luck back and fight for the second place in the championship standings. Plus, it would be fun beating my "old teammate" as well in Alex."
For the 30 year-old Italian who has three World Championship rings, finishing ahead of Torrente would make it three straight years he was able to accomplish this against the driver from Miami. "Yeah, we finally got it all together and everything including my new boat was great last week," said Alex. "Now, we would love to get a "sweep" by claiming two straight Emirates races and finish the season on a real high note."
There have been a few drivers who have won back to back Emirates events, including Francesco Cantando, in the very first year Sharjah became part of the tour back in 2000. However, no two teammates have ever shared back to back Emirates race wins.
Local driver Thani Al Qamzi of Team Abu Dhabi would like to change that this time around. The 37 year-old driver from Abu Dhabi who has won three times in Sharjah, with his latest begin back in 2012, is back in fifth place in the standing just seven points behind his teammate and Torrente. His best season was in 2009 when he finished second to his Team Principal Guido Cappellini. He would love to match that again this year with a victory.
Also playing a part in the championship picture is Kuwaiti driver Youssef Al Rubayan. He is just a point behind both Carella and Torrente with 38 points and looking to find his "mojo" struggling a bit since his first career victory in Evian, France back in June.
The F1 Atlantic Team driver has recorded just one top-five since then but thinks he can turn that around this weekend.
Then there are the three fellow Scandinavian's who have played a major role in this season's excitement. Beginning with Sweden's Jonas Andersson in his Team Sweden Molgaard boat built in Denmark who led most of the race in Abu Dhabi before dropping out with mechanical issues. He has 29 points.
A point behind Andersson is two-time World Champion Sami Selio of Finland as the Mad Croc Baba Team driver was also staring at victory last week, until he also had a late race issue, forcing him to go around the circuit at a greatly reduced speed and losing the lead and eventually finishing off the podium in fourth position.
Sami is a two-time winner of the event having taken victories in 2007 and again in 2009 so he knows his way to success on the Khaled Lagoon.
Finally, young Swedish star Erik Stark of Team Emirates has had his share of bad luck this season but can make up for all of that in a big way by finishing well in Sharjah. He currently sits 12 points behind Carella and Torrente but don't rule him out as this very talented driver on a very professional team run by two-time Sharjah winner Scott Gillman could still surprise everyone before it's over.
With all the attention drawn towards the drivers, the very prestigious Team Championship title, as well, is up for grabs on the Khaled Lagoon this Friday afternoon. After five rounds, Team Abu Dhabi leads with 73 points, followed closely by the CTIC China organization who wants to sweep both the drivers and team championships this season in the worst way just two points back.
All this excitement begins on Thursday the 17th of December with official qualifying and battle for pole position beginning at 15:30 local, (11:30 UTC) and 06:30 EST on the East Coast of North America.
The final event of the 32nd UIM F1 H2O World Championship season is scheduled for 15:30 local (11:30 UTC) and 06:30 EST on the East Coast of North America for the 16th Grand Prix of Sharjah on the Khaled Lagoon just northeast of Dubai.
Both the qualifying and the Grand Prix race can be followed by going to the tours official website at www.f1h2o.com. The race can be viewed "live" on the website with the international television broadcast feed made available as well.
Be In The Know - With F1 H2O!