December 11, 2017
STAGE ALL SET FOR TITLE SHOWDOWN IN SHARJAH - CARELLA VERSUS CHIAPPE
F1H2O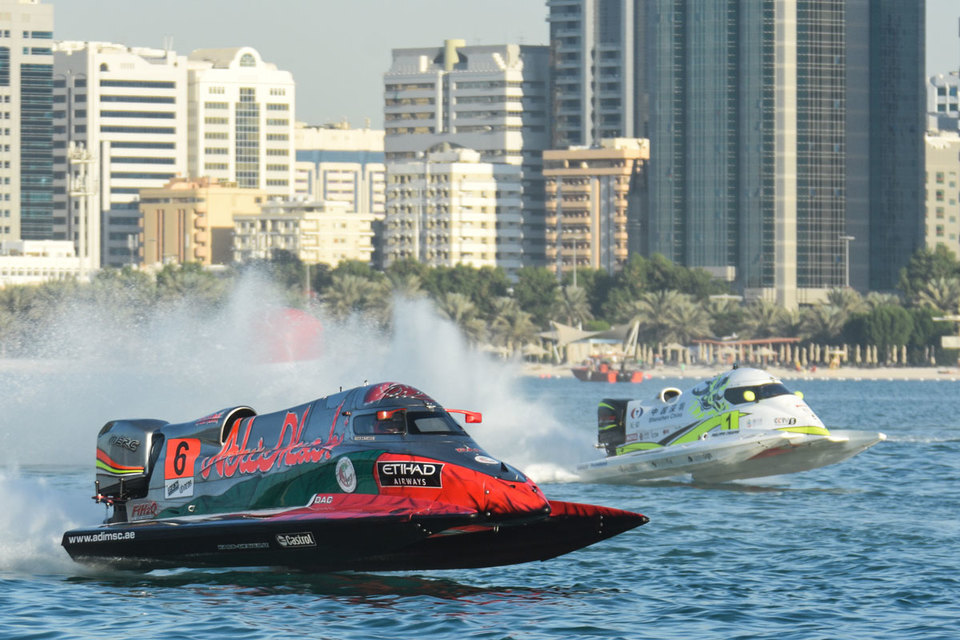 Monday, 11 December, SHARJAH (UAE): The 2017 UIM F1H2O World Championship is poised for a thrilling but nerve jangling season finale at this week's Grand Prix of Sharjah, with Team Abu Dhabi's Alex Carella and CTIC F1 Shenzhen China's Philippe Chiappe going head-to-head for the coveted world driver's title.
The stage is all set for a classic title showdown on Khalid Lagoon between two drivers who between them boast three world titles each, who have each won twice this season and have won in Sharjah before.
Carella's hopes of wrapping up the title at this home Grand Prix last weekend were dashed by a superb lights-to-flag win by Chiappe, but it is Carella who will start in Sharjah as favourite with an 11 point advantage. If Chiappe were to win again Carella knows he must finish in third or better, but should Chiappe finish outside the top three the title is lost, whatever Carella does.
Whilst the title rivals will be fully focussed on their own races there is a clutch of drivers who have also won in Sharjah and who could come into play to affect the race and title outcome; Emirates Racing's Marit Stromoy has hit great form after a frustrating season and lines up where she grabbed a famous victory in 2015 and coming off the back of a brilliant performance in Abu Dhabi, qualifying in P2 and finishing in second.
Two-time winner Ahmed Al Hameli and last year's winner Shaun Torrente have nothing to lose and can throw caution to the wind as they bid for Victory Team's first win of the year, whilst Thani Al Qemzi, a three time winner on Khalid Lagoon, can play a massive role in helping Abu Dhabi regain the Team's Championship. And after seeing his title hopes end in Abu Dhabi, Sweden's Erik Stark will be looking to end his year on a high and to at least secure his current third place in the championship standings.
Of the 21 drivers expected to line-up this week, Mad Croc BABA Racing's Sami Selio will decide tomorrow whether or not to race, following his two big crashes in Abu Dhabi, with Sweden's Erik Edin and Emirates Racing's Matt Palfreyman hoping the repairs to their boats will be completed, giving both the opportunity to start their first race.
2017 UIM F1H2O World Championship Standings (top ten…)
1. A Carella (ita/uae*) – 70pts
2. P Chiappe (fra) – 59pts
3. E Stark (swe) – 49 pts
4. S Selio (fin) – 30pts
5. A Al Hameli (uae) – 30pts
6. T Al Qemzi (uae) – 29pts
7. S Torrente (usa/uae*) – 28pts
8. M Stromoy (nor) – 18 pts
9. J Andersson (swe) – 17pts
10. D Benavente (por) – 14pts
(*international racing super licence)
For full classification: http://f1h2o.com/standings/2017/f1h2o
[BRM Official Qualifying at 1530hrs [local]/1130hrs [UCT] on Thursday 14 December and the UIM F1H2O Grand Prix of Sharjah at 1600hrs [local]/1200hrs [UCT] on Friday 15 December will be streamed live on f1h2o.com]