December 19, 2019
STARK SETS THE EARLY PACE IN SHARJAH
F1H2O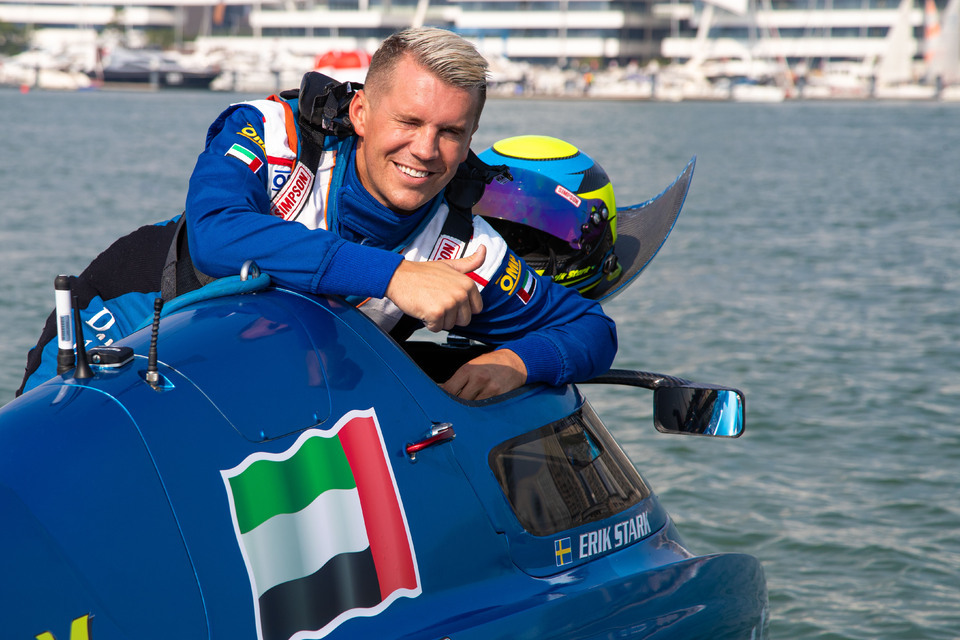 Thursday, 19 December, SHARJAH (UAE): Erik Stark was the early pace setter in first practice at the final Grand Prix of the season in Sharjah in a tight 60 minute session with 0.98s separating the top 7.
Running his new DAC in anger for the first time the Victory driver topped the time sheets in the final 10 minutes with a 46.09s lap around the 2057 metre circuit on Khalid Lagoon. "It's a good way to start with the new boat," Stark said. "This boat is running like my boat last year. I really like this type of boat because it really fits my driving style. We will see. It's a long weekend but a good start.
"We have tested a lot in Dubai and so far we seem to be getting the same results here so hopefully our plans for the weekend will work."
Philippe Chiappe was the quickest of the CTIC duo in second spot with 46.37 and after struggling with reliability in the first half of the season the Frenchman has hit a rich vein of form with a pole in France and a podium in China.
Maverick Racing's Alex Carella could well be a spoiler in the pack this weekend and will be looking to repeat his win in China and was just .33s off the pace in third.
Six-tenths split the two title protagonists Jonas Andersson and Shaun Torrente in fourth and eighth respectively, neither pushing too hard, Andersson happier with the boat than his driving and changing the engine for qualifying, Torrente very relaxed and using the session to iron out and fix any gremlins, a battery being one.
Running in the colours of Team Sharjah at its home Grand Prix for the first, Sami Selio posted a very respectable 46.94 which put him in fifth spot ahead of Thani Al Qemzi.
There were concerns for Marit Stromoy and the Emirates Racing camp, the Norwegian failing to get out and post a time because of a major engine problem that they are struggling to resolve, so an engine change is imminent.
Second practice starts at 1300hrs [local] followed by Rebellion Official qualifying at 1530hrs.
For full classifications:
https://www.f1h2o.com/results/2019/grand-prix-of-sharjah/f1h2o