December 8, 2018
THANI AL QAMZI BECOMES FIRST EMIRATI TO WIN THE GRAND PRIX OF ABU DHABI
F1H2O
*Pole sitter Erik Stark retires on lap 29 and slips to third in the championship standings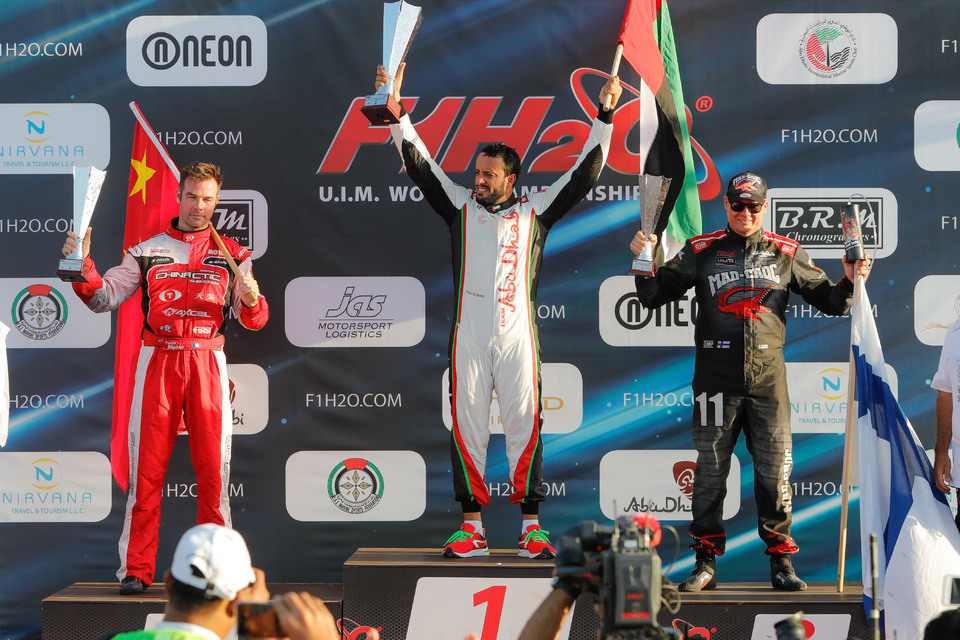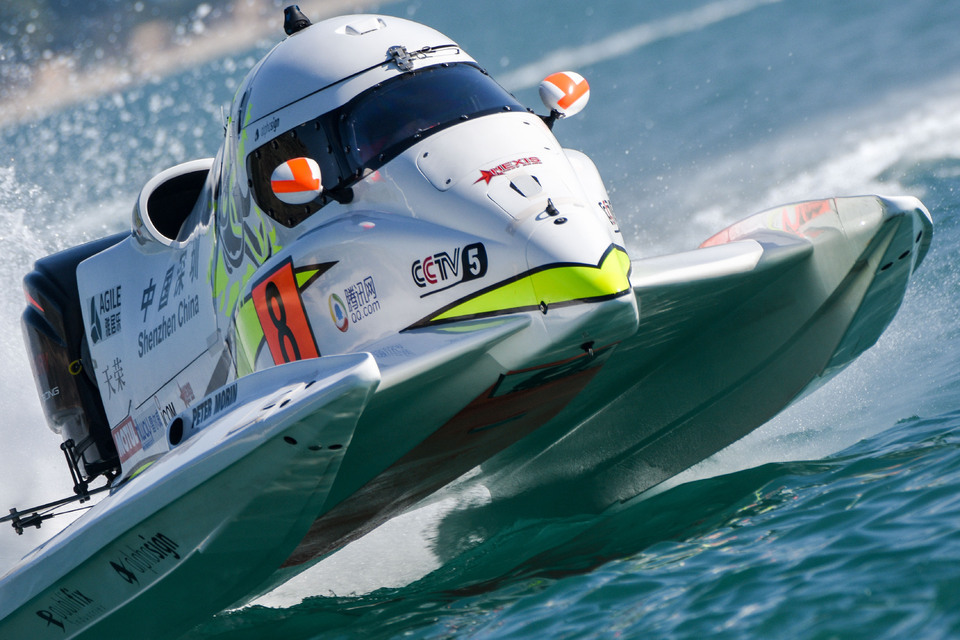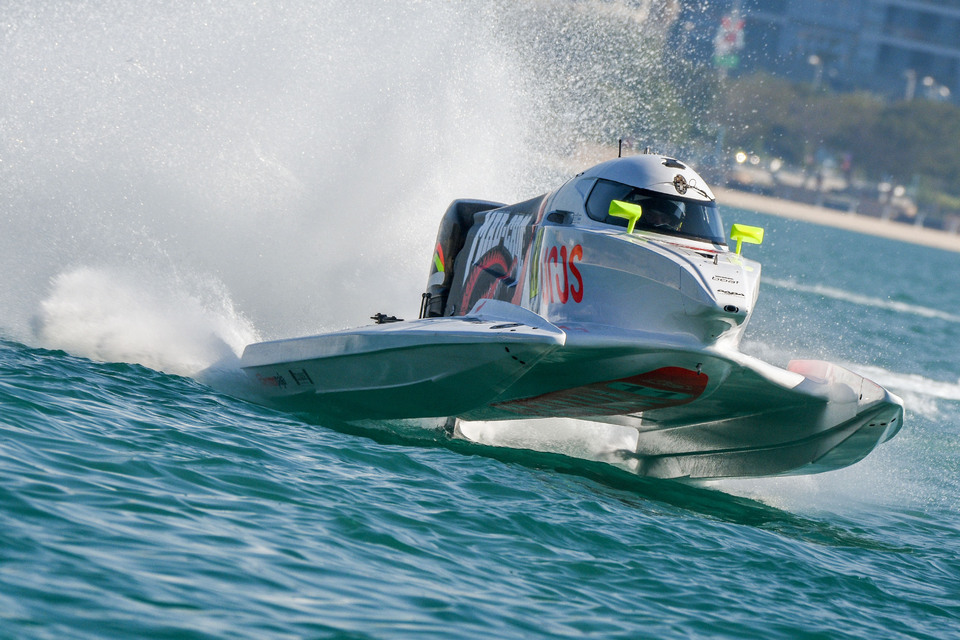 Saturday, 8 December, ABU DHABI (UAE): Thani Al Qemzi produced something extra special to become the first Emirati to win the Grand Prix of Abu Dhabi in the year that the UAE capital city marked its 25th anniversary as a host venue of the UIM F1H2O World Championship.
In yet another twist in what is turning into one of the most enthralling battles for the coveted UIM F1H2O world drivers title, today's result moved Al Qemzi right back into contention in the title race and up into second place on 74 points. "I made a very good start, kept my line and was able to get ahead after the first turn," said Al Qemzi. "The boat was very good and I was able to run at a great pace and for most of the race maintain a good lead but there was pressure on me throughout the race. Towards the end I saw how close Peter was and really had to push. Now we go to Sharjah and try to do it again."
It was a bitterly disappointing afternoon for pole sitter Erik Stark who saw his title challenge take a severe knock after his engine let go forcing his retirement on lap 29 from third place and slipping to third in the standings on 65 points behind both teammates.
After a disappointing result in qualifying yesterday Shaun Torrente's sixth place keeps him at the top of the standings on 77 points and clinched a second consecutive Teams World Championship for Abu Dhabi, its third since Guido Cappellini took over the helm as team manager in 2015.
CTIC F1 Shenzhen China's Peter Morin produced by far the strongest performance of his relatively short F1H2O career to take his best result of the year coming home in second place just 0.91s behind Al Qemzi, with Mad Croc BABA Racing's Sami Selio finally ending his run of bad luck with a well-earned third place.
The start was crucial for Al Qemzi moving up from third passing Stark and Marit Stromoy to have the lead at the end of the start lap, but it was Morin who was the surprise package up from seventh off the dock and into second, with Selio incredibly up from tenth to fourth ahead of Stromoy and Francesco Cantando gaining six places and up into sixth.
Al Qemzi and Morin were able to break free of the chasing quartet with the race leader stretching out a four second lead by lap 11, the only change at the front in a somewhat processional race the retirement of Stark on lap 29.
Despite the consistent pressure from Morin for the remainder of the race Al Qemzi was able to hold him off and go on to take the 10th win of his career by the narrowest of margins with Selio holding off Stromoy to break his run of bad luck.
After her excellent P2 in qualifying, Stromoy was disappointed with today's result and somewhat baffled to find herself in fifth after the second turn after a good start, 'I made a good start was passed Erik and I just don't understand how or where those boats came from they came out of nowhere' was all she had to say!
Francesco Cantando's fifth place matched his best result of the year and moved him up into the top ten in the standings, with championship leader Torrente struggling throughout the race with problems. "If you have your worst weekend of the year and can still be out in front and gain points on one of your rivals I'd take it," said Torrente. "We had issues with the boat and I just wanted to get it home. Let's go to Sharjah and win the championship." he said.
Bartek Marszalek picked up his best result of the year in seventh ahead of Philippe Chiappe, with Cedric Deguisne in ninth and Filip Roms in tenth.
The final Grand Prix of the year takes place in Sharjah next week and for Team Abu Dhabi it is the perfect scenario, a three way inter-team battle for the title, Torrente versus Al Qemzi versus Stark. "You cannot ask for anything more than this, it's amazing," said team manager Guido Cappellini. "Today was one dream and now there is no pressure. Sharjah will be an incredible race for all of them."
UIM F1H2O Grand Prix of Abu Dhabi, UAE – results (top ten)
1. Thani Al Qemzi (uae) – 0.00
2. Peter Morin (fra) + 0.91s
3. Sami Selio (fin) + 31.43s
4. Marit Stromoy (nor) + 32.69s
5. Francesco Cantando (ita) + 36.99s
6. Shaun Torrente (uas/*uae) + 46.27s
7. Bartek Marszalek (pol) +1lap
8. Philippe Chiape (fra) + 1lap
9. Cedric Deguisne (fra) + 3laps
10. Filip Roms (fin) + 4laps
UIM F1H2O World Championship (top ten)
1. Shaun Torrente (usa/*uae) 77pts
2. Thani Al Qemzi (uae) 74pts
3. Erik Stark (swe/*uae) 65pts
4. Peter Morin (fra) 54pts
5. Philippe Chiappe (fra) 37pts
6. Marit Stromoy (nor) 35pts
7. Sami Selio (fin) 19pts
8. Erik Edin (swe) 18pts
9. Ahmed Al Hameli (uae) 18pts
10. Francesco Cantando (ita) 17pts
For full classifications:
https://www.f1h2o.com/results/2018/grand-prix-of-abu-dhabi/f1h2o
https://www.f1h2o.com/standings/2018/f1h2o