May 20, 2018
TORRENTE WINS GRAND PRIX OF PORTUGAL
F1H2O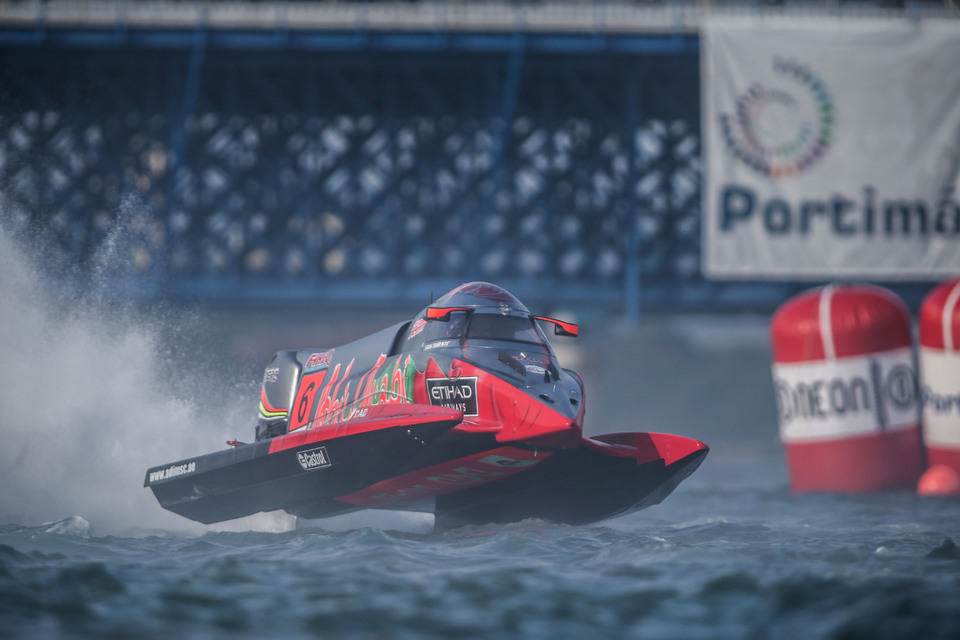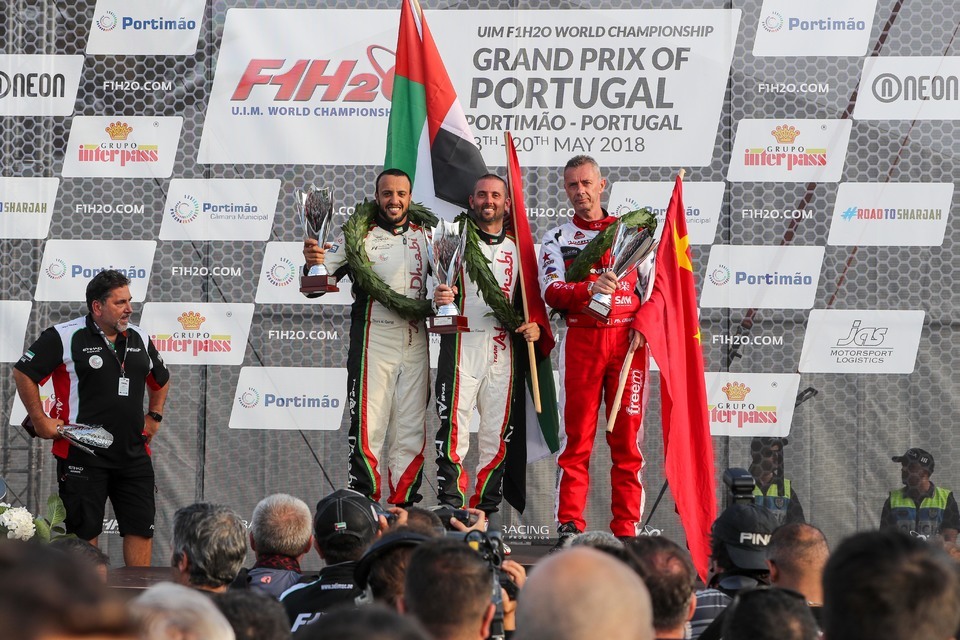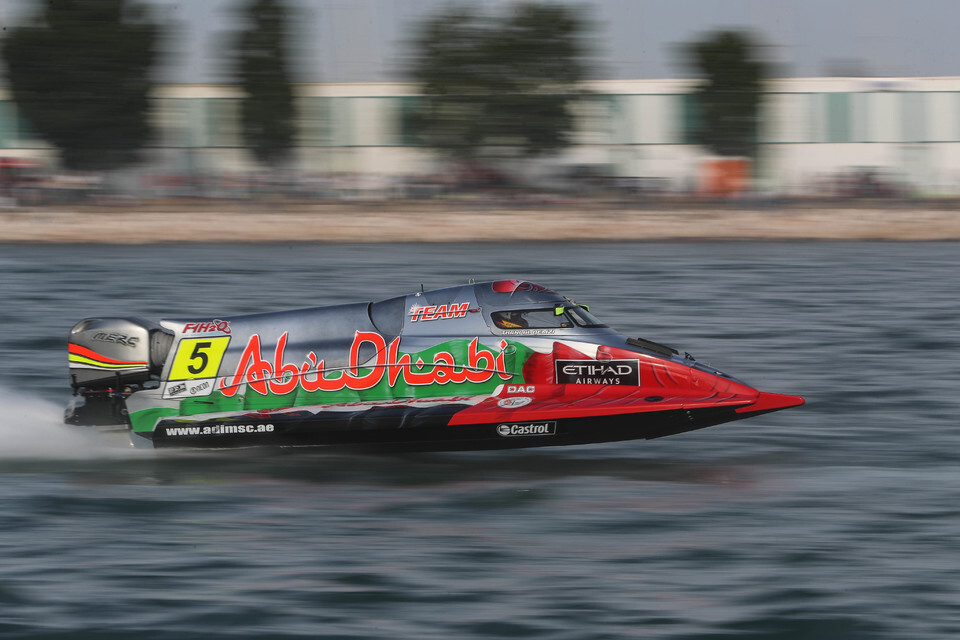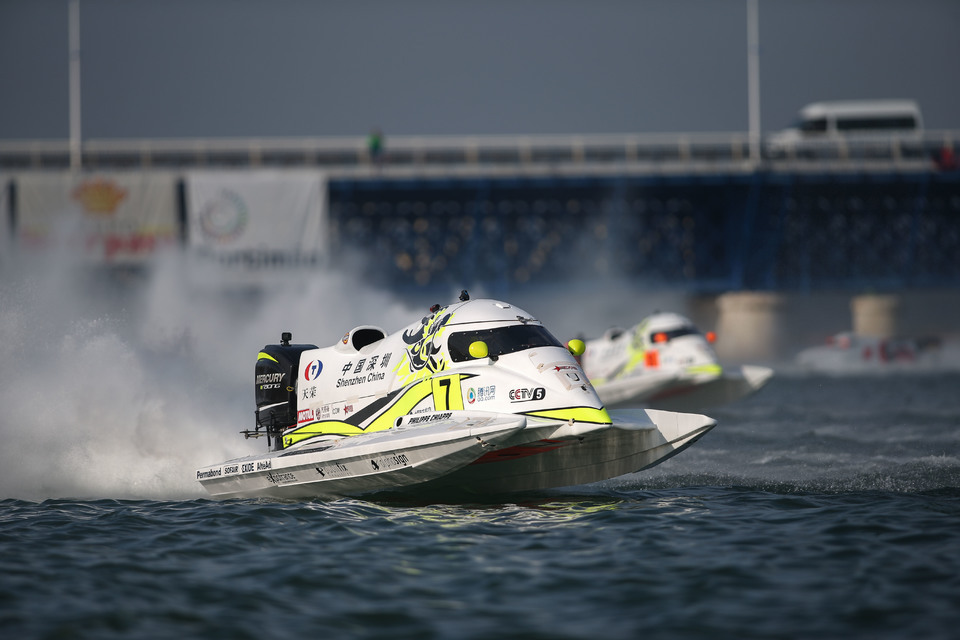 Sunday, 20 May, PORTIMAO (Portugal): Shaun Torrente rounded off a perfect weekend in Portimao with a lights to flag victory at the UIM F1H2O Grand Prix of Portugal, leading home his teammate Thani Al Qemzi to complete a Team Abu Dhabi one-two, with last year's winner on the Arade River circuit Philippe Chiappe finishing in third.
The Abu Dhabi duo capitalised on their one-two in yesterday's BRM Qualifying and were out front at the end of the start lap when the yellow flag came out to slow proceedings after a collision between Marit Stromoy and Jonas Andersson whose engine burst into flames and both immediately retiring from the race.
Torrente was immediately in control again when the green flag was given on lap 5 and was able to hold point throughout the 48 lap race and taking the chequered flag to win his debut Grand Prix for Abu Dhabi by 2.09s. "It's just tremendous, a perfect weekend. I have been waiting for this for quite a while," said Torrente. "We were so prepared for this. We knew which engine we were going to run. Never took it off. We knew which propellers we were going to use and it all came together."
The only real challenger was teammate Thani Al Qemzi who, after pushing Torrente close in yesterday's qualifying, kept the pressure on him throughout and closed to within two seconds as the pair scythed their way through backmarkers.
The fight behind the lead duo was between three-time champion Chiappe and four-time and defending champion Alex Carella with Chiappe passing the Victory driver who was having trim issues on lap 34 and then pushed to try to close the gap to Al Qemzi but came up just short.
Carella was able to manage his issues and held onto to fourth place but came under increasing pressure in the closing laps from Chiappe's CTIC teammate Peter Morin, who produced his best results since his championship debut last year, improving on a best sixth in qualifying to finish in fifth ahead of Ahmed Al Hameli.
F1 Atlantic's Duarte Benavente was unable to make up ground after starting in seventh, with Francesco Cantando enjoying by far his best outing in his Blaze in eighth, Erik Edin getting his best finish in just his second start in the top tier in ninth ahead of Erik Stark.
Despite limited time on the water prior to the race because of engine problems Emirates Racing's Bartek Marszalek was able to run for 46 laps, Cedric Desguines retiring on lap 43 but classified in 12th ahead of Rashed Al Qemzi. Grant Trask's race ended on lap 39, debutant Simone Schuft completing 38 laps, with Mad Croc duo Sami Selio and Filip Roms' enduring a frustrating afternoon, Selio failing to start his teammate retiring on lap 10.
For full classifications/results: http://www.f1h2o.com/results/2018/grand-prix-of-portugal/f1h2o