December 7, 2015
VICTORY TEAM DEBUTS TWO NEW RACEBOATS FOR F1 H2O!
F1H2O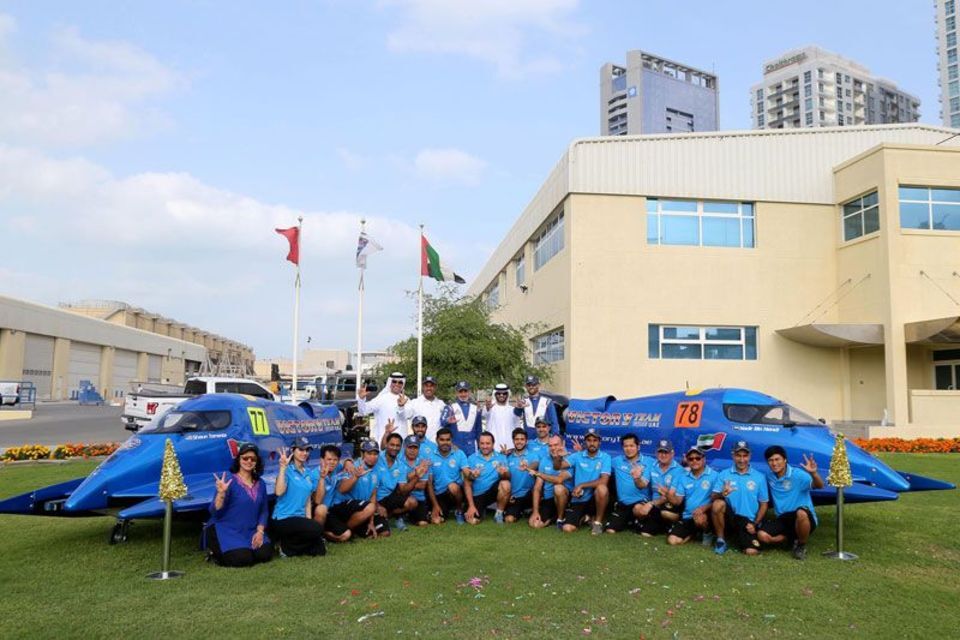 ABU DHABI - Monday, December 7, 2015 - In what was rumored for over four months, the Dubai based Victory Team is introducing their own brand of boat to the UIM F1 H2O Championship paddock this weekend as the tour makes it's fifth stop of the season on the 10-11 of December for the 24th Grand Prix of Abu Dhabi along the lovely corniche just inside the Gulf for the start of back to back races in the United Arab Emirates.
The newest team on the F1 H2O tour is a well established and world renowned in the larger "offshore" boats having dominated the classes for over a decade and now this season taking full measure on the F1 circuit.
"We have been working 24 hours a day for the past month getting these two new boats ready," said the American driver Shaun Torrente, who is still very much in the championship hunt with 39 points with two events still to be run.
"We realized that we needed to make a change in or philosophy after our race in Evian, France back in June the boat we had wasn't a winning machine so we decided to look to the future and plan on getting a competitive package. However, after finding out we couldn't purchase a competitive boat, we elected to build our own and now we'll get our first test this weekend and see how it runs against the competition."
The pair of boats were built with safety as well as speed in mind. The cockpit passed with more than 7,000 newtons of thickness assessed on it's structure for the "safety cell" while the glass cockpit was completed with 10 millimeters of thickness rather than the more normal three millimeters.
"We feel we have hit the mark when it comes to safety," said Shaun. "Now, with over 30 hours of testing on the boats we are hoping this gets us right in the mix for a run up front for qualifying on Thursday afternoon as well."
"True, it's our first step, but hopefully a giant one at the same time."
Qualifying is a big step every year at the Grand Prix of Abu Dhabi as the fast qualifier has also won the race the last five years in a row and in nine of the last 11 starts.
Points leader Philippe Chiappe of France driving for the CTIC China Team is hoping to wrap up another title after having won the last two races in a row in Portugal and China, and looking to duplicate what he accomplished a year ago winning from pole position on his way to his first career title in 2014.
Chiappe has 55 points with a 16 point cushion on Torrente but technically there is still hope for nine different drivers on the tour with 40 points still up for grabs with two races to be run in the next 10 days.
"We are quietly confident after putting ourselves in position for another title," said Chiappe. "This team has worked extra hard to repeat which isn't always easy to accomplish in a racing sport especially on this tour."
Beside the Florida driver Torrente, Youssef Al Rubayan of Kuwait is just 19 points back in his CG Atlantic Team boat and is still in the mix for a title after winning his first career Grand Prix in Evian, France back in June.
Swede Jonas Andersson of Team Sweden is fourth with 29 points on the strength of a second place finish in France while another Swede Erik Stark of the Emirates Team is two points further back with a pair of podiums in just the youngsters second full F1 season.
Ten racing teams with 19 drivers are expected to arrive in the paddock shortly from 12 different nations ready to put together a great show along the cornice in the center city of dazzling Abu Dhabi for the 24th time in the longest running Grand Prix since it's first event back in 1993.
Qualifying and the battle for pole position will take place on Thursday at 15:30 local (11:30 UTC) and 06:30 am on the East Coast of North America. The official qualifying session can be followed in its entirety by going to the tours official website at www.f1h2o.com with the official world television feed available to be viewed.
Be In The Know - With F1 H2O!