October 1, 2016
CHIAPPE LOOKING TO PILE ON THE PRESSURE AND ADD TO SLENDER POINTS ADVANTAGE
F1H2O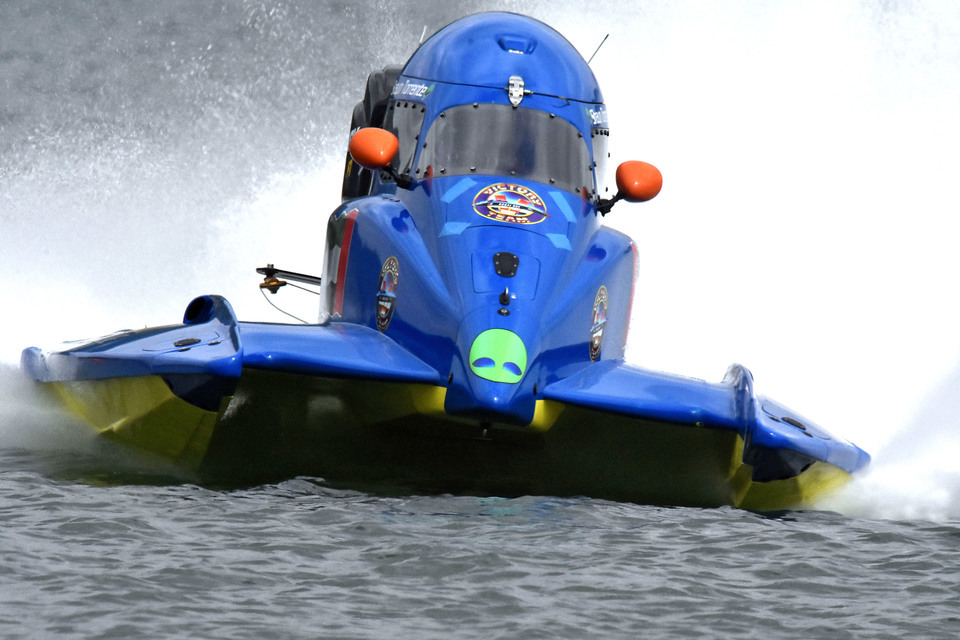 Saturday, 1 October, Frenchman Philippe Chiappe will be looking to press home his advantage and add to his slender points' lead when the thrilling race for the world title resumes at the Grand Prix of Liuzhou in China, round 5 of the UIM F1H2O World Championship.
With maximum points from wins in Dubai and Portimao and a brilliant third in Harbin starting from 15th off the dock already banked, the defending world champion sits on top with 52, seven clear of Shaun Torrente, 10 clear of Alex Carella.
Unlike in his two previous championship-winning seasons in 2014 and 2015, this time around and as he bids for the hat-trick, the CTIC F1 Shenzhen China driver will line up in Liuzhou leading the title race, last year he trailed Torrente, the year before, Carella.
Chiappe's only victory in the championships' 20 Grand Prix history in the People's Republic was in Liuzhou last year and an eighth career win will pile the pressure on his rivals. "What is important is to focus on this race. I am not thinking about the championship. That comes later," said Chiappe after todays' untimed practice. "The conditions were very good and it was important to have this time on the water before qualifying because we have no chance to test between races. But I feel we are ready."
Of the three front runners Shaun Torrente is the one without a win in 2016 but the Victory driver is the only one to have scored points in all races, taking three podiums and a fourth. The 38-year-old from Florida also delivered a great drive last time out coming from 16th to fourth to keep his challenge very much on track. His mantras all season have been 'keep racking up the points and control your own destiny'. He lines up in Liuzhou looking for his first win in China. "I like the course and it's nice to have the right hander back." said Torrente. "I think our times were good today so we are in good shape for qualifying. Wherever we start in the race we will be fighting for that win."
Team Abu Dhabi's Alex Carella will be looking to bounce back after his somewhat over ambitious pass on Filip Roms in Harbin ended spectacularly costing both drivers a podium finish and the Italian and three-time world champion his lead in the title race.
But the Liuzhou circuit has been a good hunting ground for Carella over the seasons, starting and winning from pole three times. "Harbin was disappointing so now it is important to get back on track," said Carella. "The boat felt very good today and I like this circuit. I have had some very good results here, but also some bad luck so we see what happens this time. For sure we will fight for every position and point."
In pursuit of the top trio are two drivers, who, on current form still have a big part to play in the title race and are very much in touch, Mad Croc BABA Racing's Sami Selio and Team Sweden's Jonas Anderson.
After what can only be described as a disastrous start to his season and failing to post points in Dubai and Evian, two-time world champion Selio has hit a rich vein of form and is the man on top of his game. A pole in Portimao and second place was followed by the pole and win double in Harbin and from nowhere he is up to fourth and 17 points off the leader.
Andersson is also enjoying a good run and will line up coming off the back of his best result of the year with a second after two fourths and is just two points behind Selio, whose teammate Filip Roms sits in sixth and will be eager to push for his second podium of the year.
Eighteen drivers from 11 countries line up on the River Liu for the UIM F1H2O Grand Prix of Liuzhou, BRM Official Qualifying taking place at 15.00hrs tomorrow [Sunday, 2 October] and the race on Monday at 15.00hrs.