December 8, 2017
FAULTLESS CHIAPPE WINS IN ABU DHABI TO KEEP TITLE RACE ALIVE
F1H2O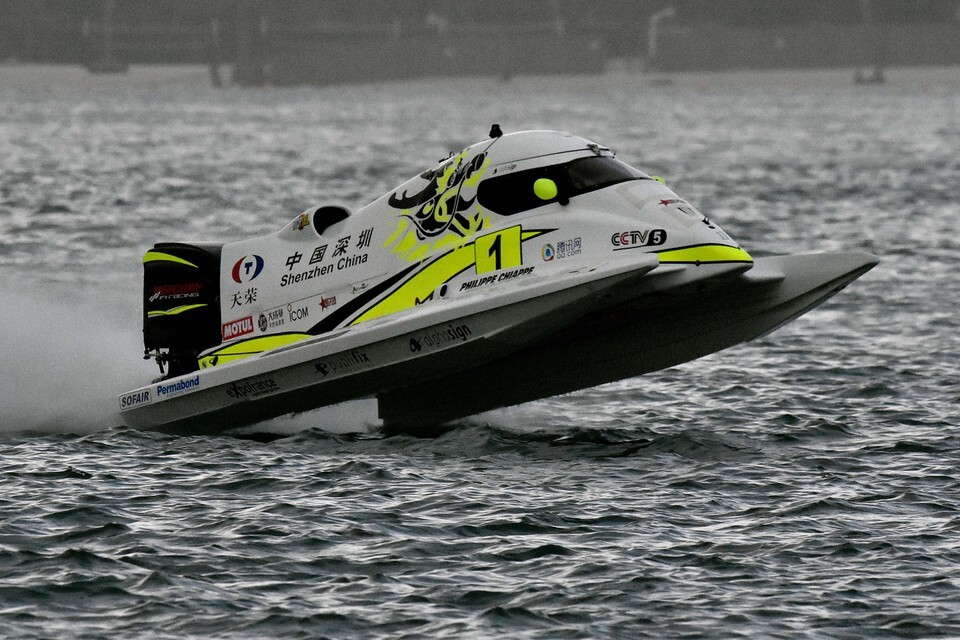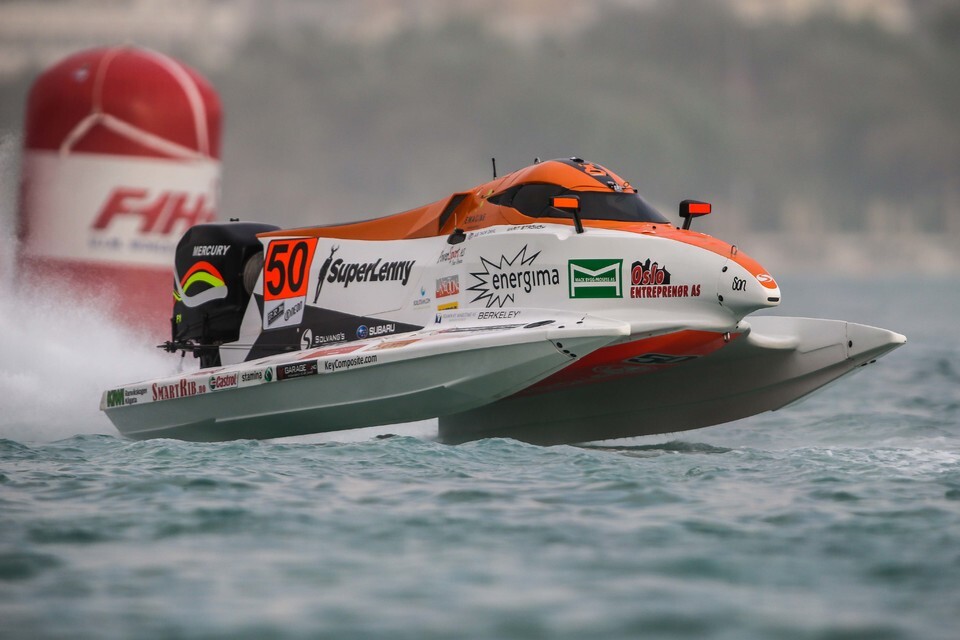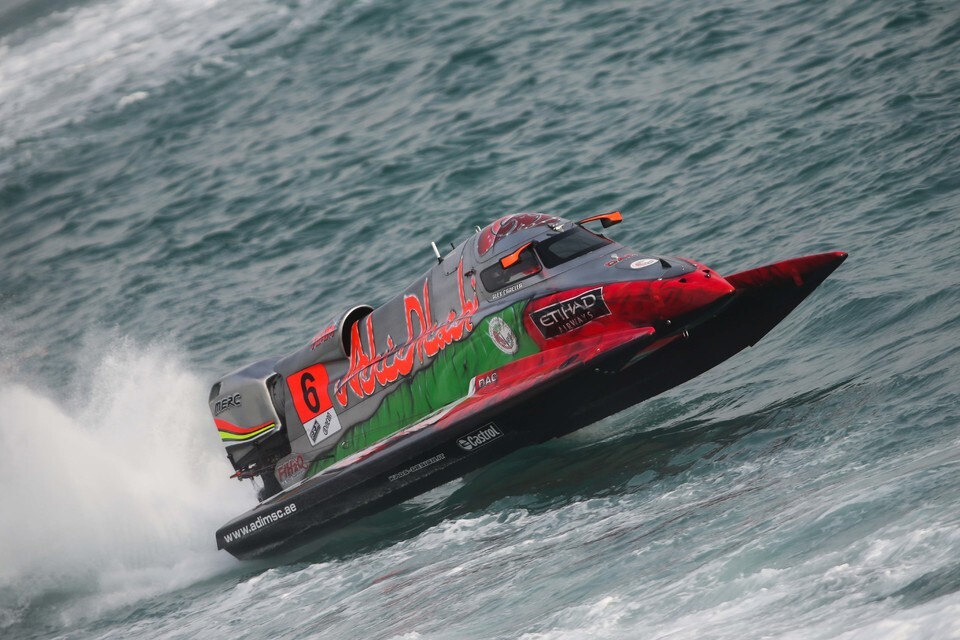 Friday, 8 December, ABU DHABI (UAE): Defending world champion Philippe Chiappe produced a simply faultless drive from pole position to take his ninth career win with victory in the UIM F1H2O Grand Prix of Abu Dhabi.
The race opened with a spectacular crash on the start lap involving Maverick F1 Racing's Cedric Deguisne and the luckless Mad Croc BABA Racing driver Sami Selio, the incident immediately bringing out the yellow flag with the race resuming after five laps. "I had made a good start and think was maybe up to tenth. As we came to the second buoy I went to turn but Jonas [Andersson] was their so I just put the boat a bit on the right. I see nothing just hear a bang and realise someone has hit the boat and just flew passed." commented Deguisne.
Today's lights to flag win by the CTIC F1 Shenzhen China driver keeps his hopes of lifting a fourth world title alive after closing the gap to championship leader Alex Carella to 11 points, with the coveted world title now to be decided at the final race of the season in Sharjah next week and a two-way fight between Carella and Chiappe.
Chiappe made no mistake from pole, at lights out and again at the restart on lap 5, but throughout the 52 lap race was unable to break the persistent challenge and pressure from Marit Stromoy, taking the chequered flag to win by just 2.37s. "Not bad. The job is done and I am very pleased for my team," Chiappe said. "It was a tough race and it was important to remain focussed. We have kept the pressure on in the championship and we now see what happens in Sharjah."
Second place for Emirates Racing's Marit Stromoy was by far her best performance of the year and backed up yesterday's second place in BRM Qualifying with her first podium since her famous victory in Sharjah in 2015.
Stromoy was unfazed at being sandwiched between two world champions, Chiappe and Carella, throughout the race and despite a brilliant drive could not get close enough to challenge for the lead, but importantly was able to hold off Carella. "That was good. I am very happy. It almost feels like a win because it's been so long since a result like this," she said. "I pushed as hard as I could and kept Philippe quite close but I never really had an opportunity to get ahead."
Despite a determined drive Team Abu Dhabi's Carella was unable to improve on starting from third and opting for a more cautious approach as the race progressed. "It was a difficult race, a very fast pace. I got close to Marit many times but then she just kept pulling away," said Carella. "There was no point for me to take any risks. The championship is more important and it is still in our hands. We see what happens in Sharjah."
Victory Team's Shaun Torrente made a great start moving up from sixth to immediately make up two places and then had a rather uneventful race and was unchallenged in fourth, with Erik Stark's title aspirations evaporating after finishing in fifth ahead of teammate Jonas Andersson.
Thani Al Qemzi made up ground from starting in P13 to pick up valuable points in seventh to bolster Abu Dhabi's top spot in the team's championship, with Filip Roms producing a solid drive coming home in eighth.
Chiappe's teammate Peter Morin looked to be on course for his best result of the season and a first top six finish but stopped momentarily on lap 50 before resuming and eventually taking ninth ahead of F1 Atlantic's Grant Trask.
The final and deciding round of a compelling season continues next week on 13-15 December at the UIM F1H2O Grand Prix of Sharjah, with two three-time World Champions Alex Carella and Philippe Chiappe set to go head-to head in what promises to be a thrilling nerve jangling title showdown.
UIM F1H2O Grand Prix of Abu Dhabi – results/top ten..
1. P Chiappe (fra)
2. M Stromoy (nor) + 2.37s
3. A Carella (ita/uae*) + 9.51s
4. S Torrente (usa/uae*) + 18.01s
5. E Stark (swe) + 26.76s
6. J Andersson (swe) + 44.65ss
7. T Al Qemzi (uae) + 1lap
8. F Roms (fin) + 1lap
9. P Morin (fra) + 2laps
10. G Trask (aus) + 2laps
For full classifications/results:
http://f1h2o.com/results/2017/grand-prix-of-abu-dhabi/f1h2o
For championship standings: