November 26, 2021
ANDERSSON FIGHTS OFF HIGH WINDS AND TORRENTE TO WIN IN PORTUGAL!
F1H2O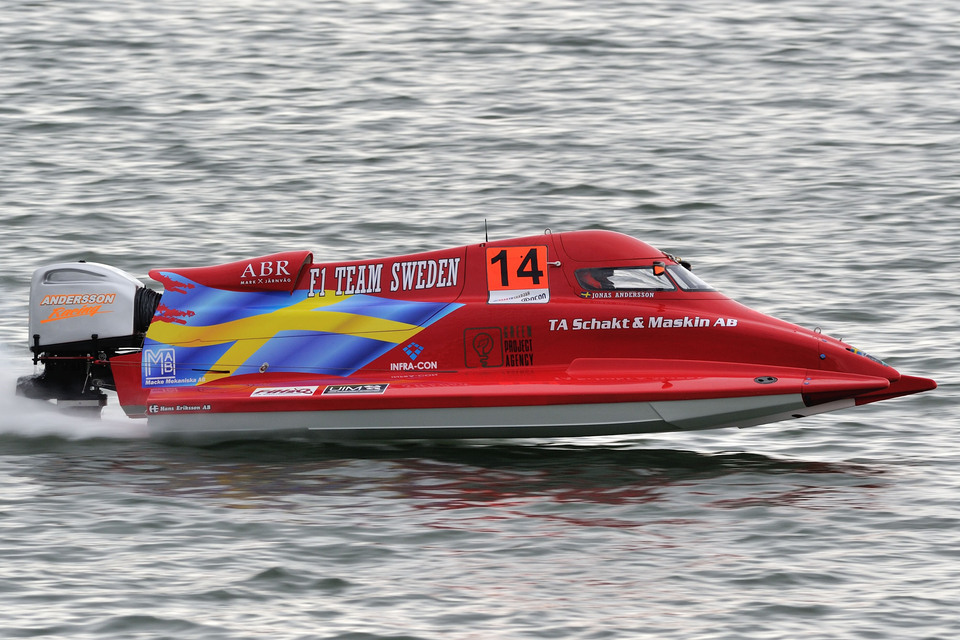 Friday 26 November: FIGUEIRA DA FOZ, Portugal: Swedish driver Jonas Andersson battled both the elements and a determined two-time World Champion in American Shaun Torrente to win the 40 lap Grand Prix of Figueira Da Foz in Portugal.
The second round of the 2021 U.I.M. World Championship for powerboating was a survival test with mid-afternoon winds kicking up at more than 25 knots at times forcing drivers to race defensively for more than 45 minutes on the rough Rio Mondego in front of thousands of fans in downtown Figueira Da Foz on a late fall afternoon.
Andersson led every lap but was pushed to the very end finishing just 2.28 seconds ahead of the two-time World Champion Torrente who was looking for his third straight race win Portugal dating back to 2018.
"Shaun pushed me to the final pin but we knew we had a great setup and we held on all the way through for 40 laps and a critical re-start as well," stated Jonas. "The important thing is we are still involved in the championship hunt and it all comes down to Sunday afternoon. If we do well in qualifying tomorrow, I'm hoping to make it two straight here to then end a great season."
For Torrente, his second straight runner-up position puts him in the drivers seat for winning his third straight title on Sunday with 30 points and a three point margin over his teammate on Team Abu Dhabi Thani Al Qemzi who came home fifth and now has 27 points going into the season's final round.
"I tried to push Jonas most of the race hoping something might happen to him under pressure, but he drove a great race and hat's off to him, a great victory under these tough conditions today," stated the Florida driver.
French driver Peter Morin of the CTIC Shenzhen China Team ran an aggressive race after starting sixth off the start pontoon. Following third place qualifier Sami Selio's retirement on the seventh lap, he pushed third place finisher Marit Stromoy of Norway out of the way early in the event moving up third at the finish, only to be penalized for jump starting the start and being dropped down to seventh in the classification by the officials.
Ferdinand Zandbergen of the Netherlands put on a whale of an effort in his first ever F1 event since coming over from F2, qualifying fifth and then finishing just 15 seconds behind the winner and taking fourth place overall after 40 laps marking the first time a driver from that country had raced in the F1 H20 series in 36 years.
Team Abu Dhabi driver Thani Al Qemzi battled up and finished fifth after qualifying ninth but more importantly picked up seven points and now sits second in the championship behind his teammate Torrente by three points going into the final round on Sunday.
Rookie-of-the-Year candidate Kalle Viippo was sixth after starting eighth on a solid run, while young Italian Alberto Comparato was eighth after starting off the dock in seventh position.
Local driver Duarte Benavente starting his 19th Grand Prix in his home country came home in the points finishing ninth after qualifying 11th.
Rookie Alec Weckstrom of Finland and driving for the Gillman Racing Team started at the tail end of the field in 15th and finished in the last points paying position in 10th.
The third and final round of the 2021 U.I.M. F1 World Championship for powerboating will have it's season finale on Sunday, 28 November at 15:30 UTC with qualifying for the event taking place on the Mondego River at 15:00 UTC tomorrow afternoon.