March 12, 2014
CANTANDO TO LEAD MOTORGLASS F1 TEAM IN 2014!
F1H2O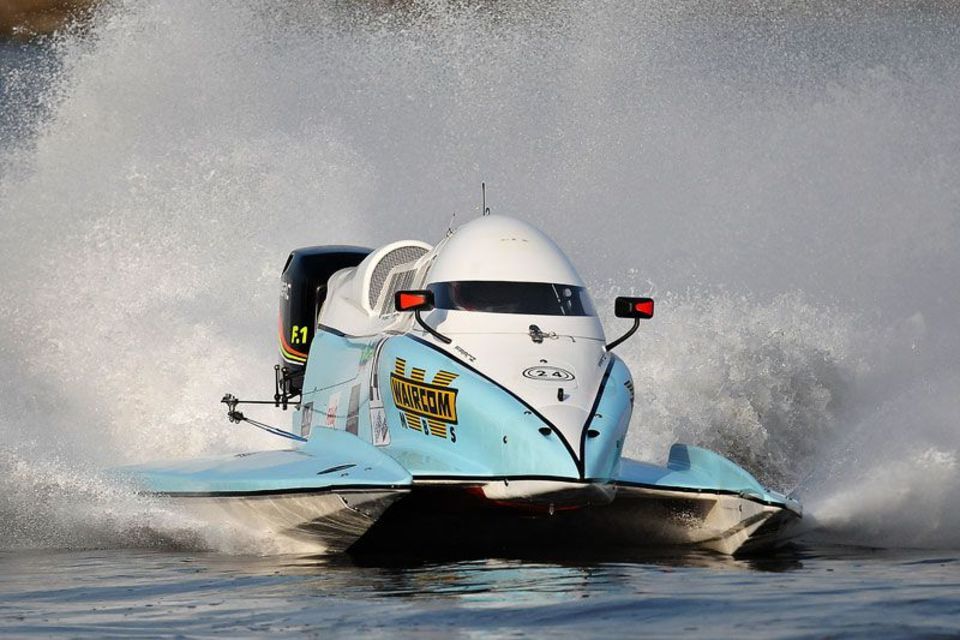 DOHA, Qatar - 13 March, 2014 - New drivers, new sponsors and a new outlook for the Milan, Italy based organization headed by 19 year racing veteran Francesco Cantando as he braces for the opening round of the 2014 UIM F1 H2O World Championship for powerboating and the Grand Prix of Qatar this weekend.
The 10th annual Grand Prix along Doha Bay begins on Friday with official Qualifying for starting grid positions along with the hunt for the pole that will mark the 13th race since it's inception in 2005. The new Motorglass F1 Team will be looking with confidence for their first victory at this event to start the campaign on a solid note.
"It's funny," said Francesco "Franz" Cantando, "I've had success at about every venue around the world in my two decades of racing, however, here in Doha its been nothing but a large puzzle that I haven't solved yet."
"It's been frustrating, true, I got a second place here in 2009, but other than that we've struggled."
"However, that's old news. Now, with my new sponsor combined with a new attitude from everyone involved with this effort, we are coming in feeling confident. We are ready to win and can't wait to hit the water for practice on Friday afternoon."
The Cantando effort has had nothing but success so far this weekend, as he has led the Team Italy organization to victory yesterday in the "Match Race" event at the opening event of the Nations Cup series with his young driver Stefano Paoletti winning the "drag racing" event on water against twelve other drivers from six different nations.
"I was really proud of what Stefano accomplished in the Match Race," said Franz. "Also my longtime friend Marco Gambi who joins me this weekend as one of two teammates on the F1 effort did well finishing fourth on the day as well. He'll be ready to run confidently in our number 23 boat as he returns to the series this year."
Also joining the Milan native will be Bartek Marszalek from Poland who finished strongly last season with three top ten results in his final four races. The 30 year-old driver from Warsaw, a year ago, failed to qualify here and was forced to start last. He had one of the most memorable drives of the day climbing 11 places to finish a well earned eighth place at races end.
"Yes, I had a great ending to my season and look forward to building on my new success from the end of the year in 2013." said. Bartek. "Now, I will continue to slowly build on this a little at a time setting small goals and chasing top fives and eventually a podium if all goes well. We'll see."
Also on board with the Motorglass Team will be Italian Luigi Roberto who comes back to the F1 series since his last event in the 2010 campaign. The driver from Piacenza has 11 career starts and will be looking forward to his "new start" later in 2014.
Meanwhile, for the teams number one driver who has 12 F1 victories in his career, "I can't wait to get another chance here in Doha on the new circuit," said Francesco. "Last year I qualified eighth and had a huge accident at the start when Sami Selio came over on me and literally landed on top of my boat ending my day and forcing me to miss the next race in Abu Dhabi. Now, it's a new start and a new season and I can't wait to 'let the new show to begin."
The Motorglass Team will join the international line-up beginning on Friday the 14th for the battle for the pole and grid positions in official qualifying beginning at 15:30 local (12:30 GMT) and 08:30 EST on the East Coast of North America.
The scheduled one hour session will feature three qualifying sessions including the final that will hi-lite the top six drivers going out for two solo laps one at a time trying to get the fast time of the day to earn the spot at the head of the field.
Saturday, the 15th of March will be Grand Prix day. It marks the 13th event since it's inception in 2005 on Doha Bay with the opening round of the UIM F1 H2O World Championship for 2014 beginning at 15:45 local (12:45 GMT) and 08:45 EST on the East Coast of North America.
Both days events can be followed live on the tours website at www.f1h2o.com via web streaming on the F1 H2O worldwide television broadcast feed.
For Franz and the rest of his team from Milan, Italy 2014 is a new year bringing new hopes with new sponsors for this almost two decade old family owned racing organization. Let the racing begin!
Be In The Know - With F1 H2O!