March 14, 2014
F-4S - FORSS WINS RACE 1 OF F-4S SEASON-OPENER
F1H2O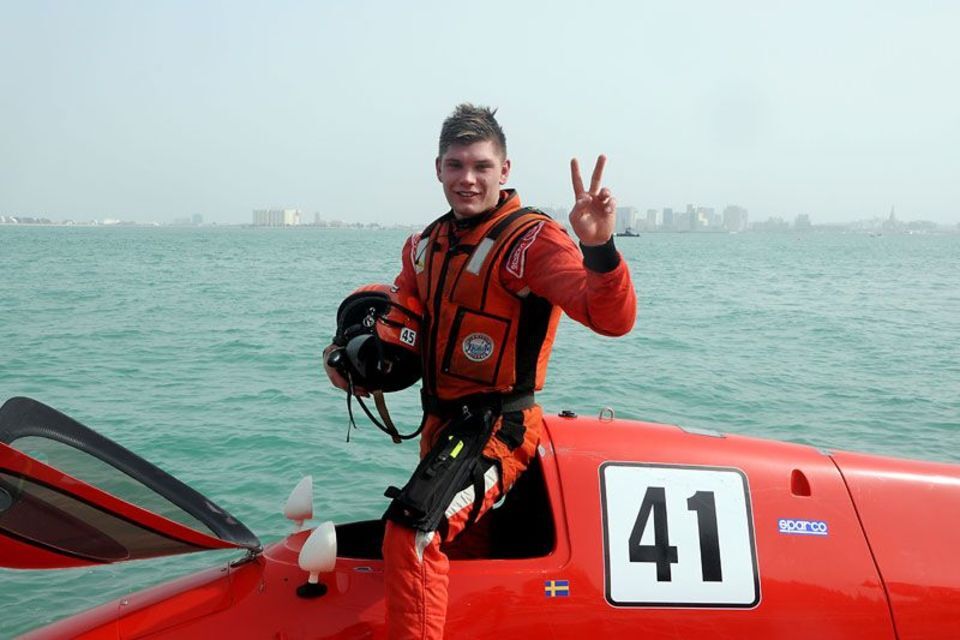 Friday, 14 March, DOHA (Qatar): Sweden's Jesper Forss marked his return to the F-4S Trophy leading from start-to-finish and overcoming tricky conditions to win race 1, with defending Champion Mike Szymura starting the defence of his title with a solid race long drive in second to finish ahead of 18 year-old Latvian driver Nikita Licjs.
The 19 lap race sparked in to life at the end of lap 14 when Motorglass F1 Team's Norwegian driver Jan Andre Landsnes overcooked it as he harried and chased down Mad-Croc's Nikita Licjs, and had closed the gap to under a second when he barrel-rolled at the final turn.
Forss, who won the F-4S Trophy in 2012, took full advantage of starting from pole but was unable to shake off the attentions of F1 GC Atlantic's German driver who closed to within less than a second when the yellow flag came out with Landsnes' spectacular exit.
The safety boat held the 6-boat pack under yellow, releasing them halfway round lap 17 for a two lap sprint to the chequered flag, Forss holding his nerve to take the win and maximum points for Team Sweden.
Qatar's Khalid Al Kuwari held off a sustained early challenge from Team Nautica's Morgan Fernplast and was moving clear when the yellow flag came out, but he held on to take fourth his teammate Mohamed Al-Obaidly finishing three laps down in sixth.
F-4S race 1 / results:
1. J Forrs (Swe)/Team Sweden - 0.00
2. M Szymura (ger)/F1 GC Atlantic + 1.81s
3. N Lijcs (lat)/Mad-Croc BABA Racing + 6.03s
4. K Al Kuwari (qat)/Team Qatar + 1lap
5. M Jernfast (swe)/Team Nautica + 1lap
6. M Al-Obaidly (qat)/Team Qatar + 3laps
7. JA Landsnes (nor)/Motorglass F1 Team - RET
B Wu (chn)/CTIC China - DNS