February 14, 2012
CARELLA RECEIVES WORLD CHAMPIONSHIP AWARD IN MONACO!
F1H2O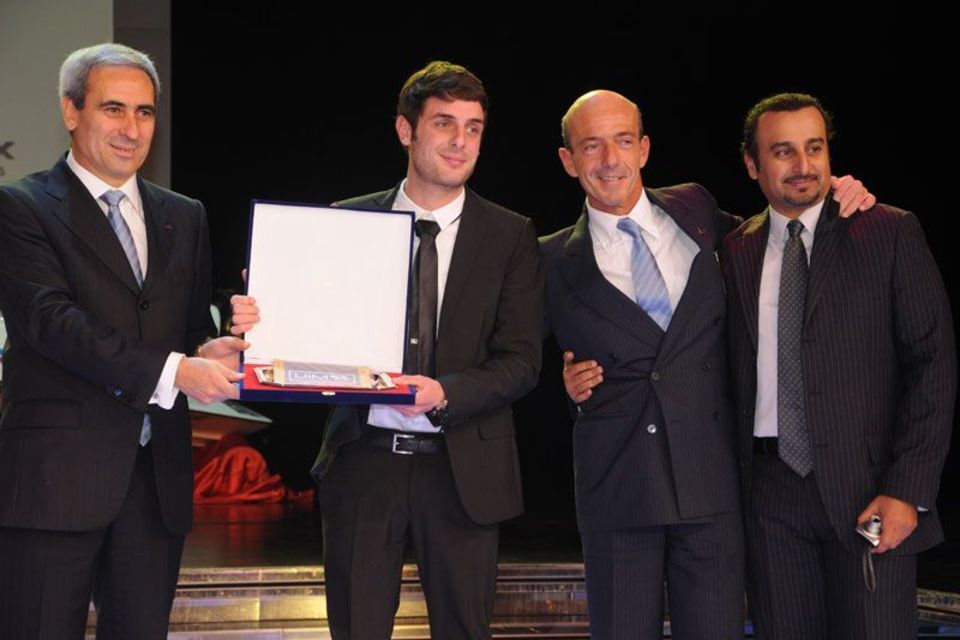 ABU DHABI - Tuesday, February 14, 2012 - The new reigning UIM F1 H2O World Champion Alex Carella of the Qatar Team was center stage last Saturday night at the "3RD UIM AWARDS GIVING GALA" in Monaco at the Salle des Etoiles in front of the worldwide media and a special audience of over 400 VIP guests on a cool winters evening along the Mediterranean sea.
The 26 year-old driver from Italy who carries a Qatari license and races for this past season's winning "Team Championship" organization on the tour, was part of a special moment in the evening that saw close to 80 World Champions from 25 countries receive recognition of their titles earned during the 2011 racing campaign.
"I am so excited to receive this honor and award," said Alex. "I've had time to look back on the whole of the 2011 season and it became a dream come true for me. To come from behind and beat a truly great driver in my teammate Jay Price, a past World Champion and win on the final two race weekends of the season. This will always be a special memory for me for many years."
"The people here in Monaco and especially the UIM staff worked so hard to make this a special night, made it almost magical. Having my Team Manager Khalid Al Kuwari there along with other members of our team was also very special since they were such a large part of my success last season."
Alex remarkably has started just 15 official Grand Prix events since stepping up from F2 in 2010 and has earned a title quicker than any driver in the four decade history of F1 racing. Carella has three total Grand Prix victories in the12 finishes of his career for a winning percentage of 25% which is third best in modern history.
"I can't wait to get to Doha in the next three weeks and begin to work with my new teammates Shaun Torrente (another American) and Khalid Al Shamlan of Qatar, who drove F-4S and the Nations Cup last year as well. Let's get it started."
The UIM Awards Giving Gala was filled with a significant number of VIP guests, testimonials and top representatives from National Authorities, Council, Promoters, International Sport Federations, Institutions, Boatyard Industry, IOC, selected enterprises and the international media who witnessed the two and one-half hour show.
The 2012 UIM F1 H2O World Championship season kicks off the weekend of the 9th and 10th of March at the 10th Grand Prix of Qatar in Doha along the cities lovely and scenic corniche.
Both "live" Qualifying on the Ninth of March and the official Grand Prix on the 10th can be viewed and watched live on the official website of the series at www.f1h2o.com
Be In The Know - With F1 H2O!