April 17, 2015
EMIRATES RACING TEAM ADDS SWEDEN'S ERIK STARK TO LINE UP
F1H2O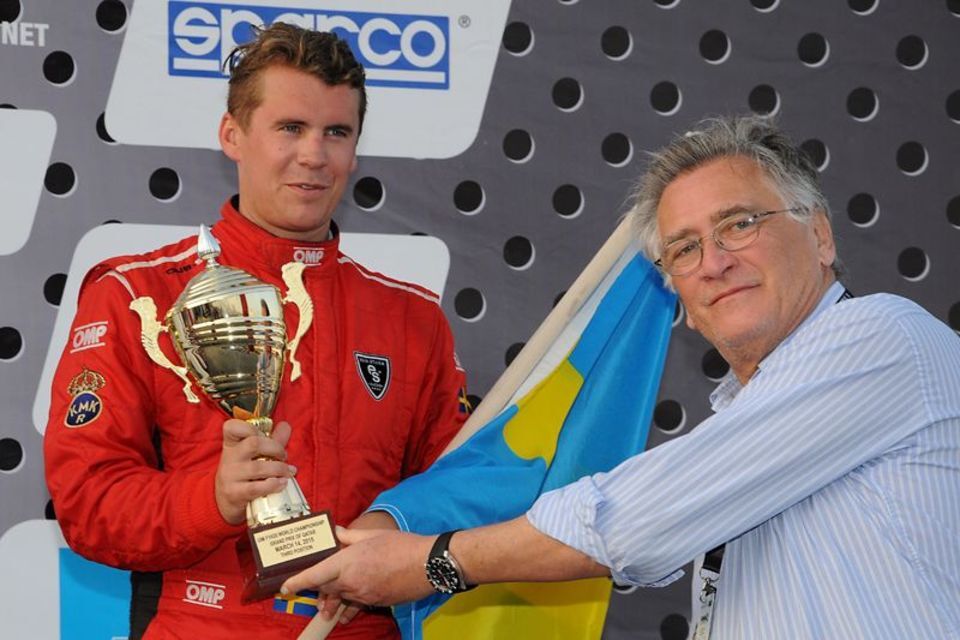 ABU DHABI - (Friday, April 17, 2015) - The newly formed Emirates Racing Team is letting the world of powerboating know that they are very serious about winning this years' World Team and Drivers titles on the UIM F1H2O World Championship tour, announcing today they are adding to their driver line up the up and coming young star Erik Stark of Sweden.
The 27-year-old from Stockholm will join Ahmed Al Hameli beginning at the next round at the Grand Prix of France in Evian on the weekend of the 26th to the 28th of June. This duo on paper makes it one of the strongest and most potent driver combinations in the racing paddock which is remarkable for a team that is less than four months old.
The organization, formed in just a matter of weeks back in February, is based out of Abu Dhabi and is managed by four-time World Champion Scott Gillman.
Along with the advice of EMIC, Emirates Investment Corporation Chairman and the EMIC Group, Dr. Antonio Nocca has given generous support, which ensured the organization made a strong statement at the opening round at the Grand Prix of Qatar back in March along Doha Bay.
Veteran driver Al Hameli, representing the team as a solo driver, qualified a respectable third place and was looking for a top-three podium finish in the Grand Prix, until, he and Finnish driver Sami Selio were involved in a massive crash, taking both drivers out of the event, thankfully, unharmed.
Now, with Ahmed expected to be armed with a new BABA boat built in Italy, the 36 year-old driver from Abu Dhabi, who has six career victories, will be joined by Erik as a new teammate for the remainder of the season. "I'm truly excited about having Erik join us," said Scott. "He is a rising talent in the sport and he knows what it takes to get to the top. Anyone who can win four straight F2 titles knows how to get to the front. Erik has a rare gift and I think he, along with Ahmed, will make great teammates adding good chemistry to the team for this year and years to come."
Stark, who comes over after driving with Team Nautica his rookie season in 2014, has a pair of top-three finishes in just eight race starts. He is also looking forward to working with the American Hall-of-Fame driver.
"Scott has always been a hero to me," said Erik. "Anyone, who has earned over ten titles in his sports career whether it's in auto-crossing, off-road truck racing or F1 boat racing, knows what it takes to reach the podium as a champion.
"I know Scott did it more frequently than anyone else in our sport, reaching the top three in 90% of his race finishes in F1. I'd love to emulate that record before my career is over as well.
"Working with Ahmed will be a great experience. I know he's a stand-up guy and it should be a real great environment and I look forward to the rest of the 2015 campaign."
The 27 year-old driver from Stockholm has recorded just eight F1 starts with a pair of podiums, two top-five's and four top 10's since his first event back in Abu Dhabi in 2012. His second place finish in Liuzhou, China last October really opened peoples' eyes to this talented driver who first started racing when he was 12-years-old in the S-250 class in Sweden.
Erik has begun 2015 in a great way coming sixth off the dock and finishing the race in third position. He heads to the second round in the championship at the Grand Prix of France in Evian with 12 points and now a serious runner in the world title this season.
The Emirates Racing Team also announced that their F4 driver line-up will be a "family affair" with some flair.
The daughter of current World Champion Philippe Chiappe of France, Fanny, will get her chance to run at the Grand Prix of Portugal in early August. The 27-year-old, who is an experienced racer who has won numerous endurance titles in the past few years, is truly excited about her opportunity to shine on a big stage.
Meanwhile, younger, brother Tom, who has raced BMX bicycles and who is just 16 years old, will get his first taste of F4 racing at the Grand Prix of China in Liuzhou in October. It is just another example of bringing a new generation to the sport.
With the departure of Erik Stark, the American racing organization Team Nautica should be announcing their replacement driver shortly, prior to the Evian event.
Stay In The Know - With F1H2O!