March 29, 2013
F1 ATLANTIC TEAM READY TO "STEP UP" TO GREATNESS IN 2013!
F1H2O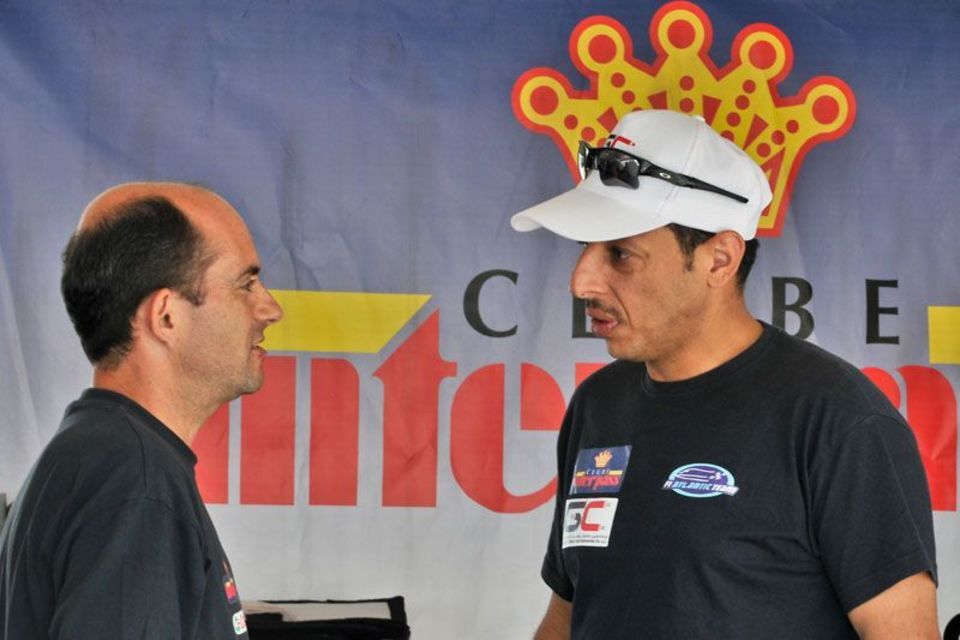 ABU DHABI - March 29, 2013 - The momentum is building....you can feel it all the way from Portugal.
Yes, veteran driver Duarte Benavente of the Atlantic Team has seen it all in his 13 previous years of racing on the UIM F1 H2O World Championship for power boating tour.
Nothing surprises him any more. Consider this. His first Grand Prix start was in Portimao in his native Portugal in 1999. One of just three full time drivers who's careers began back in the 20th century, Duarte is still competitive as he competes on the tour in his third decade of this sport.
Benavente, has now tallied 110 F1 races on his resume over his 13 year career. He has reached the podium four times, while failing to finish a race 32 times because of mechanical problems combined with six accidents.
Only fellow drivers Francesco Cantando of Italy with 139 and Sami Selio of Finland with 112 have more Grand Prix race starts. During this time frame Cantando has accumulated 12 victories while Selio has earned 10.
Duarte, well, he's still chasing his first. Imagine that.
People who follow the sport closely feel it's hard to believe that a driver who has won the F4 World Championship and an eight time F4 titlist in Portugal back in the 1990's combined with big success in F2 hasn't tasted victory on the F1 tour, yet!
Well, if he and his young teammate 2012 "Rookie-of-the-Year" Youssef Al Robayan of Kuwait have anything to say about it, this road to non-victories is about to be detoured.
"Youssef and I sat down at the end of last season and decided to take a long look at what we had accomplished in 2012," said Duarte. "We then decided to dedicate our time in the off-season to see what it will take to be successful for the upcoming campaign. I feel good. I think we've got that formula down."
"A year ago we started in the right direction, I switched boats to an Italian BABA hull early in the season and immediately started feeling more at home with my surroundings. Confidence is key and right now and I have it."
The 2012 season turned out to be the low tide of Duarte's career as he finished tied for 17th in the drivers championship with two points in five race starts. His best campaign was back in 2000 when he finished sixth in the championship earning 51 points. His goal is to surpass that mark this upcoming season.
"We are fine tuning the boats and getting ready to do a giant testing program here in Portugal with Youssef flying up from Kuwait to join me in April," said the 42 year-old from Lisbon. "I have 15 top five finishes in the 70 races I've completed in my career and look forward to stepping back on the podium again this season. I think we'll have the package to get it done this time around."
Duarte is one of the hardest working drivers helping out promoting his longtime and loyal sponsor "Interpass" of Portugal. During the non-racing season, he attends many events throughout Portugal promoting the sport to his thousands of Portuguese followers.
"I want my success to be not only for myself but for my sponsors and the Portuguese people as well. An added thrill this year will be starting the season in Brazil and their lovely capital city of Brasilia on 1-2 of June. For me this will be like a second home and I know I will pick up new followers in this great Portuguese speaking country which will be very important to me, my team and my sponsors as well."
Meanwhile, Al Robayan, who just completed his first year in F1 H2O after many seasons in F2, has made an immediate impact on the series. He finished 2012 in 10th place in the drivers championship with 11 points having his best day in Liuzhou, China when he finished fifth after qualifying sixth off the dock.
"I'm excited about coming back and working again with such a dedicated professional as Duarte and his father Mario," said Youssef. "It was great to win "Rookie-of-the-Year" honors last year now it's time to take it up a notch and start earning some podiums. What a thrill it would be if both Duarte and I were able to do it at the same event. It would be a dream for me."
Al Robayan, who has been known throughout his racing as a driver with great speed, has a career best qualifying effort with a fourth place off the start pontoon at last years Grand Prix in Kiev. The likeable 35 year-old, who has eight career starts, will be hoping to earn his first pole position of his career in F1 in 2013.
For Duarte, his career best was a fine second place finish back in 2003 behind American Scott Gillman at the Italian Grand Prix at Cagliari in Sardinia. His most recent podium was back at his home Grand Prix in Portimao back in 2006.
With the fine mixture of youth and experience this talented F1 Atlantic Team looks primed to take a step forward in 2013 and show the world that they are ready to mix it up with best drivers and teams on the UIM F1 H2O World Championship tour. It will be fun to watch if their dreams come true on the race circuits around the world starting 1-2 in June at the first annual Grand Prix of Brazil in Brasilia.
You can keep up with all the news of the UIM F1 H2O World Championship Series by going to the official website at www.f1h2o.com.
Be In The Know - With F1 H2O!