March 21, 2013
CTIC CHINA TEAM'S NEXT STEP - WINNING IN 2013!
F1H2O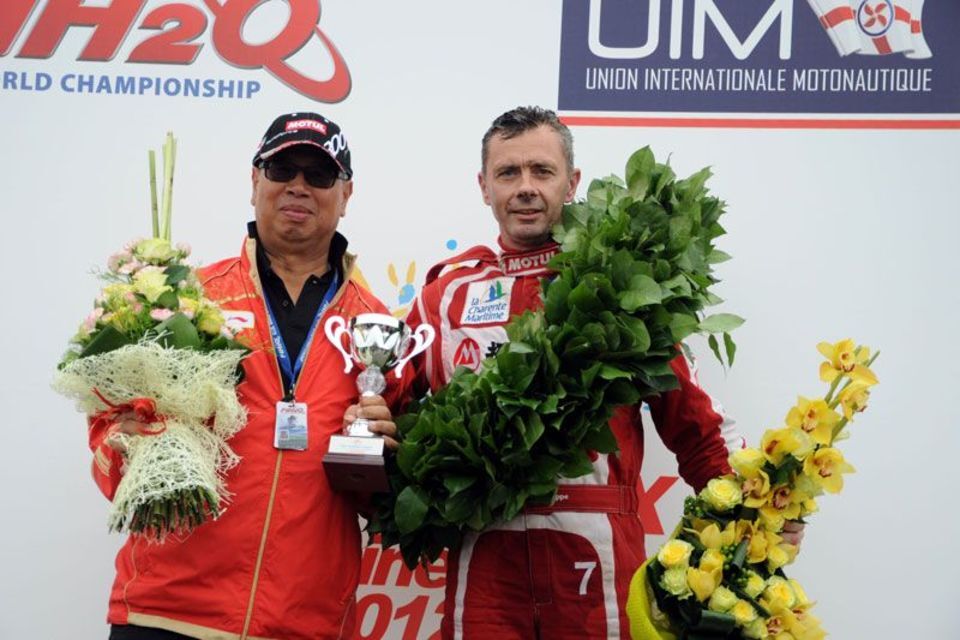 ABU DHABI - 21 March, 2013 - How can you make a good team even better? Well, the multi-national and very talented CTIC China Team, a model of success on the UIM F1 H2O World Championship Tour, is in the middle of major reconstruction with a new driver, new boats combined with a new philosophy about solving their problem of not winning!
This race organization, with a rich seven year history that dates back to 2006, is led by long time Race Team Manager Philippe Dessertenne of France who is busy trying to solve this puzzle of no victories despite his club having earned a well respected 395 total team points since its inception.
The last two seasons have been particularly productive for the organization based out of LaRochelle, France. During that time the squad has challenged for the overall Team Championship Trophy with close back to back third place finishes in the standings.
Team Manager Eric Chan, who makes his home in Hong Kong and is one of the best business organizers in the sport of powerboat racing, has a solid line-up for the upcoming 2013 season.
The race team will be anchored by talented Philippe Chiappe of France. The 11 year racing veteran is back after finishing a runner-up second in the championship in 2012 totaling 62 points on the F1 H2O tour.
The well respected driver from Rouen, in 81 starts, has accumulated a total of 311 career points. This puts Philippe into the top 15 all-time of the driver points-table in the 30 year racing history of the sport.
Philippe's career total of 11 podium performances in his 66 races that he's completed have him finishing on "the box" 14% of the races which is fifth best on the current roster of the UIM F1 H2O World Championship tour of drivers.
"Looking back on last season I think we did a decent job with three podiums in six races and all but the final race in Sharjah finishing in the top five," said Philippe. "Now, it's time to take the next step, win! Not only a Grand Prix, but a championship as well, for this great team of ours. We've come close so many times but have failed to finish the deal. 2013 I feel can be our year if we all continue to work hard and stay focused on the prize."
Joining the pilot from Northern France will be Chinese rookie "Leo" Xiong Ziwei who moves up from the supporting Formula 4 (F-4S) class.
Leo finished fifth in 2011 in F-4S accumulating 109 points with a pair of podiums. He improved his performances in 2012 with three podiums and took fifth once again in the drivers championship despite not racing in the final four races because of his call-up to the F1 H2O team.
The young driver from Shenzhen qualified a respectable 12th in his first ever F1 event in Abu Dhabi last November only to drop out of the race early because of mechanical woes. In Sharjah a week later he came home in 11th position just missing his first world championship point.
"I'm really eager to get going," said Leo. "This is a great group of guys and even though I'll be a rookie this season I have actually been with this team the last two seasons so I know what to expect and they of me which will make things a smooth transition into F1."
The young 21 year-old driver was actually found by Team Manager Chan in the parking lot three years ago at the Grand Prix event in Shenzhen when he was part of a automobile drifting exhibition. Eric was impressed with Leo's car control and asked the then 19 year-old if he would consider boat racing as a new sport and Leo jumped at the chance to give it a go and he hasn't looked back.
"I'm really excited about representing my county of China this year on the Chinese Team. I realize I'm not the first driver from China, but I want to be the best driver ever to come from China and make a real statement in the sport before my career ends."
Meanwhile, the CTIC China racing headquarters on the West Coast of France will get a new look as Race Team Manager Dessertenne completes the new work shop in La Rochelle. The wily veteran of 111 Grand Prix's with a 2002 victory at the Grand Prix of Finland in Helsinki along with 15 podiums and 35 top-five finishes adds a lot of expertise and knowledge to the team especially to the young Xiong.
As the new building gets completed, so to is boat designer and friend David Moore putting the finishing touches on a new design for 2013. He has made steady progress on his French boat that comes after a very successful updated hull a year ago.
With all the equipment coming back into the new complex in the next week, the team expects to start team testing shortly as they continue to focus on the series opener at the Grand Prix of Brazil in the countries lovely capital of Brasilia on the 1-2 of June and the first ever Grand Prix event in the continent of South America.
Getting Chiappe to the top of the podium steps will be a priority for the whole CTIC China Team this season as this organization pushes hard to win their first ever, victory, Driver and Team Championship's.
They are believers it can be done, let's see if 2013 is going to be CTIC China's season. Stay tuned.
You can follow all the news of the UIM F1 H2O World Championship by going to it's official website at www.f1h2o.com.
Be In The Know - With F1 H2O!