March 11, 2013
MARIT STROMOY TO LEAD TEAM NAUTICA IN BUSY 2013 CAMPAIGN!
F1H2O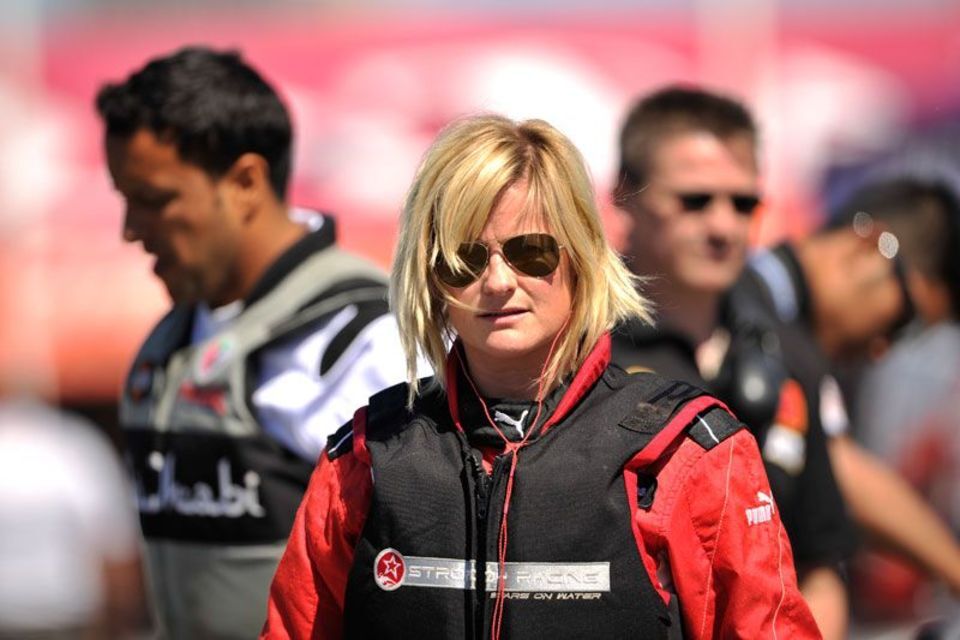 ABU DHABI - 11 March, 2013: One of the most dynamic and diverse stars in all of professional powerboat racing, Marit Stromoy, has officially announced that she will return to Team Nautica in 2013 chasing more success on the world's number one stage, the UIM F1 H2O World Championship series.
The driver from Tonsberg, Norway, who is the only full time female driver on the tour, will once again pilot for owner Paola Gillman and for the third season welcome Swiss driver Rinaldo Osculati in the organization as her teammate.
"We are currently preparing the equipment and working on sponsorship and marketing to make 2013 something special," said Marit. "I will do some testing shortly but in the meantime I am excited about racing with my long time friend Pal Virik Nilsen in the opening round of the UIM Class 1 event on the 28-30 March in Sanya, China. It will be great experience as it is the first time any of us have raced there so I'm looking forward to it. It will be my second attempt in Class 1 and it's a totally different challenge away from F1."
Marit has been busy during the winter season in Scandinavia.
She's been showing her Italian built BABA F1 race craft around the boat and exhibition calendar, while at the same time staying up with her entertainment schedule. She is a premiere on-stage performer and one of the most sought after singing and dancing talents in all of Northern Europe.
In addition, Marit is also expanding her involvement with her Junior Racing Team. This season she will have two GT-15 drivers, along with one pilot in F4 and the F2 class.
"I believe we must continue to grow the sport starting with the youngsters. They have so much enthusiasm and endless energy and I actually feed off this feeling which is great. They pass the sport along to their friends and family and this all translates into making the circle of exposure of powerboat racing even larger throughout the region."
The young 36 year-old driver, entering her sixth season in F1, continues to make her mark having been the first women in true international competition to earn a pole position for a Grand Prix. Something she did back in Portimao, Portugal in 2011.
"I feel I have proven myself in so many ways thus far in this sport, now it's time to see if I can gain my first victory in this upcoming season."
A women, who is followed closely by the media members in Scandinavia and most importantly in Norway, has devised a plan to bring the flavor of F1 racing front and center with all concerned in the sport.
"We are building a new promotional two-seater F1 boat shortly. This will be the perfect tool to open the door and introduce to a lot of people in the media in Norway to the thrill of actually riding in one of these "missiles on water" and feel what powerboat racing is all about.
We will be taking them around makeshift circuits, at a host of different venues, turning four "g" corners and reaching speeds of close to 200 kph. This should open some eyes to reporters who have never set foot in a race boat before which will make it all the more meaningful."
Marit comes off a bit of a disappointing 2012 campaign finishing 13th in the Drivers World Championship Points Table with her best race result being a seventh last December in Abu Dhabi. She finished her final three races of the season, all in the top ten but hopes to gain back her form that had her leading races and qualifying times back in 2011.
"Racing isn't easy, if it were we wouldn't be doing it. We love the challenge and each year brings a new chapter. I think this off season we have made strides in getting back were we want to be and putting ourselves in a situation where we are threat for a victory."
Marit has taken the start to 44 Grand Prix's in her six year career. She chases her first victory and first podium in the sport with her best results being a pair of fifth's back in 2009 in Liuzhou, China and Sharjah in the UAE.
Meanwhile her teammate, Rinaldo Osculati, enters the new campaign in good physical shape while hoping to get back into the points column again this year. He ended the season with two straight finishes after struggling to complete a Grand Prix in the first half of 2012.
The native of Monza, Italy will begin his fourth season having raced 27 times with a pair of ninth place finishes being his best career performance results. His only accident came a year ago in Kazan, Tatarstan in Russia. The likeable driver will be searching for his first ever top five performance in the sport this upcoming campaign.
Hard working Team Manager Jean-Claude Goy is expected to bring his talents back to the organization that has been based in Burlington, North Carolina in the USA in years past.
Norwegian Tobias Munthe-Kaas will be driving the teams supporting Formula 4 (F-4S) class boat for a second season after having finished third in the championship a year ago with 112 points with six podiums in 12 race starts.
Drivers from 15 different nations are expected to compete in the UIM F1 H2O World Championship in 2013 marking it's 30th season of racing since it's inception back in 1981. The start of this historic campaign will take place during the weekend of 1-2 June in Brasilia, Brazil marking the first time that the series have ever raced on the South American continent.
You can follow all the news of the UIM F1 H2O World Championship Series by going to the official website at www.f1h2o.com.
Be In The Know - With F1 H2O!