March 5, 2013
QATAR TEAM'S POWERFUL LINE-UP BACK FOR 2013!
F1H2O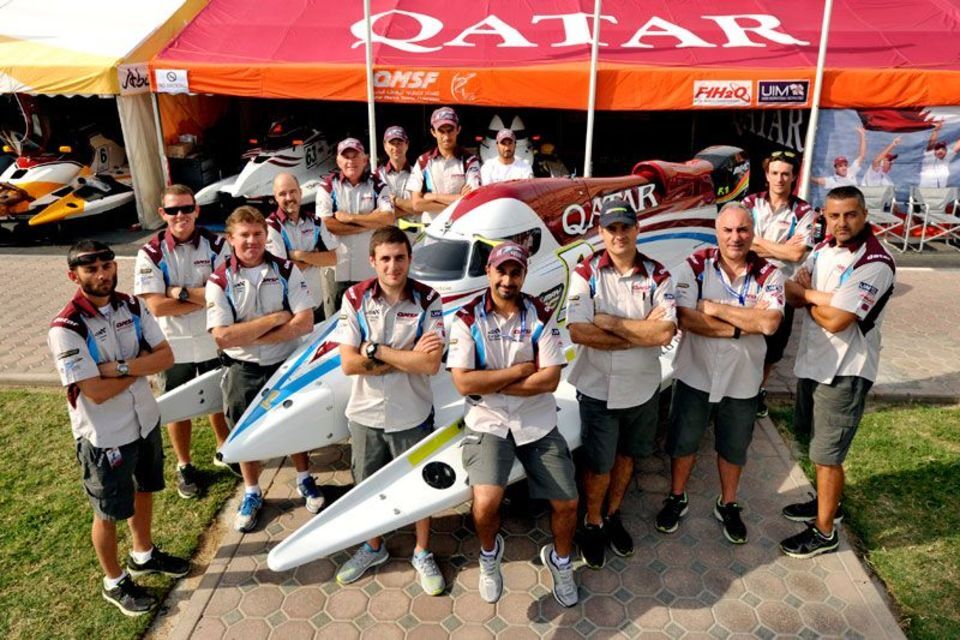 ABU DHABI - Tuesday, 5 March: One of the UIM F1 H2O World Championship series most respected organizations, the Qatar Team, is ready to start the new season determined to climb back to the top of the standings and return another Team Championship Trophy back to its club in 2013.
The Doha based group hi-lites a dominating line-up featuring a pair of talented drivers starting with back-to-back two-time World Champion Alex Carella along with his teammate Shaun Torrente with the pair expecting to race their Italian built #1 and #2 DAC boats.
The Qatar Marine Sports Federation (QMSF) led by His Excellency Sheikh Hassan bin Jabor Al-Thani with day to day operations of the F1 project run by Khalid bin Arhama Al-Kuwari is set to put the "peddle to the medal" with testing scheduled in Italy in a short time for the expected season opener in Brasilia for the first ever Grand Prix in South America in Brazil's beautiful capital city on the weekend of the 1st and 2nd of June.
"We are working non-stop to reach our two goals of both winning another driver world championship and to earn the team title back as well, stated Khalid. "We have won in the past five season's three different World Drivers Championships and two Team Championships and we feel we can accomplish the coveted "double-play" of capturing both in 2013. Its going to take commitment from all members but I know we have a great crew of people to get it done."
Back leading the hard working engineers and mechanics that make up the Qatar Team at each Grand Prix will be Brendan Power of Tampa, Florida. The native Australian, who came to America over two decades ago to work with the Seebold Racing Team, is not only the Chief Mechanic but also the Engine Builder of the organization.
His strong resume shows him steering two different drivers to three world titles in F1 in the last five years, as well as helping American Terry Rinker win multiple titles on the North American F1 tour.
Known as maybe the best in the world at taming the powerful Mercury V-6 engines capable of producing close to 400 horsepower, Brendan will have his loyal multi-national crew working with him made up of individuals from America, Italy and Qatar of which, many, have been with the team since its inception back in 2006.
For the two-time defending World Champion Alex Carella, he is getting focused on starting just his fourth full time season in F1 having won six times in his 21 race starts. Since his rookie campaign, this driver from Italy has steadily improved having won once in 2010, twice in 2011 and three times a year ago.
Alex not only won the Drivers Championship with 79 points having won half of last years races in Kazan, Russia, Liuzhou, China and Abu Dhabi, but also was the fastest qualifier earning 87 points with poles in Liuzhou, China and Abu Dhabi.
The 27 year-old completed the "hat-trick" of awards a season ago by also earning the top position in capturing the Fast Lap "SLAM" Trophy setting the fast race lap times in Kazan, Liuzhou and Abu Dhabi.
There are a special few drivers on the UIM F1 H2O World Championship who are talented enough to topple Carella from being "King-of-the-Hill" for another season and one of them is his own teammate in Shaun Torrente.
The young Floridian from Miami, who is known around racing paddocks throughout the world as "The Alien", is returning from a two race ban after officials at the Grand Prix of China deemed his driving to be unsafe on a re-start in Liuzhou last October.
Despite missing the final two rounds of season in Abu Dhabi and Sharjah in the United Arab Emirates, Shaun made people sit up and take notice in 2012.
Torrente started out by outracing his teammate at the opening round in Doha. He then earned pole position at the next event in Kazan. He followed that up by leading for most of the race in Kiev, Ukraine only to have the heartbreak of back to back mechanicals taking him out of the action while in the lead of both races.
His strong determination to win caught up with him in China, but despite the fact that he missed the final two events he finished fifth in the pole position race with 42 points with his pole in Kazan and his second place start in Kiev, while finishing fifth as well in the Fast Lap standings as well.
The Qatar Team is chasing it's third Team Championship in the last six years having won the title back in 2008 when American Jay Price won a world title and again in 2011 when Carella and Price finished first and second in one of the most dominating team efforts in the four decade history of the sport.
With Khalid Abdullah Al-Kuwari running the supporting Formula 4 (F-4S) class and a possibility of a third driver joining the F1 line-up, the Qatar Team is very "bullish" about it's chances of sweeping the awards and filling it's trophy case when the 2013 season is through.
However, there will be numerous other teams and drivers from 15 plus nations ready to challenge their claims to success. Time will tell, in what is expected to be a truly memorable year on the worlds most exciting and skillful class of racing on water, the UIM F1 H2O World Championship.
Follow all the news by going to the official website at www.f1h2o.com
Be In The Know - With F1 H2O!