May 2, 2012
GERMAN KALSOW STILL DREAMING OF RETURNING TO F1H2O!
F1H2O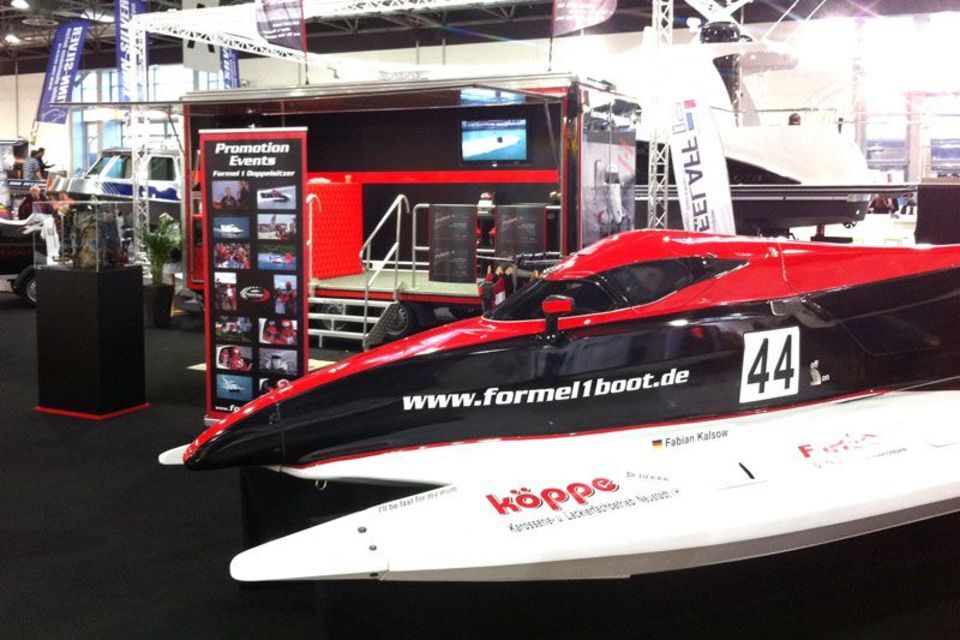 ABU DHABI - (May 2, 2012) - One of the most creative drivers in the history of the UIM F1 H2O World Championship, Fabian Kalsow, is once again devoting his summer promoting the sport while at the same time working diligently to get back on the tour before the 2012 season runs out.
The young driver from Neustadt, Germany has once again filled his calendar for the upcoming months with Exhibition Events that are expected to entertain thousands of people throughout the country.
Fabian has a pair of boats that are in his arsenal that he uses to thrill the crowds at each event. First, is his two seater promotional boat, which he uses to give demonstration rides to "VIP's" and the media. He also brings his BaBa F1 hull using it to promote the highest wrung of the sport on water, the UIM F1 H2O tour during the warm summer months.
"We have a busy schedule this summer with seven planned events," said Fabian. "After putting on a real exhibition at Europe's largest boat show in Dusseldorf where over 250,000 people attended back in January we now once again head outdoors and back into the water. This is a real team effort to move this exhibition around the country and I have 10 people on this team that travel to each event. It is a real undertaking, but also thrilling, to entertain the thousands of people that come to each event."
Fabian's two seat promotional boat is very unique in that it has a second steering wheel. People can actually, with his permission, steer the boat while he controls the throttle for short bursts. The current Molgaard twin seater is soon to be replaced with a new BaBa boat from Italy which matches his current F1 machine.
"We are at the biggest "event website" (Jochen Schweizer) in Germany. We can also book everything for people who may want to drive a Ferrari, Jet-ski, Helicopter, airplane etc. We are also on Facebook where we can give people all the information needed about F1 H2O and our two seater rides."
"Our greatest exposure is the amount of television coverage we continue to generate year after year. All in all, it's a fulfilling experience and a great way to promote the sport. I look forward to returning to the series by 2013 at the latest."
Fabian's loyal sponsor "Baltic Koelln" whom he has had for over a decade is teamed with Philipps Media, Seelaff, Winds sportswear, Brenderup, Lubecker Industrie Service, Lederkonzept, Paintshop Koeppe, Werbeliner and Castrol.
Fabian, who entered his first UIM F1 H2O event back in 2005, has 30 race starts with two top-fives and 15 top-ten finishes to his resume.
The schedule for the upcoming months for the remaining 2012 schedule where you can see Fabian is as follows:
12-13 May Oldenburg Harbor Festival
01-03 June Hanseboot Ancora Boat Show - Neustadt Holstein
14-15 June Heiligenhafen Harbor Festival
04 August Neustadt Holstein
10-12 August Bitterfield
18-19 August Berlin
11-16 Sept. Saalburg / Thuringen
November Hanseboot - Hamburg
The next round of the 2012 UIM F1 H2O World Championship takes place on the 23rd and 24th of June at the Grand Prix of Russia at Kazan in the Republic of Tatarstan. You can follow all the excitement of the Grand Prix weekend by going to the official website of UIM F1 H2O World Championship tour at www.f1h2o.com.
Be In The Know - With F1 H2O!