February 12, 2014
MARIT STROMOY TO LEAD STRONG NEW TEAM NAUTICA LINE-UP!
F1H2O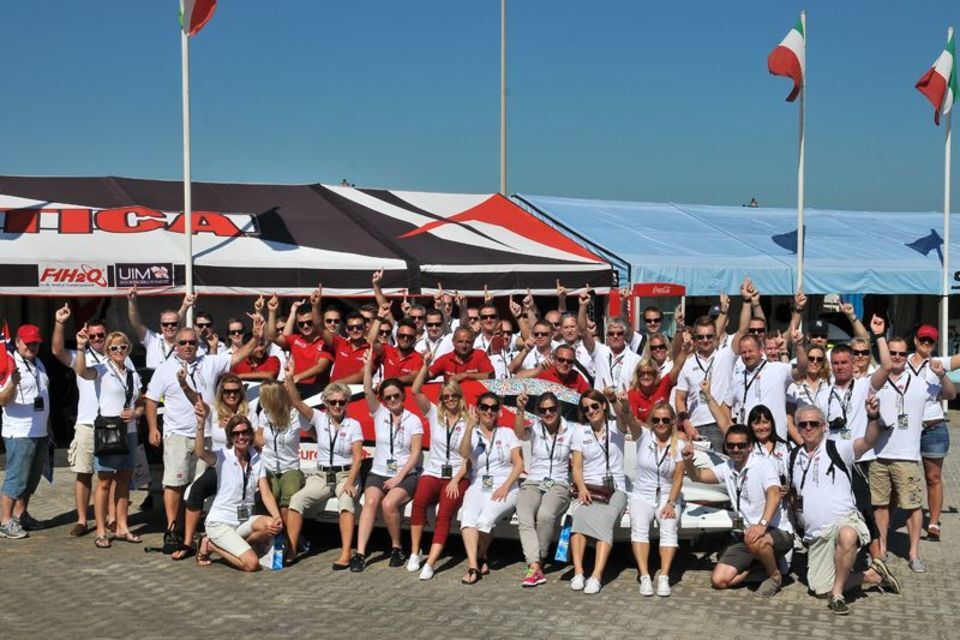 ABU DHABI - (Wednesday, February 11, 2014) - Talented and the always entertaining driver Marit Stromoy of Norway is off to Abu Dhabi for a second time as she prepares for more pre-season testing while fine tuning her program for the rigors of the upcoming opening round of the 2014 UIM F1 H2O World Championship season on 13-15 of March for the 10th Annual Grand Prix of Qatar.
Like any good professional entertainer, Marit knows that when the curtain rises you better be ready to win over your critics and fans alike. This is just what she has plans to do on the always tricky water conditions that exist along the corniche in the city center along Doha Bay.
"Our Team Nautica organization is going to be coming out for the first act of this eighth month play for the world championship with all cast members ready," said the seven year F1 veteran from Sandefjord. "We've added a wonderful young talent in Swedish driver Erik Stark who arrives from a successful career in F2 and he'll be a quick learner like I was when I arrived in 2007."
"We felt this time around we wanted to make sure we had tested all the equipment and systems that are essential to our success and be ready to push for a higher level for 2014 that's why we are here for a second time this winter for testing.
I have worked very hard in placing our sponsors in a good position for exposure and I realize that in order for them to be seen even more on our worldwide television broadcasts we need to be up front and pushing for podium positions during the event and not languishing with the tail enders in the back of the field."
Marit knows what it's like to be on center stage as she has for over a decade been a professional entertainer in Northern Europe working side by side with Europe's best as a lead singer and performer in major shows and concerts from the Mediterranean to the Baltic.
She is fast becoming a sports star in her native Norway and uses a two-seater promotional F1 boat to give a "hands on" demonstration to what F1 is to corporate sponsors and VIP's during the warmer months of the year.
She came to fame quickly back in 2011 when she stormed to pole position becoming the first woman in professional racing on the international level to lead the field of drivers at the Grand Prix of Portugal in Portimao. She led throughout most of the first half of the race when she got tangled up on a re-start and ended her day with a damaged boat on the beach. She was very frustrated that she didn't get a chance to fight for the win at the end.
Her qualifying prowess was noted by the press nationwide and she instantly became a star throughout Norway.
Now, the hard part comes as she hopes to improve upon her seventh place finish in the championship a year ago. Stromoy will be looking for more top-five finishes like she earned in Doha and Abu Dhabi late in the 2013 campaign.
"I'm a competitor and have been one since I was very young," said Marit. "I was an active alpine skier until I was 17 and also played basketball, water skied and fished as well. I have been driving a boat by myself since I was three. So, I've been a competitor never a spectator and just love competing in this sport of F1.
I've sacrificed a lot in my life to do what I do. This is not normal to all my friends that live around me and they let me know that. Between the physical training, sponsorship responsibilities and planning a season it takes all my time when I'm filling my busy entertainment schedule on top of that. Some of my friends say I don't have a life. I just don't have their "normal" life and that's OK by me."
Marit and the very capable Team Manager Jean-Claude Goy are ready to showcase their "new look" Nautica Team in 2014 as Marit starts her 51st career Grand Prix in Doha chasing both her first career podium and victory.
Along with new teammate Erik Stark, Team Nautica looks to become the "Scandinavian Sensations" in the paddock this season which is fast becoming a northern Europe powerhouse in F1 H2O. Add them with the all-Finnish Mad Croc and the Swedish Team Sweden organization making this part of the world a real stronghold in the sport.
The QMSF (Qatar Marine Sports Federation) welcomes the full family of the UIM F1 H2O World Championship kicking off the season opener on the 13th thru the 15th of March in downtown Doha for the 10th Annual Grand Prix of Qatar.
A year ago it was Qatar Team driver Shaun Torrente winning his first ever F1 H2O event keeping the trophy inside the club walls for the third time in the last four years.
Let's see if the trend continues or whether a break through performance from the likes of Marit Stromoy can turn a new page on the history of the UIM F1 H2O World Championship tour.
Be In The Know - With F1 H2O!