February 27, 2014
TEAM ABU DHABI "RE-ENERGIZED" FOR 2014 OPENER IN DOHA!
F1H2O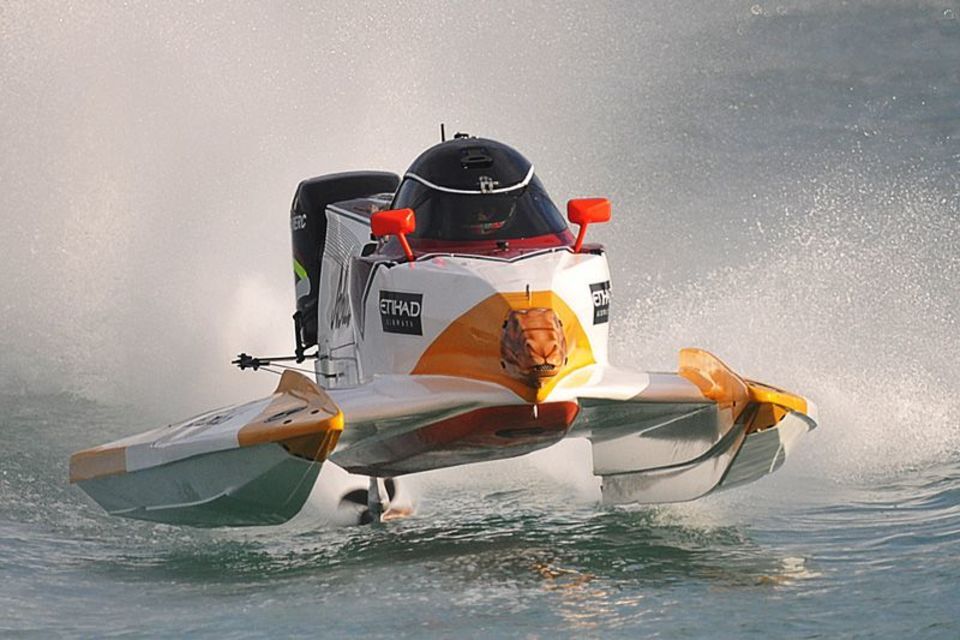 ABU DHABI - (Thursday, February 27, 2014) - Coming off a less than memorable season in 2013, one of the premiere racing teams in all of the UIM F1 H2O World Championship series, Team Abu Dhabi, is going back to page one of their "manual of success" and re-energize all the personnel who are associated with the team for 2014.
As the large group of multi-national individuals now head off in less than three weeks for the opening round of the new campaign for the 10th Grand Prix of Qatar on Doha Bay, Racing Team Manager and four-time World Champion Scott Gillman knows he's got to stop the source of losing that saw the team go winless last year for the first time since 2002.
"We had a tough time of it in 2013," said the Hall-of-Fame driver from California. "With Ahmed (Al Hameli) returning from his surgery and not being 100% and Thani (Al Qamzi) not feeling comfortable in his set-up most of the season we had not only zero victories, but also, zero podiums, which I guarantee, won't happen again."
"This team and its total organization have a lot of pride and we were hurting and frustrated at the end of the year last December. However, we've re-evaluated every thing and every one and now I feel we are climbing back out of our depression and ready to push harder than ever starting in Doha in a few weeks time."
Team Abu Dhabi, which has accumulated 29 Grand Prix victories and three world drivers championships in it's 15 years of operation, has been a model of success and envy of other teams in the paddock. With their many Team Championships over the decade and one-half it has been part of the F1 H2O family it is expected to lead the way year after year but that didn't happen twelve short months ago.
They have re-started their program. Beginning with a rigorous testing program over the winter, not only for themselves, they have offered their professional facilities to the other teams on the tour as well. Many of the other organizations took them up on their offer to test and get ready for 2014 in the last month with great success.
"We at the Abu Dhabi International Marine Sports Club (ADIMSC) have welcomed our colleges to come and enjoy our wonderful winter time weather and prepare for the new season. It's really a natural thing to do since it's so difficult to do so in Europe during the winter months and this year particularly has been a challenge."
The Abu Dhabi team drivers have had success in Doha in past years since their first event back in 2005. Scott Gillman started things off earning the first ever pole position that year.
Thani Al Qamzi, who has raced in 11 previous events in Doha has a victory from the pole in 2007. Ahmed Al Hameli, established the same fete winning from pole, which by the way, is his last victory noted on his resume back in the spring of 2012.
Overall, Team Abu Dhabi will be one of most serious contenders to the title this upcoming season after a year of frustration in 2013.
Sometimes in life, organizations need to re-evaluate themselves after such circumstances only to come out stronger in the end.
We'll see if this is the case for Team Abu Dhabi as they prepare to start the new season on the weekend of the 13th thru the 15th of March on Doha Bay and the 10th Grand Prix of Qatar.
The battle for pole position with the one hour qualifying session will be held on Friday the 14th at 15:30 local time (12:30 GMT) and 07:30 EST on the East Coast of North America.
The 10th Grand Prix of Qatar will take place on Saturday, the 15th at 15:45 local time (12:45 GMT) and 07:45 EST.
Both official qualifying on Friday and the Grand Prix on Saturday can be watched live as it happens by going the the tours official website at www.f1h2o.com for streaming of the worldwide telecast.
If Team Abu Dhabi has its way, they will be once again be looking to take the top-spot on the podium when the weekend comes to a close. Let's see if they can become winners again in Doha, Qatar.
Be In The Know - With F1 H2O!