April 11, 2013
QATAR TEAM PREPARES FOR 2013 WITH TEST SESSIONS IN ITALY!
F1H2O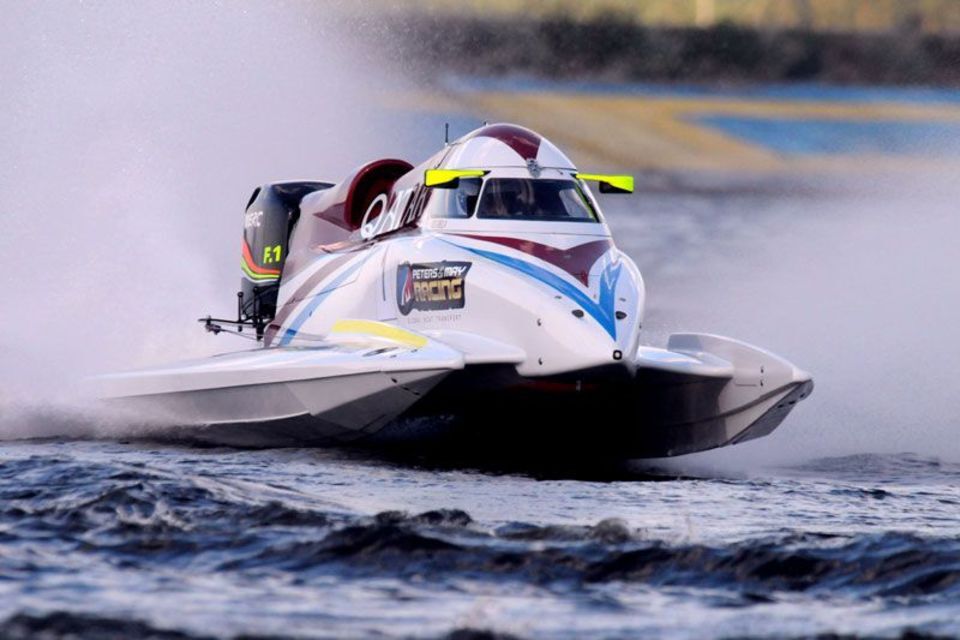 ABU DHABI - April 11, 2013 - For a racing team that has had it's drivers winning the World Championship title three of the past five years, the hunger to remain on top is still as strong as ever as the Qatar Team just completed five days of testing in Northern Italy preparing for the upcoming 2013 UIM F1 H2O World Championship campaign.
With less than two months before the historic start to the 30th Anniversary season of the tour, at the first ever event in South America at the Grand Prix of Brazil in Brasilia on the 1-2 of June, two time defending World Champion Alex Carella along with talented teammate Shaun Torrente got busy fine tuning their updated DAC hulls that were brought over from nearby Como, Italy.
Also attending the important round of testing were Khalid bin Arhama Al-Kuwari, head of Formula Racing at the Qatar Marine Sports Federation (QMSF), engine builder and Crew Chief Brendan Power who arrived from Florida, along with several other key members of the Qatar Team, including Alex Canzi of Italy and Bill Rucker of California.
"After such a long lay-off before the first race in Brazil in June, it was important that we got some valuable testing in to dust off the cobwebs, said Al-Kuwari. "We tested some new propellers and engines brought over from America. It was a good chance for the team to work together again and get in shape before the season begins. We learned many new things and that information will be critical when the racing starts."
For the World Champion, Carella, he will enter his fourth season having already won the world title twice in just 21 Grand Prix starts in F1. He has six victories in the past three years and is winning at an unbelieveable 29% of his events. He has reached the podium 57% of the time with 12 podiums in his 17 finishes.
"I'm still as hungry today for victories and titles as I was when I dreamed about racing F1 many years ago," said Alex. "Winning for a third straight season would be almost magic, but with my great team and crew I honestly feel we have a good shot at it in 2013. It's a long season, but for each race I start, I learn more and more and that only makes me more confident in my ability racing against my opponents."
For American teammate Shaun Torrente, he's shown his talents and a nose to get to the front of the field in most of the races he's run in the past few years. His bad luck in his previous two seasons hasn't gone unnoticed having finished just three events in the 10 Grand Prix's he's started.
He is fast, proving that he can go to the point having led two of the last three races he entered in 2012. His aggressive style got him caught up with the UIM race officials in China a year ago who suspended his licence for the final two races, forcing him to become a unwanted spectator watching his teammate take another title.
"We, as a team, are serious about keeping this World Championship streak alive for another season," stated Shaun. "I've had time to think about last season and I am more hungry than ever to get both Alex and myself to the podium in 2013 and win the Team Championship back for this QMSF organization."
Other teams on the UIM F1 H2O World Championship continue to fine tune their programs prior to placing their race boats on the transport ship that will across the South Atlantic ocean readying for the start of the season on 1-2 of June in Brasilia and the first ever Grand Prix of Brazil.
Drivers from 15 different nations are expected to participate, in this the worlds most challenging series, where pilots are asked to drive their craft around four to six g-force corners lap after lap reaching speeds of close to 225 kph (135mph) at each Grand Prix in front of ten's of thousands of spectators for the seven month campaign that makes up the 2013 season.
You can follow all the news, as well as all the action of each Grand Prix, by going to the series official website at www.f1h2o.com.
Be In The Know - With F1 H2O!