December 14, 2016
RASHED AL QAMZI MAKES F1H2O DEBUT IN SHARJAH
F1H2O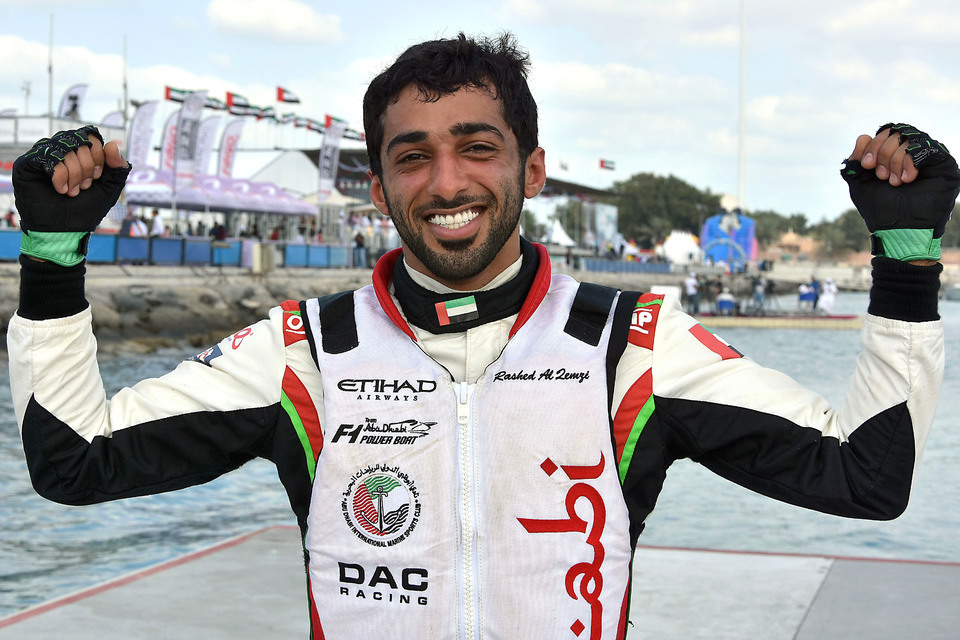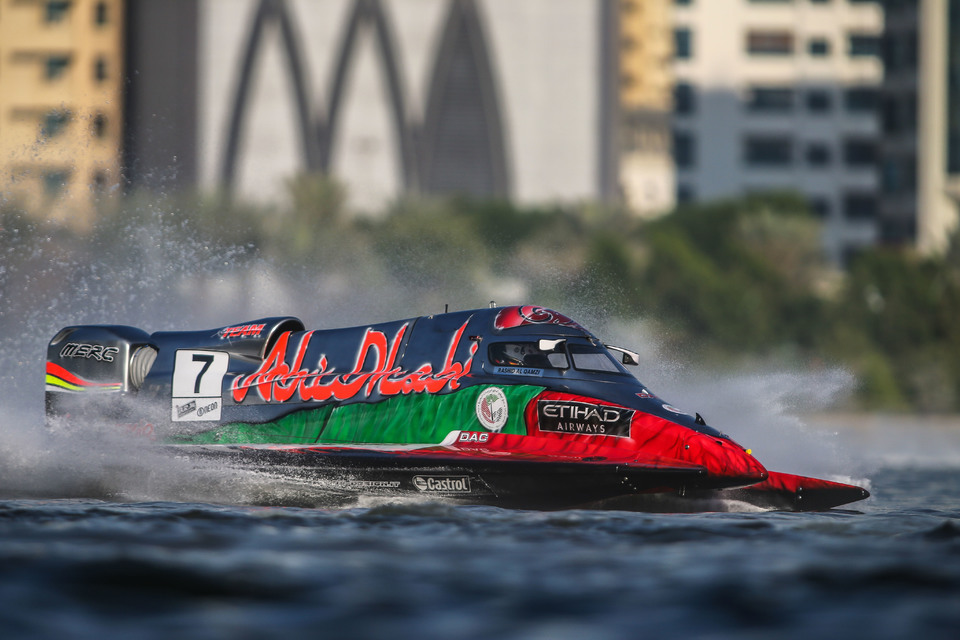 Wednesday, 14 December, SHARJAH (UAE): Team Abu Dhabi has confirmed that it will run three boats at this week's UIM F1H2O Grand Prix of Sharjah, the final round of the season, with Rashed Al Qamzi stepping up to make his world championship debut.
Al Qamzi, 24, teams-up alongside his cousin Thani Al Qamzi, a three time winner on the Khalid Lagoon and three time world champion Alex Carella, who took the race win in 2012.
This afternoon's untimed practice ahead of tomorrow's BRM Official Qualifying gave drivers the opportunity to shakedown engines and run different propeller set ups, with rookie Al Qamzi getting his first senior outing. "This is only the second time I have been in this boat after testing yesterday in Abu Dhabi, but I was pleased how practice went," said Rashed Al Qamzi. "My first reaction is the big difference in acceleration out of the turns between the F1 and F2 boats. It is amazing. Nobody is expecting too much from me or setting me any targets but I will try to push hard and see what result I can get."
The young Abu Dhabi driver is a rising star and makes the move up into the top-flight coming off the back of a highly successful season; at last week's Grand Prix of Abu Dhabi he took his fourth race win of the year and fourth Grand Prix title to become the first Emirati to win the F4-S Championship.
For Al Qamzi the move up is a natural progression, gaining experience this year with several outings in the F2 World Championship, taking his best result finishing second in Macon in France, as well as competing in the Rouen 24hour. "I think he is definitely ready for this challenge. He is not just jumping up from F4 but the F2 championship and from competing in the 24 hour," said Team Abu Dhabi racing manager Guido Cappellini. "This is a great opportunity for him and a thank you from the team for winning the [F4] championship. It is a chance for him to get valuable time in the boat and to gain experience of racing at the top level. But the programme for next year will focus on F2."
Al Qamzi has also enjoyed considerable success in UIM H2O Nations Cup winning all four races in Qatar and Abu Dhabi in 2013 to guide Team UAE to overall success and this year taking victory in the match race final in Shanghai.
BRM Official Qualifying takes place tomorrow starting at 15.30hrs.