October 20, 2019
SHAUN TORRENTE WINS CENSTAR GRAND PRIX OF CHINA AND REGAINS THE LEAD IN THE TITLE
F1H2O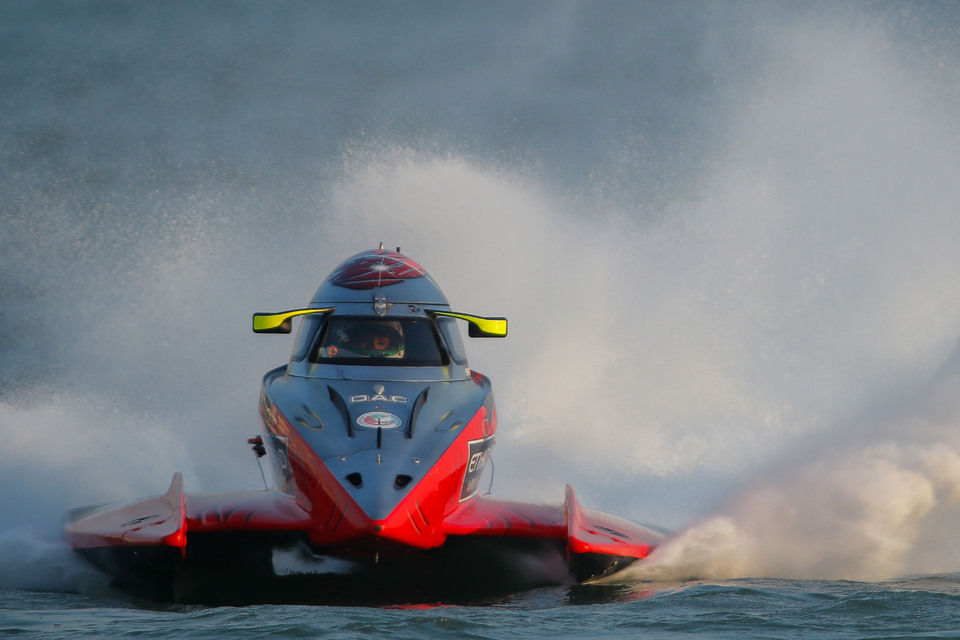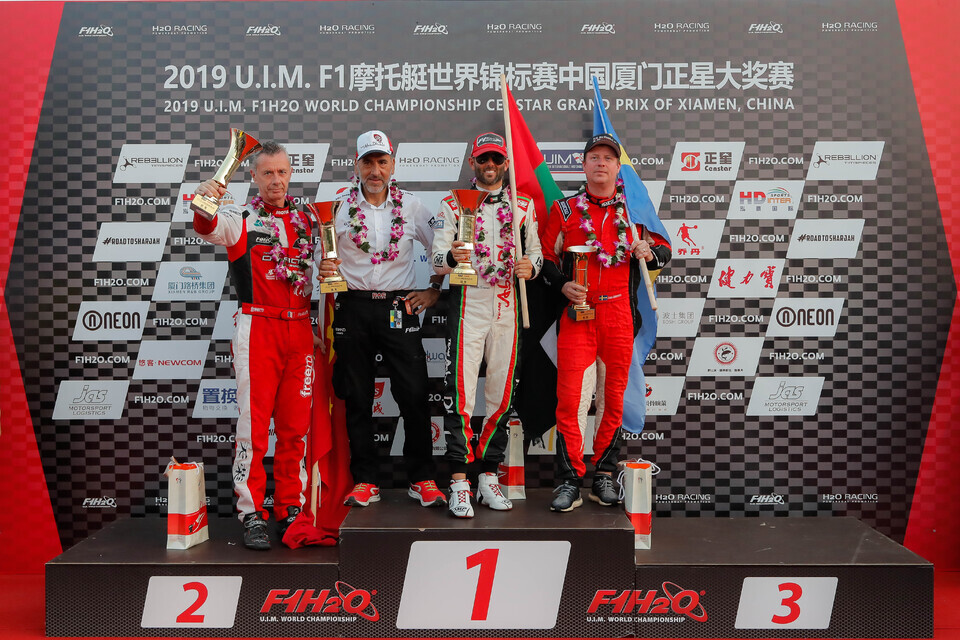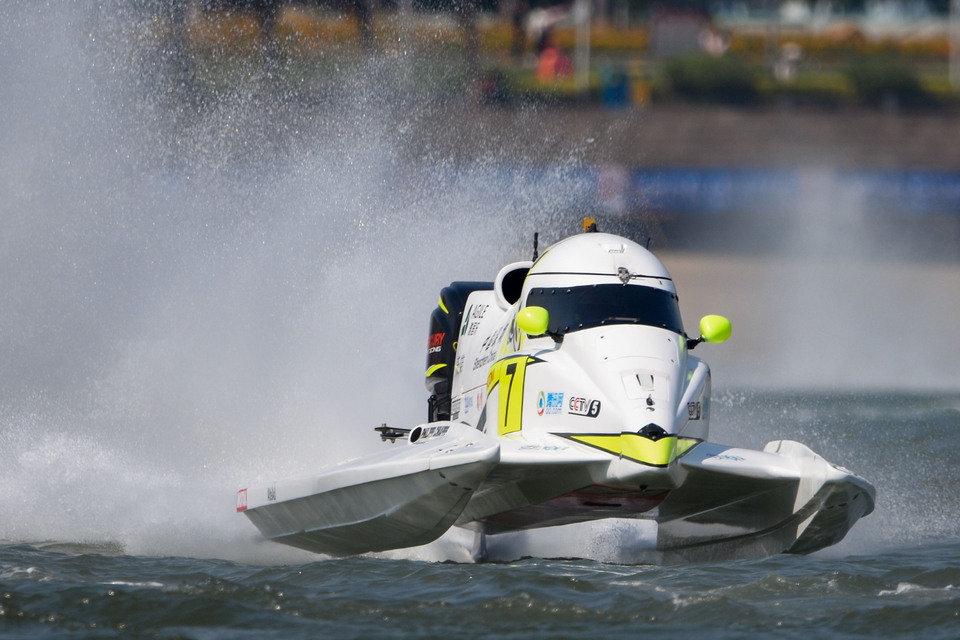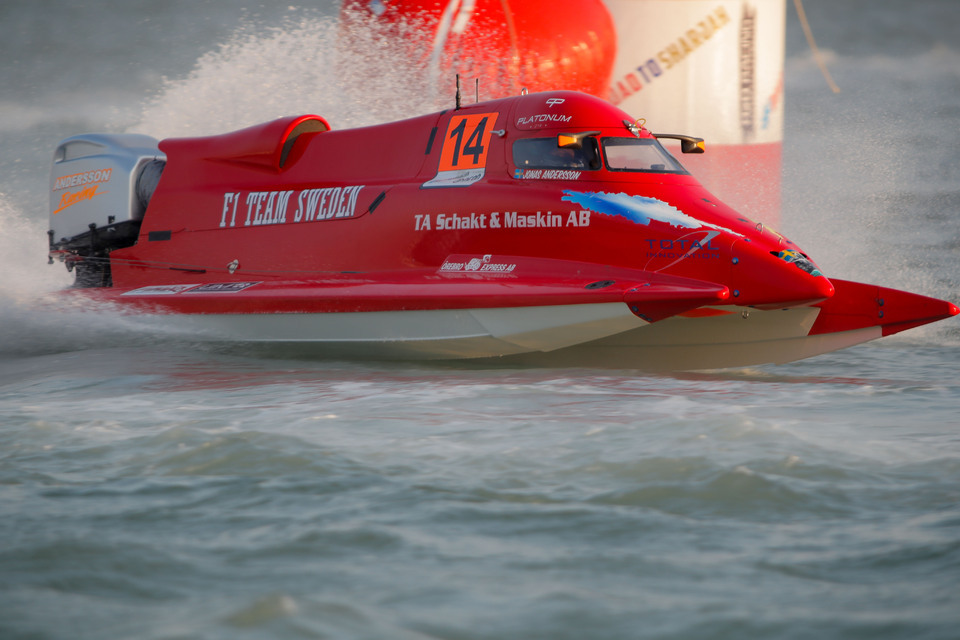 Sunday, 20 October, XIAMEN (China): Team Abu Dhabi's Shaun Torrente held his nerve and survived an incident-filled race to take a start-to-finish and hard earned victory in the UIM F1H2O Censtar Grand Prix of China and regain the lead in the title race.
It was brutal race run in difficult conditions with strong winds churning up the waters of Wuyan Bay and just nine of the 17 starters making it the chequered flag, with the yellow-flagged four times and race ending under caution, Cedric Deguisne, Alex Carella, Thani Al Qemzi and Alberto Comparato all crashing out.
Despite a sluggish start and momentarily slipping back off the dock Torrente managed to emerge in the lead at the end of the start lap chased by yesterday's race winner Carrella with Peter Morin, Marit Stromoy and Philippe Chiappe in pursuit.
Torrente held off the challenge for 5 laps when the first yellow was shown after Deguisne's boat nosedived and destroyed his engine, the second yellow coming out almost immediately after the restart on lap 7, with Carella looking to pressure Torrente and blowing over.
At the restart on lap 12 Torrente came under pressure from Morin who maintained a sustained challenge for 10 laps and closed to within 1.3s when the yellow was shown again, this time heralding the exit of Thani Al Qemzi after barrel rolling his DAC, his title challenge evaporating at the same time.
Again Torrente managed the restart well but this time it was Chiappe and Jonas Andersson taking up the chase after both passed Stromoy with Chiappe's teammate Morin retiring on lap 23 with an engine problem.
In the closing stages Torrente looked to have the race under control when the yellow was raised on lap 28 after Alberto Comparato caught a wave and nosedived ripping off his left sponson, Torrente leading Chiappe and Andersson round for three laps and taking the chequered flag under the yellow. "It was a nerve racking race with all those restarts and everyone was coming for me," Torrente said. "The wind was ridiculous it was just picking the boat up and moving it all over the place. Carella and I were giving it everything, he almost went then I almost went and then he did. But the target was always to get to Sharjah in front."
Philippe Chiappe's second place gave the three time champion his first points of the season and ended a barren run with London 2018 the last time he was on the podium. "It's been a busy weekend, not at all easy and today was a very hard race," he said. "It was a good result for the team and at last I finish a race this year."
Third place for Jonas Andersson keeps his title hopes very much intact and he will head to Sharjah as the only challenger to Torrente, just five points between them. "I am very happy with the result but I just didn't have the speed today," Anderrson said. "My set up was totally wrong for these conditions, it was just too rough. We are still in the fight and we are going to Sharjah to win."
Marit Stromoy rounded off a strong weekend in Xiamen and followed her podium yesterday finishing in fourth and maintaining third place in the championship standings, with Erik Edin having by far his best performance and best result of the season coming home in fifth, Sami Selio another to produce a strong showing in sixth, his teammate Filip Roms' race ending with technical issues on lap 20.
After starting from 17th off the dock Bartek Marszalek fought his way back up through the field to take seventh, with Greg Foster picking up his third points finish in a row and again enjoyed a close battle with teammate Francesco Cantando before his retirement on lap 25 after a coming together with Comparato, Erik Stark's debut weekend with Victory Team ending in more disappointment, retiring early on lap 6, David Del Pin getting to the end in ninth.
The final round of the season takes place in Sharjah in the United Arab Emirates on the 18-21 December where Shaun Torrente and Jonas Andersson will go head-to-head for the world title.
UIM F1H2O CENSTAR GRAND PRIX OF CHINA
1. Shaun Torrente (usa/*uae)
2. Philippe Chiappe (fra) +0.91s
3. Jonas Andersson (swe) +2.75s
4. Marit Stromoy (nor) + 4.32s
5. Erik Edin (swe) + 1 lap
6. Sami Selio (fin) + 1 lap
7. Bartek Marszalek (pol) + 1 lap
8. Greg Foster (usa) + 1 lap
9. David Del Pin (ita/*uae) + 2 laps
(*international racing licence)
For full results/classifications:
https://www.f1h2o.com/results/2019/grand-prix-of-china/f1h2o