September 23, 2018
TORRENTE HEADS UP AN ALL TEAM ABU DHABI PODIUM IN XIANGYANG
F1H2O
*Thani Al Qemzi moves to the front in the title race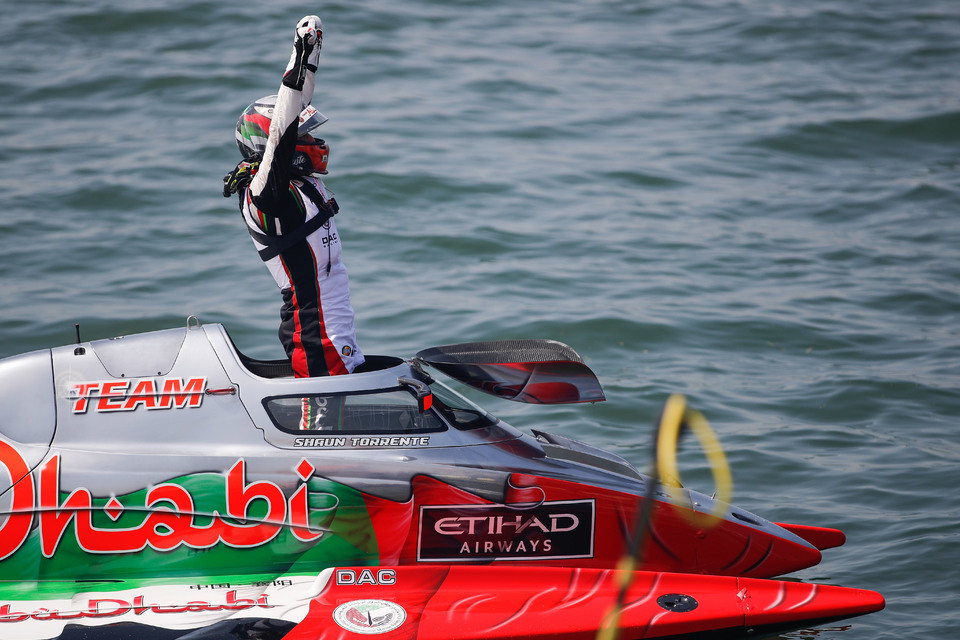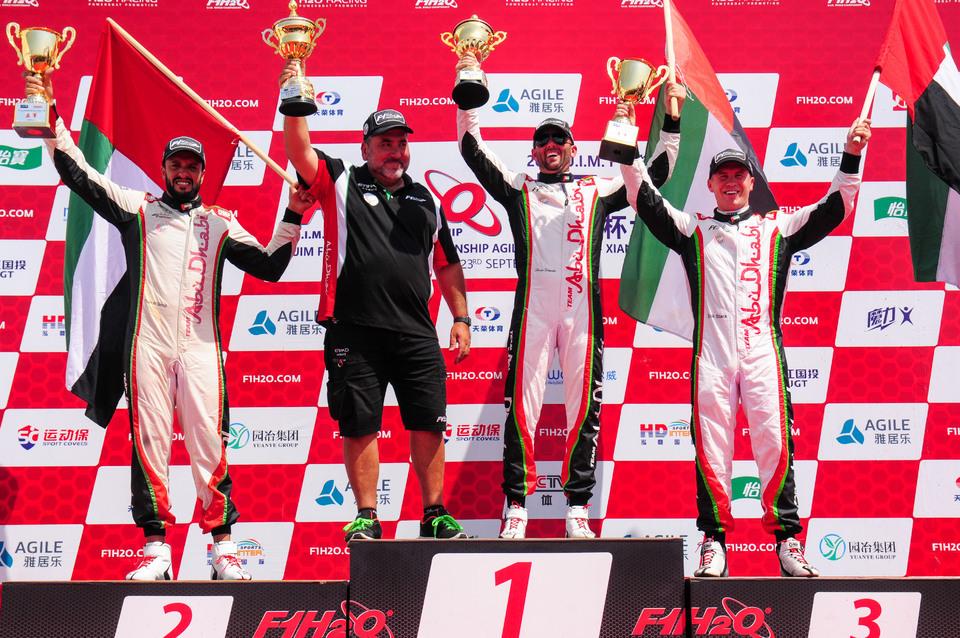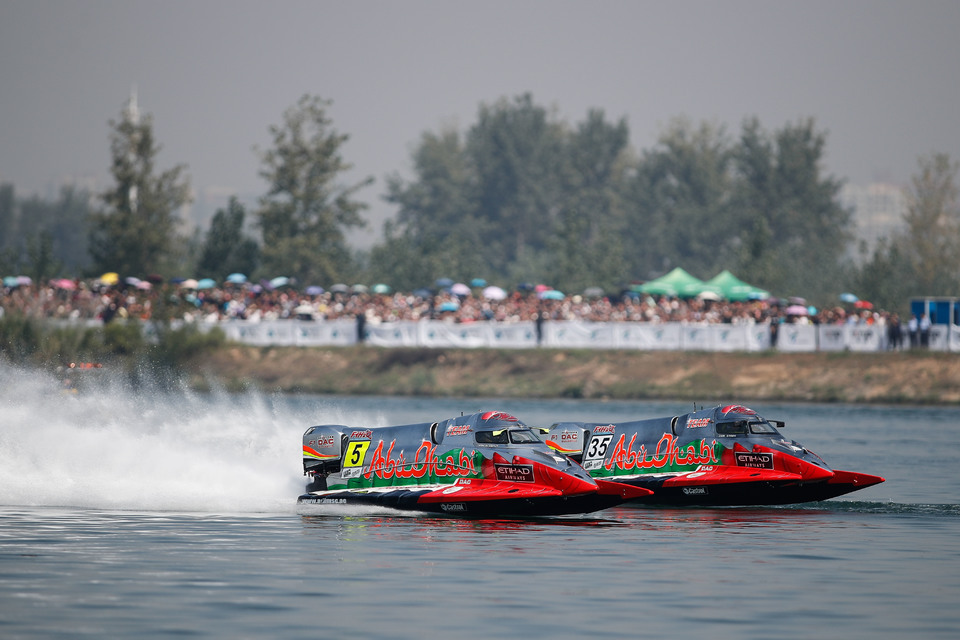 Sunday, 22 September, XIANGYANG (China): Team Abu Dhabi's Shaun Torrente, Thani Al Qemzi and Erik Stark took another huge step towards the driver and team world titles in today's UIM F1H2O Agile Grand Prix in Xiangyang, with Torrente leading home his teammates for a second successive all Team Abu Dhabi podium.
After delivering the perfect lap in yesterday's BRM Qualifying to take the pole, Shaun Torrente produced a faultless performance today and was able to control the 39 lap race on the 2.23km 7-pin circuit on the Han River from start-to-finish to take his sixth career victory. "I think that was a complete team performance today," said race winner Torrente. "Thani made an amazing start and to be running one two three so early on was great. I was able to maintain my pace without having to push too much and towards the end was able to back off."
Second place today for Thani Al Qemzi sees the Emirati become the third driver this year to lead the title race and tops the standings on 54 points, with Stark and Torrente in second and third just two points splitting the Abu Dhabi trio. "My start was very very fast and I had a good fight with Erik on the opening lap but made sure I left him enough room," said Al Qemzi. "I think my propeller choice was wrong, a little bigger and I might have been able to get closer to challenge Shaun."
Despite being deprived off the win hat-trick Stark was more than happy with his third podium of the season. "I lost out at the start," he said. "I am really struggling at the moment with the start and after that there was no way I could try to get back to at them. But it is another perfect result for the team."
With the Abu Dhabi trio controlling the race out front there was little either of the immediate chasing trio could do, Team Amaravati's Jonas Andersson dropping a place to Al Qemzi off the dock and running a fairly untroubled race in fourth ahead of CTIC F1 Shenzhen China's Philippe Chiappe, Victory Team's Ahmed Al Hameli coming home in a solid sixth place.
Emirates Racing's Bartek Marszalek headed a three way battle in the middle order with teammate Marit Stromoy and CTIC's Peter Morin, but a spin out on lap 19 cost him places, Morin finally getting the better of Stromoy who was struggling with a lack of power in the closing stages to finish where he started, in seventh, with Team Amaravati's Erik Edin finishing in ninth ahead of Marszalek.
Maverick F1 Racing's Cedric Deguisnes made up ground from starting from 17th of the dock to finish in 11th with new teammate Suttiphan Sookbuangbon coming through his UIM F1H2O debut unscathed and in 13th spot behind Mad Croc BABA Racing's Filip Roms.
It was a frustrating afternoon for F1 Atlantic's Grant Trask, technical problems ending his race on lap 22 after running strongly in seventh, teammate Duarte Benavente going out on lap 11 with engine issues. Engine problems brought Alex Carella's tough weekend to an end on lap 18, with Sami Selio forced out on lap 12, also engine problems.
UIM F1H2O AGILE GRAND PRIX – race results (top ten)
1. 6 Shaun Torrente (usa)
2. 5 Thani Al Qemzi (uae) + 6.03s
3. 35 Erik Stark (swe) + 11.83s
4. 14 Jonas Andersson (swe) + 18.33s
5. 7 Philippe Chiappe (fra) + 27.47s
6. 3 Ahmed Al Hameli (uae) +28.07s
7. 8 Peter Morin (fra) + 36.57s
8. 50 Marit Stromoy (nor) + 37.02s
9. 15 Erik Edin (swe) + 53.83s
10. 51 Bartek Marszalek (pol) +1lap
UIM F1H20 DRIVERS WORLD CHAMPIONSHIP (top ten)
1. 5 Thani Al Qemzi (uae) 54pts
2. 35 Erik Stark (swe) 53pts
3. 6 Shaun Torrente (usa) 52pts
4. 7 Philippe Chiappe (fra) 34pts
5. 8 Peter Morin (fra) 30pts
6. 3 Ahmed Al Hameli (uae) 15pts
7. 14 Jonas Andersson (swe) 14pts
8. 15 Erik Edin (swe) 13pts
9. 50 Marit Stromoy (nor) 11pts
10. 1 Alex Carella (ita) 9pts
For full classifications:
https://www.f1h2o.com/results/2018/grand-prix-of-xiangyang/f1h2o