March 25, 2019
UIM F1H2O WORLD CHAMPIONSHIP RIVALRIES SET TO RENEW AT GRAND PRIX OF SAUDI ARABIA
F1H2O
*Shaun Torrente sets out on title defence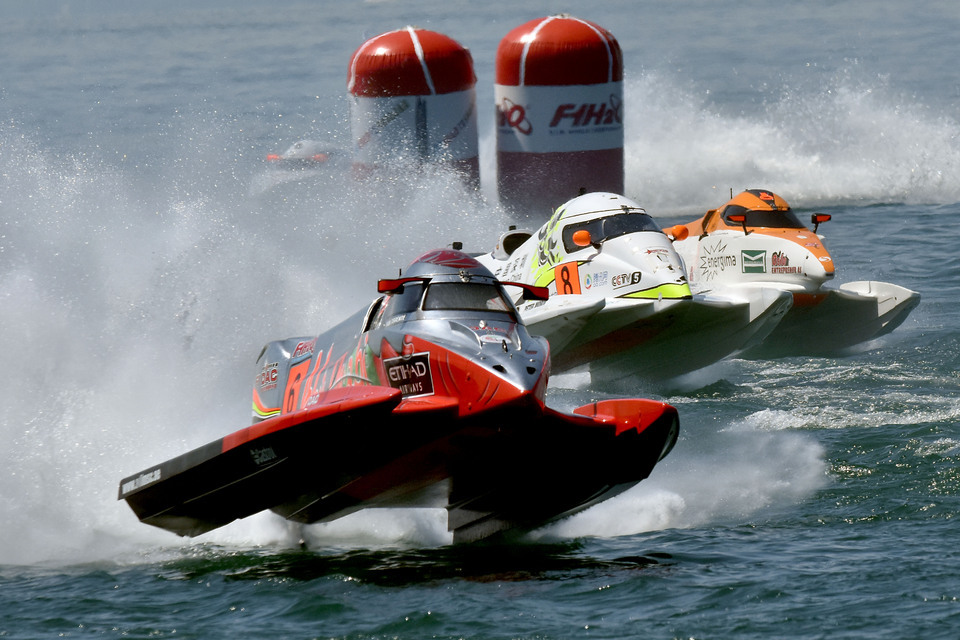 Monday, 25 March, DAMMAM (Saudi Arabia): World Champion Shaun Torrente will start the defence of his title when the UIM F1H2O World Championship launches into its 36th season and returns to action at the Grand Prix of Saudi Arabia on 28-30 March after a two month winter break.
Eighteen drivers from nine teams representing 11 countries will renew rivalries in the season-opener in Dammam at the championship's 280th Grand Prix which marks a return to the Kingdom of Saudi Arabia for the first time in 15 years.
Team World Champions Abu Dhabi will undoubtedly be the target for its rivals to try to dethrone and unsettle this season and it will be American Shaun Torrente who carries the number 1 plate and leads the team's DAC shod attack alongside world number 3, Emirati Thani Al Qemzi. It is an impressive strike force with the duo notching up seven and eight wins respectively and amassing 40 podiums collectively.
The majority of teams field the same driver line ups with three making changes; Italy's Alberto Comparato makes his F1H2O debut in Dammam with Portuguese outfit F1 Atlantic after being signed up by team principal and experienced driver Duarte Benavente at the end of last season.
The 21-year-old from Chioggia will be the youngest driver in the paddock and is one of only a clutch of drivers to follow their fathers into the top flight of formula circuit racing and steps up after winning the UIM F2 World Championship last season.
Italy's Francesco Cantando is the most experienced driver on the tour and starts his 24th season and is joined at Blaze Performance by another newcomer American Greg Foster, with France's Beranger Robart set to make only his second start in the championship and teams-up for the second time with Maverick F1's Cedric Deguisne.
Amongst the order looking to challenge Abu Dhabi will be three time world champion Philippe Chiappe and son-in-law Peter Morin, the French duo securing the runners-up slot in the Teams Championship last season for CTIC F1 Shenzhen China.
Nine time race winner Chiappe will be looking to bounce back and get his season off to a flyer after a somewhat frustrating 2018 and knows one of his fiercest challenges will come from teammate Morin who starts in Dammam coming off the back of a strong 2018 picking up two podiums and finishing fourth in the overall rankings.
Sweden's Jonas Andersson will be looking to start the new season in the same vein of form he ended the last one with P2 in qualifying and the race in sharjah and is again partnered at Team Amaravati by his talented young countryman Erik Edin who starts his second full term on the tour.
All eyes will be Norway's Marit Stromoy who sets out on her 13th season, a race winner and pole-sitter with the pace and race craft to mix it at the front, once again highlighted by her exceptional performances last season in both qualifying and the races in India and Abu Dhabi. She heads up the Emirates Racing attack alongside Poland's Bartek Marszalek
Two time world champion Sami Selio ended last year strongly and sets out on his bid for a third title with backing from the Emirate of Sharjah after signing a multi-year cooperation agreement with Sharjah International Marine Sports Club (SIMSC) and for the eighth year will partnered by fellow Finnish countryman Filip Roms in the rebranded Sharjah Team.
Following a year of intense development and trialling new boats last season Victory Team will be looking for a strong start to the year and to capitalise and launch a consolidated title bid through its impressive and experienced driver line up, Emirati Ahmed Al Hameli and four time world champion from Italy, Alex Carella.
The first action on the 2.23km Dammam Circuit takes place on Thursday with an extra free practice session at 13:15hrs [local]. A second practice session on Friday morning is followed by Official Qualifying at 16:00hrs, with the final practice session on Saturday morning and the UIM F1H2O Grand Prix of Saudi Arabia at 16:00hrs.
2019 UIM F1H2O World Championship:
Team Abu Dhabi: 1 Shaun Torrente (usa/*uae) / 2 Thani Al Qemzi (uae)
Victory Team: 3 Ahmed Al Hameli (uae) / 44 Alex Carella (ita/*uae)
CTIC F1 Shenzhen China: 7 Philippe Chiappe (fra) / 8 Peter Morin (fra)
F1 Atlantic: 9 Alberto Comparato (ita) / 10 Duarte Benavente (por)
Sharjah Team: 11 Sami Selio (fin) / 12 Filip Roms (fin)
Team Amaravati: 14 Jonas Andersson (swe) / 15 Erik Edin (swe)
Blaze Performance: 36 Greg Foster (usa) / 37 Francesco Cantando (ita)
Emirates Racing: 50 Marit Stromoy (nor) / 77 Bartek Marszalek (pol)
Maverick F1: 73 Cedric Deguisne (fra) / 74 Beranger Robart (fra)