March 25, 2019
PERFECT TIMING AS H2O RACING AND REBELLION TIMEPIECES PARTNER IN THE UIM F1H2O WORLD POWERBOAT CHAMPIONSHIP
F1H2O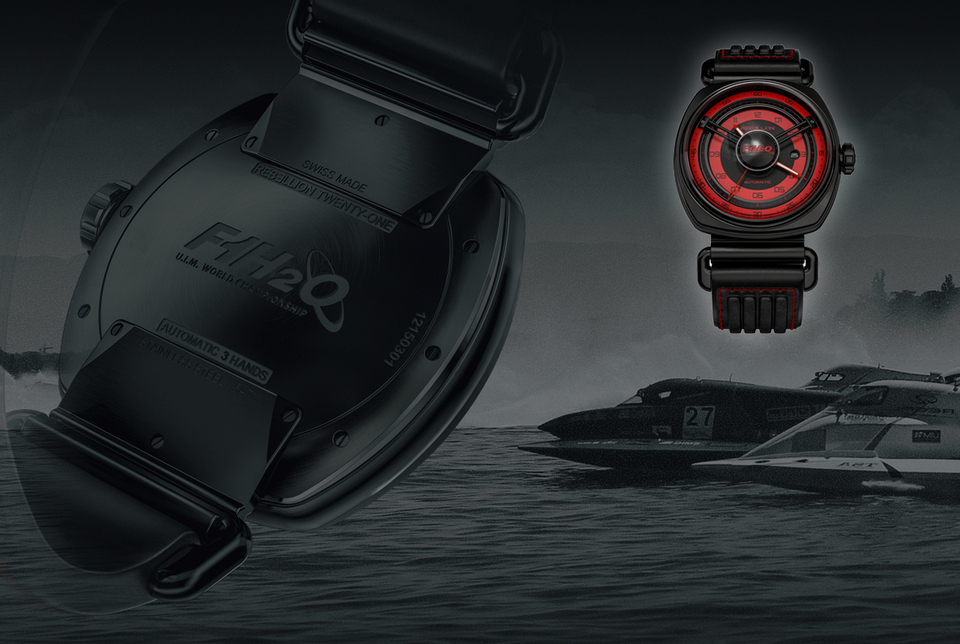 Monday, 25 March: H2O Racing, the promoter and organiser of the flagship UIM F1H2O World Championship, is pleased to announce a timely new commercial partnership with the prestigious Swiss watch manufacturer Rebellion Timepieces.
The agreement introduces Rebellion Timepieces to the world's most prestigious international single-seater, tunnel-hull inshore circuit racing series with the Lonay-based company appointed as Official Timekeeper of the UIM F1H2O World Championship. "We are delighted to have reached this exciting partnership with REBELLION and to introduce them into the highly competitive world of powerboat racing. There is a perfect synergy between the outstanding ranges of bespoke timepieces that REBELLION manufactures and our sport where precision, attention to detail and timing are vital components." said Nicolo di San Germano, President of H2O Racing.
As part of a two-tiered agreement Rebellion Timepieces will also become title sponsor of the Pole Position Championship. "REBELLION Timepieces is proud to become the official timekeeper of the F1H2O Championship. This competition has a DNA common to ours and it is quite natural that a partnership between our two structures seemed obvious. After the track, it's a great challenge for REBELLION Timepieces to discover nautical competitions and demonstrate our know-how in any environment!" commented Calim Bouhadra, President of REBELLION Corporation.
Rebellion Timepieces is one of a kind in the field of Swiss watchmaking. Their passion, independence and 'no-compromise' attitude sparked the company's inception and continue to push its development each passing day. Nothing is left out, or left to chance, in this watchmakers' pursuit for extraordinary quality and performance. Rebellion Timepieces' bold design and limited-series productions are designed for those who share the same ideals. Rebellion Timepieces are designed for the asserted individualists, the intense competitors, those passionate about mechanical perfection.
Sanctioned by the sport's Monaco-based World Governing Body, the Union Internationale Motonautique (UIM) in 1981, the UIM F1H2O World Championship launches into its 36th incarnation on 28-30 March when 18 drivers from nine teams representing 11 countries line-up for the season-opener at the Grand Prix of Saudi Arabia in Dammam.