November 9, 2018
CRUNCH TIME IN TITLE RACE AS CHAMPIONSHIP RETURNS TO INDIA
F1H2O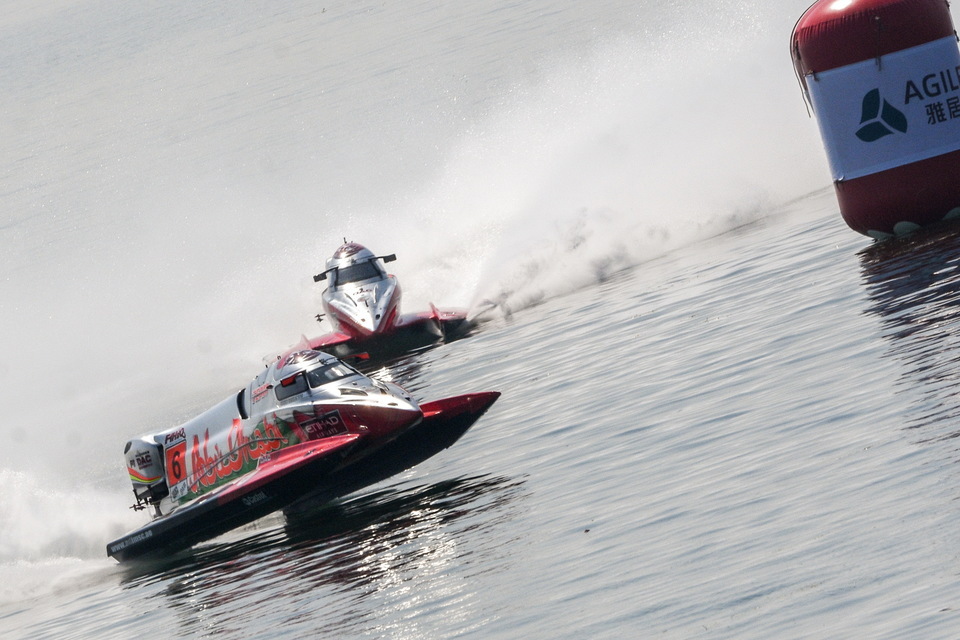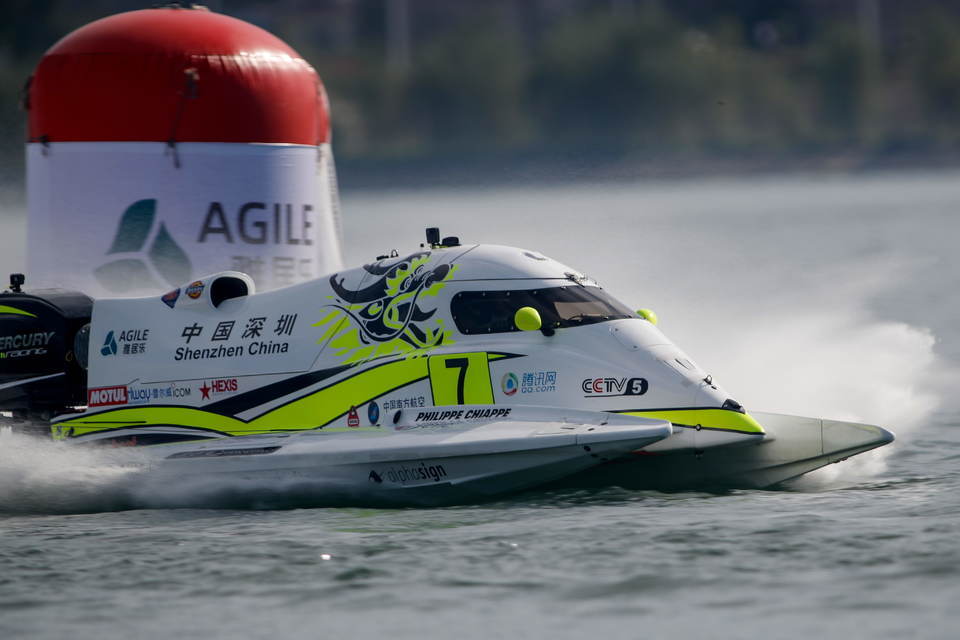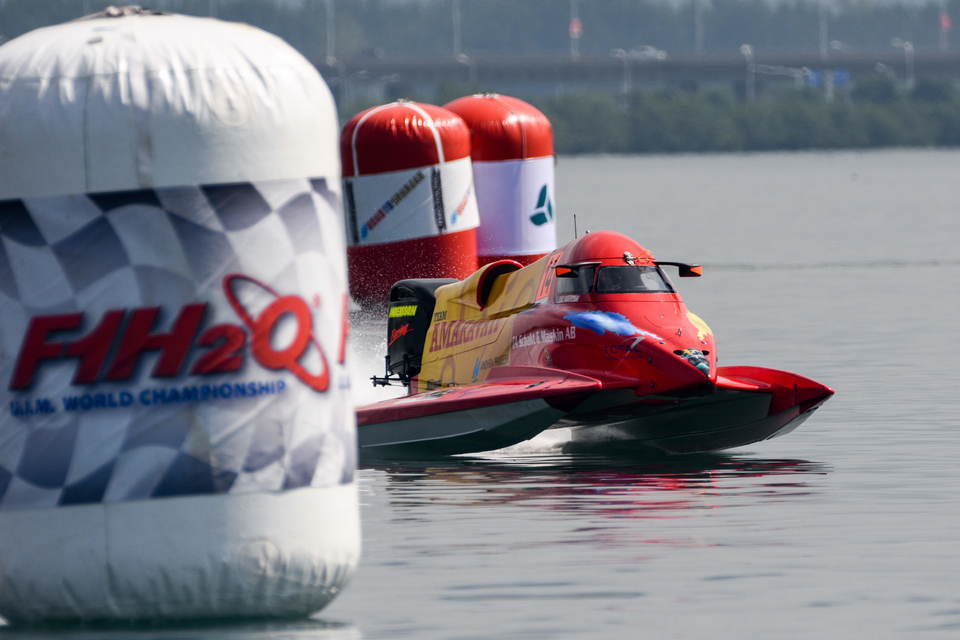 Friday, 9 November: Team Abu Dhabi is very much in control of proceedings as the championship heads into the business end of the season, kick starting the crucial three race run in to year-end and title honours with the Grand Prix of India, Amaravati on 16-18 November, round 5 of the UIM F1H2O World Championship – the penultimate and final rounds taking place in Abu Dhabi and Sharjah in December.
After 14 years and 99 Grand Prix since the first visit to India and Mumbai in 2004 the championship returns, this time to Amaravati and Vijayawada on the banks of the Krishna River in the State of Andhra Pradesh and time is fast running out for any remaining title hopefuls, other than Abu Dhabi's imperious trio of Thani Al Qemzi, Erik Stark and Shaun Torrente.
The Abu Dhabi triumvirate lockout the top three spots in the title race with Al Qemzi perched on top on 54 points with just two points splitting all three teammates and Abu Dhabi a comfortable 42 points clear at the top in the Teams Championship.
The concern for those in the chasing pack and still in with a shot at the title is that Abu Dhabi has locked out the Grand Prix podium for the last two races; Stark and Torrente each have two poles and two GP wins this season with Al Qemzi picking up three runners-up slots and a fourth. And whilst the inter-team driver vibe is currently very much 'all for one and one for all' it may well soon be tested to the limit with all three bidding for a first world crown.
The CTIC F1 Shenzhen China duo of Philippe Chiappe and Peter Morin are the immediate challengers and best placed to mount a challenge, 20 and 24 points off top spot and if either still harbors any title aspirations the fight back must start in India and a win or at least a podium has to be the target to keep in touch.
Chiappe and Morin are the only drivers other than the Abu Dhabi trio to make the podium this season, Chiappe in Portimao and both in London and Chiappe, in particular, needs to rekindle all the elements that delivered him three world titles on the bounce if he is going to carry the fight to Abu Dhabi.
Heading the group of five that currently round out the top ten and split by just six points is Victory Team's Ahmed Al Hameli who has battled hard for his 15 point tally with two top six slots his best results.
It has not proved an easy season for the Dubai outfit so far, trialling new boats at the beginning of the year and upgrading with two more at the last Grand Prix but with little reward for all the effort, especially for four-time and defending champion Alex Carella whose season and title defence started well with third in qualifying and fourth in the race, but has since derailed with two crashes and no points to show from the last three Grand Prix and is down in 10th place on nine points.
Jonas Andersson in seventh place on 14 points heads to India on great form and on the back of his best race weekend of the season after an excellent third in qualifying and fourth in the race in China last time out. The Team Amaravati lead driver is quick and a real fighter and will be optimistic that he can again seriously challenge Abu Dhabi. Keeping him on his toes and a place and a point behind him is teammate Erik Edin who is enjoying a very solid first full term in the championship delivering strong results in qualifying and a career-best fourth place finish in France.
Emirates Racing's Marit Stromoy will be itching to get back out on the water and vent her frustrations after power issues in China in both qualifying and the race robbed her of the opportunity to reproduce the form and pace that she showed in practice and move up in the standings. The Norwegian enjoyed a thrilling middle order battle with teammate Bartek Marszalek for the majority of the race before her issues resurfaced and a spin dropped him back to tenth spot.
Two-time champion Sami Selio and Filip Roms will be desperate for their fortunes to turn around in India after a season to forget so far, the Mad Croc BABA Racing duo blighted with season-long engines issues and Selio failing to get to the chequered flag last time out and rooted in 11th place with just 7 points. Roms did go the distance but a lack of acceleration and power saw him finish outside the points and he languishes in 17th place and is till to post his first points of the year.
F1 Atlantic duo Grant Trask and Duarte Benavente will be looking to bounce back after a double DNF in China, with Cedric Deguisne targeting a points' finish after missing out in China, with rookie teammate Suttiphan Sookbuangbon making just his second start in the championship.
Both Francesco Cantando and Simone Schuft will have carried out repairs to their boats following a double dose of bad luck in practice in China, Cantando hitting debris out on the circuit and Schuft tipping her boat over, with Cantando heading back to India as the man who won there in 2004.
The race weekend gets underway with a first practice session on the 2.125km 5-pin circuit on the Krishna River on Friday afternoon, with a second session on Saturday morning and followed by BRM Official Qualifying at 15:30hrs [local]. A final practice session takes place on Sunday morning with the UIM F1H2O Grand Prix of India starting at 16:00hrs [local].
2018 UIM F1H2O WORLD CHAMPIONSHIP STANDINGS – after round 4:
1. 5 Thani Al Qemzi (uae) 54pts
2. 35 Erik Stark (swe/uae*) 53pts
3. 6 Shaun Torrente (usa/uae*) 52pts
4. 7 Philippe Chiappe (fra) 34pts
5. 8 Peter Morin (fra) 30pts
6. 3 Ahmed Al Hameli (uae) 15pts
7. 14 Jonas Andersson (swe) 14pts
8. 15 Erik Edin (swe) 13pts
9. 50 Marit Stromoy (nor) 11pts
10. 1 Alex Carella (ita/uae*) 9pts
11. 11 Sami Selio (fin) 7pts
12. 9 Grant Trask (aus) 5pts
13. 10 Duarte Benavente (por) 5pts
14. 51 Bartek Marszalek (pol) 4pts
15. 73 Cedric Deguisne (fra) 3pts
16. 37 Francesco Cantando (ita) 3pts
17. 12 Filip Roms (fin) 0pts
18. 36 Simone Schuft (ger) 0pts
19. 70 Mette Brandt Bjerknaes (nor) 0pts
20. 74 Suttiphan Sookbuangbon (tha/fra*) 0pts
21. 35 Rashed Al Qemzi (uae) 0pts