April 14, 2017
F1H2O SET FOR A VINTAGE SEASON AS DRIVERS PREPARE TO RENEW RIVALRIES IN PORTIMAO
F1H2O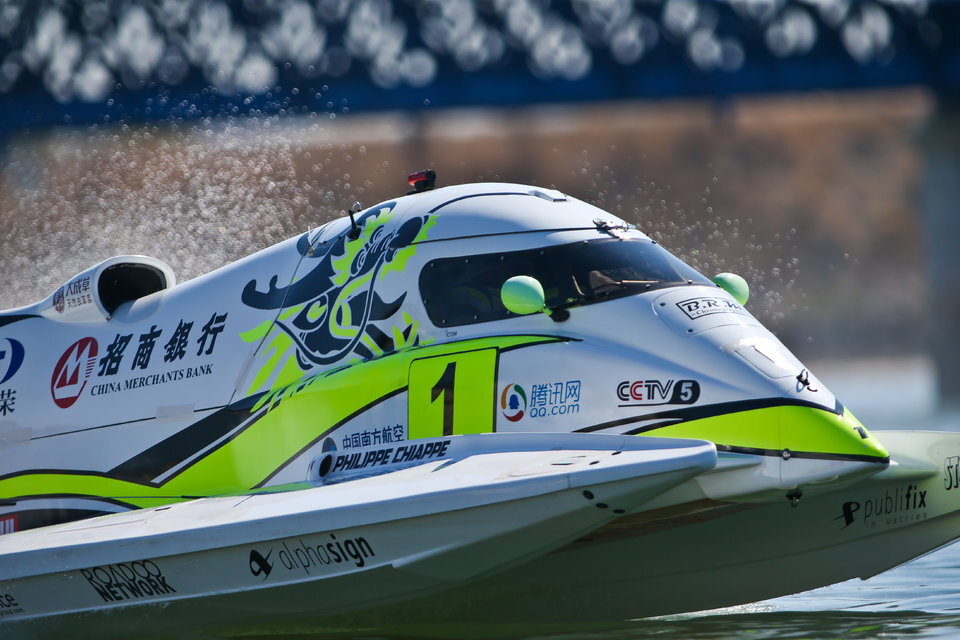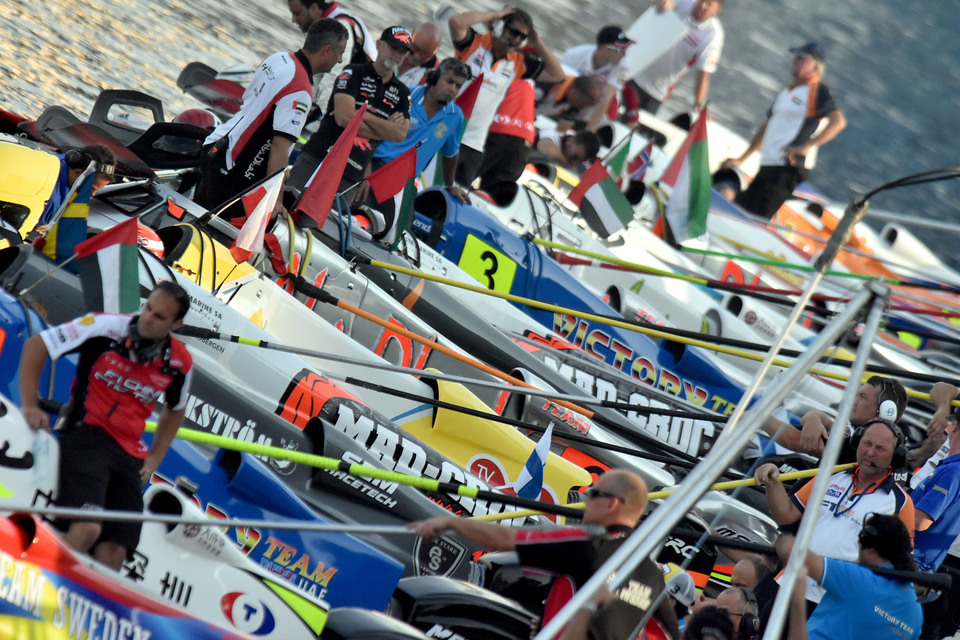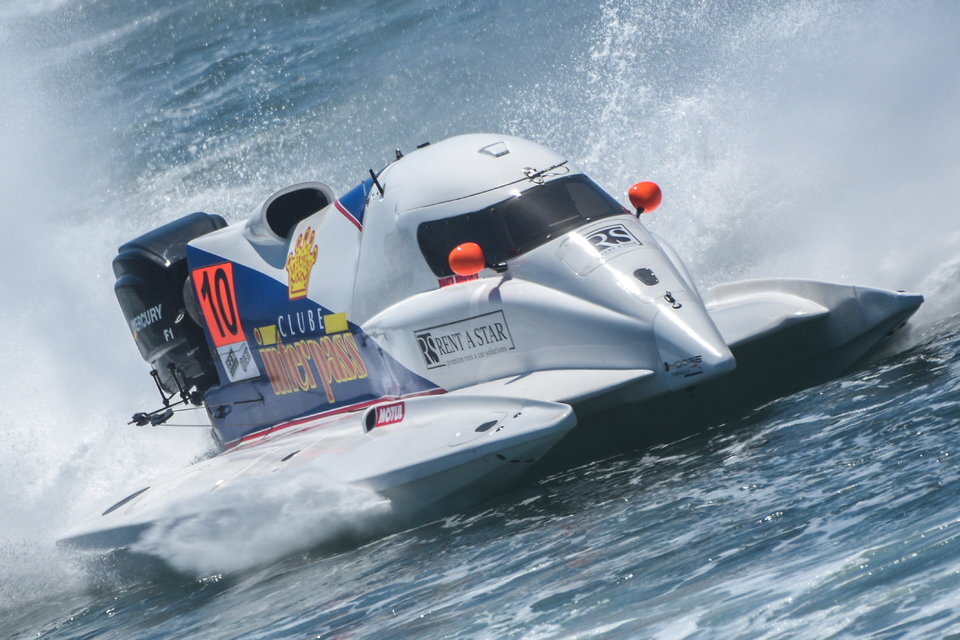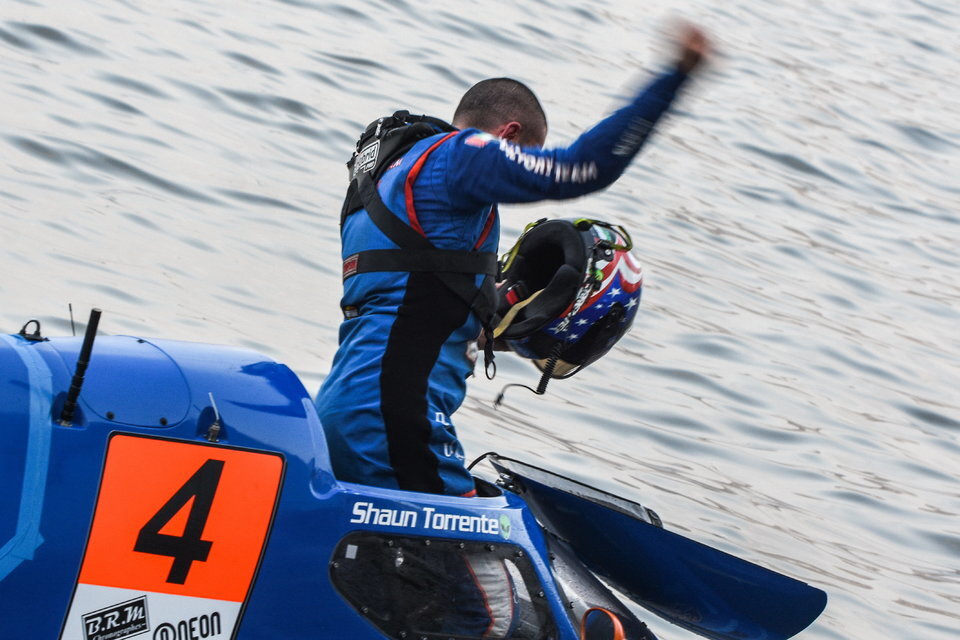 Friday, 14 April, PORTIMAO, (Portugal): Nineteen drivers from 11 countries will renew competitive rivalries when the UIM F1H2O World Championship, the flagship international series in world powerboat racing, launches into its 34th season with the opening round at the 16th Grand Prix of Portugal in Portimao on 21-23 April.
The nine team 19-strong driver line up is impressive and loaded with talent, boasting three world champions, nine drivers who have taken Grand Prix victories, a further three who have finished on the podium with 10 claiming pole position.
Adding spice to the season-opener, and what promises to be a vintage year of racing ahead, has been one of the busiest and most unpredictable pre-seasons in terms of multiple driver reshuffles.
Setting out on the defence of his title and carrying the number 1 plate for the third year running is Philippe Chiappe who sealed a third consecutive title in 2016 as well as winning the BRM Pole Position Championship, the Fast lap Trophy and guiding France-based CTIC F1 Shenzhen China to the Team's Championship.
Chiappe's three-year title winning run since 2014 has seen him add a further 6 race wins and 10 podium finishes to his total podium tally of 29, and he will line up in Portimao looking for his Grand Prix hat-trick in Portugal and a second straight win on the Arade River circuit.
Joining Chiappe in 2017 to complete an all-French line up and making his F1H2O debut is multiple French and World Endurance Champion Peter Morin, brought into the team to take over the seat from Xiong Ziwei, who remains with the team as reserve driver.
Amongst those leading the assault to try to unsettle the champion in Portimao will be Finland's two-time world champion Sami Selio who, with teammate Filip Roms, finished runners-up in the teams' championship in 2016, with Selio ending the year in third overall.
The 41-year-old Mad Croc BABA Racing driver moves into 2017 coming off the back of his best season since clinching his second world title in 2010, picking up two pole positions, a win and three further podiums. He heads to Portimao chasing a third straight pole position in Portugal and his first win there.
Starting his seventh season in the top-flight alongside Selio is the ever-improving 23-year-old Filip Roms from Espoo, also coming off the back of a strong showing in 2016 in which he took his best race finish with second in Evian in France and best qualifying position in P2 behind his teammate in Harbin, China.
The biggest news to unravel pre-season was the change that brings two of the biggest names in the sport together under one umbrella, with Ahmed Al Hameli and Shaun Torrente teaming-up in the rebranded Scott Gillman Victory Team. A further rebranding realignment sees EMIC Racing morph into Emirates Racing, the driver line up of Marit Stromoy and Mike Szymura remaining in situ.
The UAE-USA pairing of Al Hameli and Torrente unleashes a formidable and exciting strike force, both taking race wins last year with Torrente finishing in the championship runners-up spot for the second time. The team has confirmed that Al Hameli will be running in a BABA Torrente in a Moore.
Marit Stromoy will no doubt be relishing another return to Portimao, the venue where she claimed her first and only pole position in 2011, and will be aiming for a strong start to the year after a disappointing 2016 and, as ever, Norway's first lady of powerboat racing will be giving everything and chasing after a second Grand Prix victory.
Germany's Mike Szymura starts his second term in the top-flight after a cautious but solid debut season picking up four points, but will switch from his Dragon F1 Powerboat to race a DAC in Portimao.
One man hoping the form that he produced during and especially at the end of last year carries over is Jonas Andersson, the Team Sweden owner-driver ending a six year win-drought and two year wait to grab his third pole position, then taking two in two races.
Andersson ended last year in fourth overall, his highest finish since 2008, and sets out on his 12th campaign.
But the big news to come out of the Swedish camp pre-season was that Andersson's fellow-countryman Erik Stark replaces Jesper Forss.
For 29-year-old Stark it is a return to the team he made his F1H2O debut with at the end of 2012. The four-time F2 World Champion sat out 2013 but was back with Nautica the following year, switching camps and colours to team-up with Ahmed Al Hameli at Emirates Racing in 2015. In his relatively short 20 Grand Prix career he has finished on the podium three times and started from pole once.
If ever there is a team that will be intent and focussed on upping its game this season it is the mighty Abu Dhabi outfit which will run a three boat line up as they start their bid to regain the team title it won in 2015 and a first driver's title under the tutelage of Guido Cappellini.
Spearheading the attack is three-time world champion Alex Carella, his hat-trick of titles coming with Qatar before making the switch in 2015, with teammates Thani Al Qemzi and 'rookie' Rashed Al Qemzi, who made his F1H2O debut at the end of last season in Sharjah, his reward for winning the F4-S Championship.
Both Carella and [Thani] Al Qemzi are proven winners; Carella, 32 from Piacenza in Italy has an impressive strike rate since his championship debut in 2010, taking 12 wins a total of 26 podiums and 12 pole positions from his 45 GP starts, with Abu Dhabi resident Al Qemzi taking seven wins, 23 podiums and two pole positions.
Portugal's Duarte Benavente was one of only two drivers in 2016 to finish in the points in all races and will be looking to kick start his season with more of the same at his home Grand Prix and in Portimao in particular, where he made his F1H2O debut in 1999, the first year the event was held, and in 2009 grabbed a podium third in race 2.
The F1 Atlantic team has undergone a second driver change in as many seasons, and despite a move to a UAE team anticipated earlier in the year, Australia's Grant Trask has surfaced in Portugal as Benavente's teammate.
The 28-year-old from Brisbane, who followed in his father's and uncle's footsteps last year to make his F1H2O debut in Abu Dhabi, missed out on points initially but delivered a very credible top 12 qualifying performance then finishing in an impressive sixth with five points in Sharjah.
Italian outfit Blaze Performance retains its driver line up with the experienced Francesco Cantando once again joined by Poland's Bartek Marszalek.
Cantando is one of the most experienced off all the drivers and starts his 21st campaign. The Italian has the second highest career points of the current crop of drivers with 922.5. His 12 Grand Prix victories, 30 podiums and five pole positions from 168 starts, makes him one of the most prolific scorers of points and podiums in the series history.
Marszalek starts his seventh season on the tour and will be looking to start 2017 with the impressive form he produced in Sharjah last time out, earning his best ever showing in qualifying with P6.
The final piece in the 2017 team and driver jigsaw puzzle is the confirmation that Cedric Deguisne's Maverick F1 Team has joined the UIM-F1H2O tour full time this season, with fellow Frenchman Amaury Jousseaume coming in as the second driver.
The drivers will get their first opportunity to reacquaint themselves with the demanding and at times unpredictable 1937 metre Arade River circuit with untimed practice on Friday [21] at 14.00hrs [local]. The first official practice session takes place at 10.00hrs on Saturday morning with BRM Official Qualifying at 13.00hrs. A second official practice session will run on Sunday morning at 10.30hrs, followed by the UIM F1H2O Grand Prix of Portugal at 13.30hrs.
TEAMS - DRIVERS:
CTIC F1 Shenzhen China
1 Philippe Chiappe (fra) - Moore
2 Peter Morin (fra) - Moore
Victory
3 Ahmed Al Hameli - BABA
4 Shaun Torrente (usa) - Moore
Abu Dhabi
5 Thani Al Qemzi (uae) - DAC
6 Alex Carella (ita) - DAC
7 Rashed Al Qemzi (uae) - DAC
F1 Atlantic
9 Grant Trask (aus) - BABA
10 Duarte Benavente (por) - Moore
Mad Croc BABA Racing
11 Sami Selio (fin) - BABA
12 Filip Roms (fin) - BABA
Sweden
14 Jonas Andersson (swe) - Molgaard
15 Erik Stark (swe) - DAC
Blaze Performance
23 Bartek Marszalek (pol) - DAC
24 Francesco Cantando (ita) - Blaze
Emirates Racing
50 Marit Stromoy (nor) - BABA
51 Mike Szymura (ger) - DAC
Maverick F1
73 Cedric Deguisne (fra) - Moore
74 Amaury Jousseaume (fra) - Moore
For further information visit: f1h2o.com
[BRM Official Qualifying and the UIM F1H2O Grand Prix of Portugal will be broadcast and streamed live on the official championship web site: f1h2o.com and facebook: https://www.facebook.com/F1H2O]