May 19, 2018
TORRENTE STORMS TO POLE POSITION IN PORTIMAO
F1H2O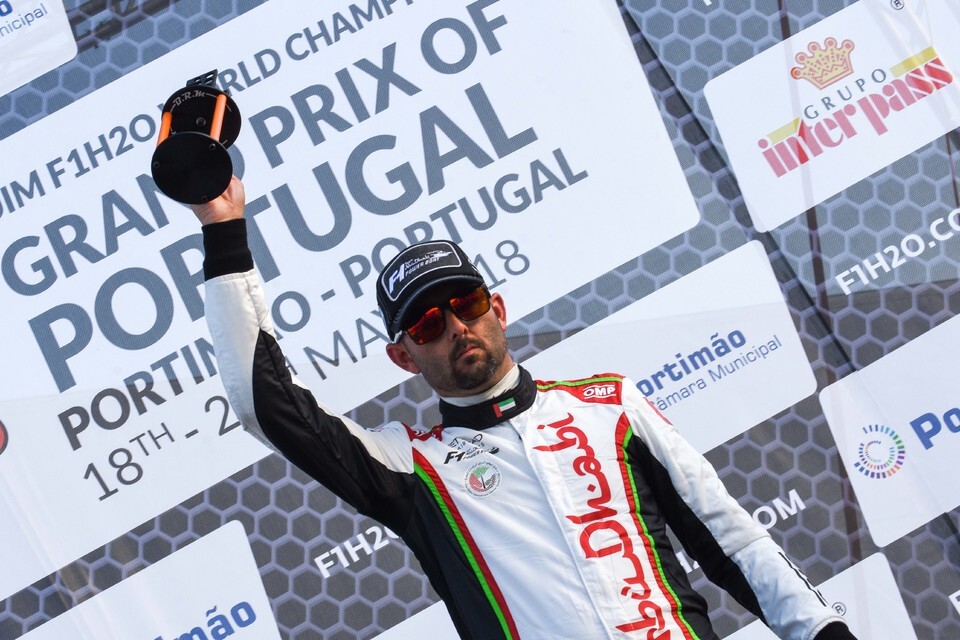 Saturday, 19 May, PORTIMAO (Portugal): Shaun Torrente made a winning start in his first competitive outing for Team Abu Dhabi with a blistering 41.68s lap on his first run around the 1.973km Arade River circuit in Q3 of BRM Official Qualifying and will start the UIM F1H2O Grand Prix of Portugal from pole position for the second successive year. "I am so proud of the team. I love everything about the boat. Today I did a good job. But there is a little bit left on the table and that is what matters. Now we have to continue working and finish the job!"
Thani Al Qemzi added to the team celebrations going second quickest and just 0.07s off his teammate's time, with Victory Team's Alex Carella posting a 42.02s lap and completing the BRM pole position podium, his teammate Ahmed Al Hameli fourth fastest. "I am starting to feel more and more comfortable in the boat and we have shown that we are competitive. I am impressed with the team and with what we have. Tomorrow will be a long race and I am sure we can challenge." Carella said.
Joining the UAE powerhouses in the top six shoot were CTIC F1 Shenzhen China duo Philippe Chiappe and Peter Morin, Chiappe starting tomorrow from fifth with Morin picking up his best ever qualifying position in sixth spot.
F1 Atlantic's Duarte Benavente narrowly missed out on making it into the top-six shootout going seventh fastest ahead of Emirates Racing's Marit Stromoy, with Francesco Cantando producing his best qualifying result in his Blaze in ninth ahead of Grant Trask and Rashed Al Qemzi.
Jonas Andersson's chances of challenging from a top-six slot ended when he limped back to the dock after just three laps of Q2 with a severely damaged boat. "I am not sure what happened. I may have hit something because there is big damage and no way to fix it. So I switch back to my old boat." he said.
It was not a good afternoon for Mad Croc BABA Racing with Sami Selio struggling with engine problems all day long and failing to make the cut for Q2, with Filip Roms running out of water time to run in his engine and failing to start. Bartek Marszalek another who failed to get out after engine issues in practice earlier in the afternoon.
For full classifications:
https://www.f1h2o.com/results/2018/grand-prix-of-portugal/f1h2o