February 18, 2015
CTIC TEAM TESTING IN ABU DHABI FOR 2015 OPENER IN DOHA!
F1H2O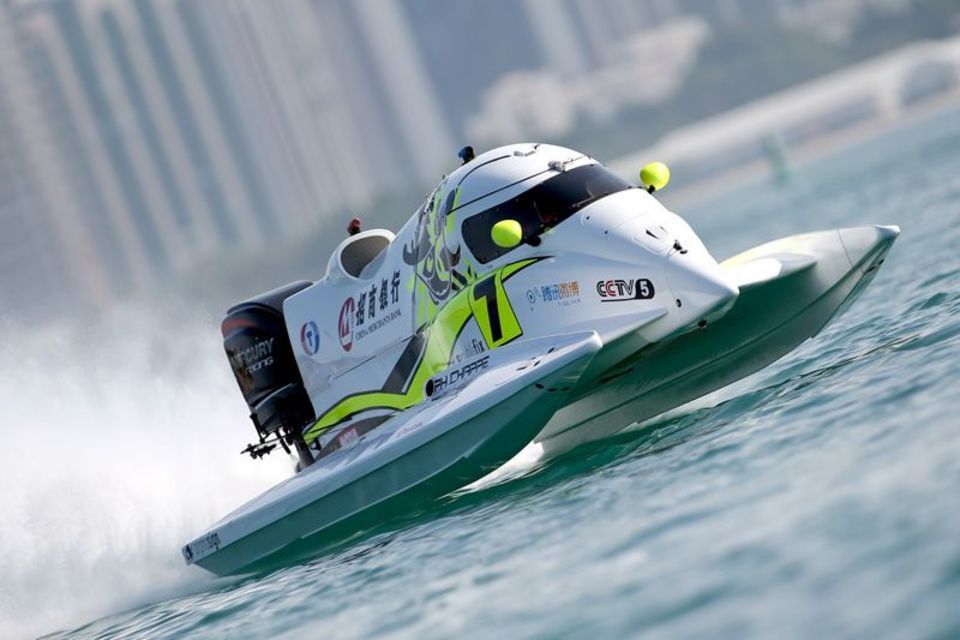 ABU DHABI - February 18 - Not to be caught off guard, newly crowned UIM F1 H2O World Champion Philippe Chiappe of France just completed two full days of testing with his CTIC China Team colleges as they prepare for the opening round of the 2015 UIM F1 H2O World Championship series on the 13th and 14th of March along the edge of the Gulf in lovely downtown setting of Doha at the 11th Annual Grand Prix of Qatar.
The dynamic pilot, who dominated the final two races of the year winning back to Grand Prix's in Abu Dhabi and Sharjah and earning his first title of his 12 year career last December, spent the time on the water in the Emirates working on fine tuning the balance of his championship David Moore built boat, while at the same time, testing a myriad of propellers that will be needed on the always tricky course along Doha Bay.
"We have truly been busy the last few days working on many combinations of set-up, propellers and new concepts for our team for 2015," said the driver from Rouen.
"We realize there are other truly professional organizations working just as hard trying to 'knock us off the mountain' this upcoming season and we are doing our best to stay one step ahead of the competition.
I think this team is now more determined than ever to prove to everyone in the sport that we are no "one year wonders" and that we can sustain a level that will have everyone in the paddock realizing that if they want their pilot to become a world champion, they'll have to work as hard as us on this CTIC China Team to achieve that goal in 2015."
The 51 year-old competitor, who began in F1 back in 2002 after a long career in endurance racing, proved a season ago that he could stay focused and get more and more competitive as the year went along.
Philippe started the season a bit discouraged by qualifying outside the top-six in Doha. In the race however he pushed successfully and finished a strong second place.
In the other three events he would complete in 2014, he was able to win the final two Grand Prix's while taking the runner-up spot for a second time in the city of Doha at the Grand Prix of the Middle East in November.
Consistency was the key to his title. As the season wore on his race boat package got stronger and stronger as well. His longtime friend from France, David Moore, continued to work at break neck speed to get him a better and better.
David focused on the design for the upcoming conditions and proved at the final events that they would be unbeatable by taking two sweeps in a row, winning from pole position off the start dock.
With Team Manager Eric Chan, along with Racing Team Manager Philippe Dessertenne working together, this veteran crew is expected to challenge once again for the title.
Philippe comes to Doha riding a two race winning streak, while racing at circuit that he has never won at before. He has however, displayed a strong podium performance on his resume finishing in the top-three in four of the last five races there.
Will this be the year that the defending World Champion wins on the tricky open ocean circuit on Doha Bay just outside the Gulf, or can the home standing Qatar Team, winners of the last three straight races there dating back to 2012 keep their streak going?
Possibly Team Abu Dhabi could win for a third time, or even two-time defending champion Sami Selio could take his first victory here for the Mad Croc Team. So many possibilities.
We are less than a month away, the tension and drama is already building.
Be In The Know - With F1 H2O!