February 24, 2015
ITALIAN RACING LEGEND GUIDO CAPPELLINI JOINS TEAM ABU DHABI AS TECHNICAL DIRECTOR AND COAC
F1H2O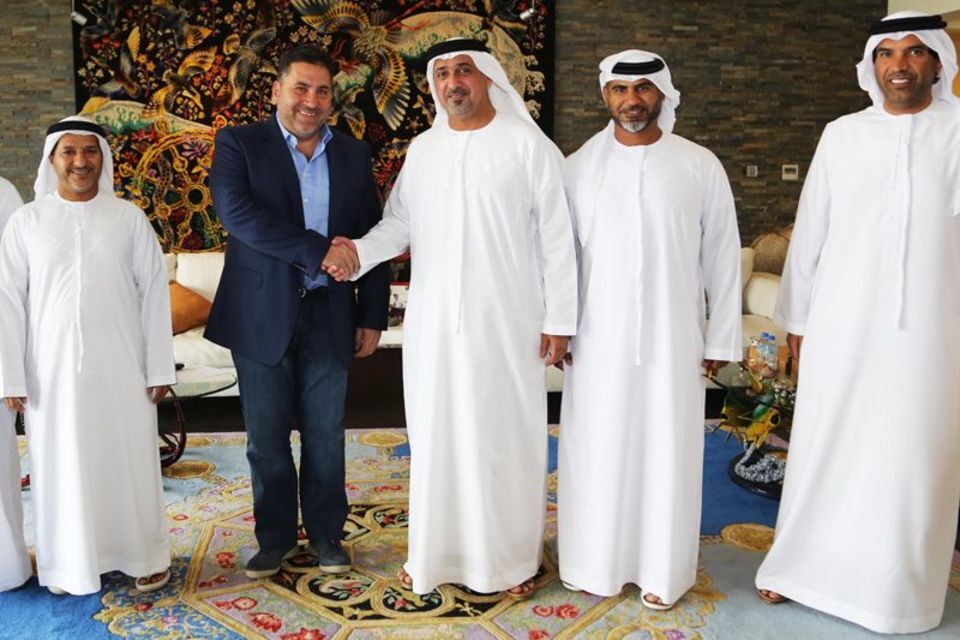 ABU DHABI (UAE): Tuesday, February 24: Abu Dhabi International Marine Sports Club (ADIMSC), has confirmed the immediate appointment of Italian racing legend Guido Cappellini as coach and technical director of Team Abu Dhabi's F1H20 racing team on a three-year contract.
The record-breaking 10-time UIM F1H20 World Champion, from Como in Italy, will also be responsible for the supervision of all racing equipment and on-event team operations. This move has been taken by Team Abu Dhabi to continue the ADIMSC's forward-thinking strategy in line with the overall vision of the Abu Dhabi Government and plans developed by the Abu Dhabi Sports Council to promote and develop sporting disciplines.
Speaking at yesterday's press conference His Highness Sheikh Dr. Sultan Bin Khalifa Al-Nahyan, advisor to the Head of State and chairman of the board of directors of ADIMSC, confirmed that the decision to replace former team manager Scott Gillman with Cappellini was in the best interests for the team for the coming season and to give Team Abu Dhabi the best possible opportunity to achieve success. "We always seek to build a strong team to represent the UAE capital on all levels," said Sheikh Sultan bin Khalifa.
"Abu Dhabi has a strong presence and for that we have appointed someone with Guido's profile and expertise to train our drivers at the top level of the sport. This will also give us a sound footing for the future. We trust in Guido's capabilities to provide a strong team to compete at the highest level and we are confident that Team Abu Dhabi will be able to achieve success going forward. I am sure that Guido's presence in the team will also enable us to attract top names to the team in the near future."
Speaking of his appointment, Cappellini said. "My goal is to build a team for the future. I am proud to be given this opportunity to be a coach and technical director at Team Abu Dhabi. I express my thanks to His Highness Dr. Sheikh Sultan bin Khalifa Al-Nahyan and relish the challenge of taking the team forward to achieve the goals and aims of the club. I have followed Team Abu Dhabi closely over the years and have always had great admiration for the operation and support for marine sport in Abu Dhabi. This has contributed to the emirate being an important hub in marine sport globally.
"The task ahead is not easy, but I love challenges and the task of training and preparing Team Abu Dhabi is a great challenge for me. I will give everything in order to build a strong team to compete at the very highest level. Team Abu Dhabi has a strong line-up with Thani Al-Qamzi and Ahmed Al-Hameli, in addition to all the current technical staff, and I will work with them to refine skills and continue our preparations.
"The goal is to build a team for the future and not just to win one or two races. When I was a World Champion, the reason was not just because of my driving, but because I had one of the best technical crews with me. We worked on boat construction and set-up for many years and this was the beginning of a strong era for excellence and achievements in the sport. I am proud to be working with Thani and Ahmed, as they are talented and experienced drivers and I have known them for a long time." Cappellini also stressed the importance of teamwork and a positive team atmosphere.
The ADIMSC also thanked Scott Gillman for more than 15 years of devoted service to the club and Team Abu Dhabi. Gillman will always be a part of the treasured heritage of the team and the decision to replace him with the Italian was purely based on a change in strategy and different path for the future.
Intensive testing and training will begin next week at the Abu Dhabi Breakwater. The first outing for Team Abu Dhabi with Guido Cappellini at the helm will be the Grand Prix of Qatar in Doha Bay on March 12-14, where he will also oversee the UIM F-4S Trophy teams in action and Team Abu Dhabi's entries in the UIM Nations Cup on March 10-11.